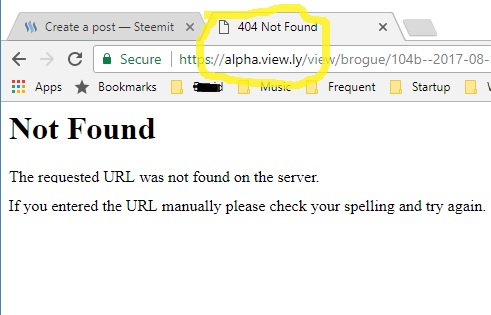 Shoutout to fellow Steemians and those developers who may know.
Is View.ly completely inaccessible for now? I have been trying to both
(a) access the web address and also
(b) play the posts I previously made
For over 24 hours now I have had zero success. When I checked with other Steemians posts made on/for
View.ly I noticed the same thing happening, but yet when I checked "Hot" and "Trending" and "New" post categories,
I cannot find any one else posting about this.
I know View.ly is still "alpha". Is this the problem?
Also, I notice DTUbe is considerably slower today, especially in last few hours. Some posts fail to upload, others show huge lag time. I have used 4 different pieces of hardware to ensure it is just not my laptop, I used an iPhone, iPad, MacBook and Windows laptop. Same problems on all four.
I do not wish to "whinge" or sound complaining, both of these new developments have completely revitalized my interest in posting and of Steemit.
I just don't want to keep trying to make posts if the "system" is presently down.
If anyone can help or make an announcement, that would be awesome.