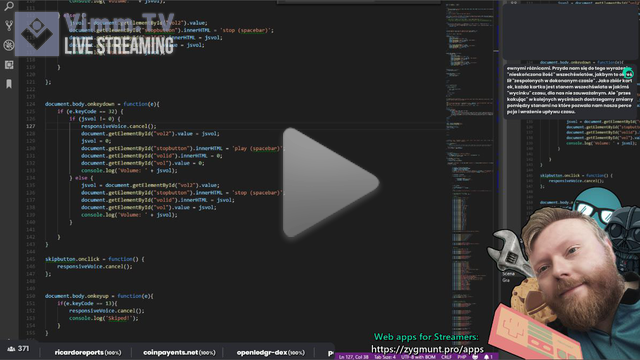 Test of DCR Tools first time on Vimm.tv
Category: Gaming
Sub-category:

Click here to watch the live stream!
---
---
Follow VimmTV (@vimm) for frequent updates, contests and giveaways for our early adopters!






[PL] Testowanie Krychy na usłudze www.Vimm.tv
[EN] Trying out DCR Tools on www.Vimm.tv!
---
Mp3 emots to use on chat / Nowe emotki dźwiękowe do używania na czacie:
GOWKratos, MarioCoin, CartoonPow, DuckKwa, CatMeow, DukeNukenRip, TerminatorBack, SoulsDie, SadMusic, SadTromb, badJoke, GochaNje, JanuszKiedys, tamPoprostuToBadz.
---
Zygi equipment:
Mainboard: Asus P6T Deluxe V2
Procesor: i7 920 Octa Core
Graphic: Radeon R9 290X
14 GB RAM DDR3
SSD 480 GB ADATA Ultimate SU650
LG Ultrawide Monitor
Apple Airpods Headphones
Cam & Mic: Logitech C920
---
Donations (dotacje i wsparcie): https://zygmunt.pro/apps/donate.php ---
My notifications app: (Mój program do powiadomień): https://zygmunt.pro/apps