Are you ready for another vinyl fix? Today's tune is pretty cool: I hope you like it.
Vinyl is making a big comeback amidst this technological age. My collection of vinyl dance music is currently up for sale on Discogs as it's time to let my records spin on someone else's deck. I'm slowly gonna share my tunes with you Steemit music lovers out there. Please feel free to join me on this musical journey with a wide variety of dance vibes covering trance, techno, house, hard trance, progressive house, acid, progressive trance and much, much more.
The Vinyl Revival
Vinyl has been around since the 50s and has had many competitors: tape, CD, mp3 to name a few but none are a challenger to the warmth and bass of vinyl. Fantastic Plastic continues to be the favourite music medium amongst many DJs.
"The intimate experience of putting the record on, then flipping it over makes the music listening experience more personal and emotionally involving than playing a CD. It also makes music listening far more personal and deep than hitting a mouse button and passively listening to your playlist."
It has recently made an unexpected comeback after almost disappearing in the early 2000s. Millennials are even being given credit for the vinyl revival with the second best selling audio device in 2016 being the turnable (of course, number one was the iPhone).
Musical Quote of the Day
"If music be the food of love, play on."
by William Shakespeare
Today's Tune: Love 4 Sale - Do You Feel So Right
[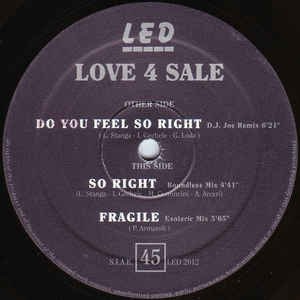 Label: LED Records
Founded by Luigi Stanga in 1989 with the aim to produce, market, publish and license all types of dance music. LED Records launched the Eurobeat label Vibration in 1995.
| | Tracks | |
| --- | --- | --- |
| A1 | Do You Feel So Right (D.J. Joe Remix) | |
| B1 | So Right (Boundless Mix) | |
| B2 | Fragile (Esoteric Mix) | |

I hope you enjoy listening to today's tune:
Available for sale @ https://www.discogs.com/sell/item/400351958
10% discount on all vinyl for payments by :
Mixmag
If you're a fan of dance music, you may want to follow Mixmag "the world's biggest dance music and clubbing destination". It was the "go to" dance music magazine back in the day and still is now. It is full of articles about music and includes many other features. It is a British magazine (published in London) and was launched in 1982. "Mixmag Records" also release mixes from the best DJs on the planet.
Discogs
For those of you not familiar with Discogs, this site was introduced in 2000 and is now one of the main resources for the sale of vinyl, CDs and even tapes, around the world. There is a huge catalogue available (over 9.5 million recordings) so it's easy if you wish to add your music for sale. Just create an account, list your goodies and once your tune sells, you can ship to your happy customer. Once a month, you will receive an invoice from Discogs to cover their costs. If anyone from the Discogs marketplace is out there, please bring your voice to Steemit and join this unique community. It would be awesome to see your catalogue and website distributed by the blockchain.

Sources
https://www.discogs.com/seller/by24seven/profile
https://www.magneticmag.com/2017/07/the-great-vinyl-comeback-is-it-here-to-stay/
https://www.forbes.com/vinyl/#6d9ba90aebdd
https://dailytrojan.com/2017/08/23/millennials-cause-vinyl-records-make-comeback/
https://www.brainyquote.com/lists/topics/top_10_music_quotes
https://pixabay.com/en/photos/?q=vinyl&hp=&image_type=all&order=&cat=&min_width=&min_height=
http://mixmag.net/page/get-the-magazine