Cu Do candy is a specialty peanut candy (peanut) in Ha Tinh province, Vietnam. Candy is made from molasses, sugar, malt, ginger and peanuts are added to two pieces of rice crumbs. This candy is very sticky and sticky, can be eaten or enjoyed with green tea.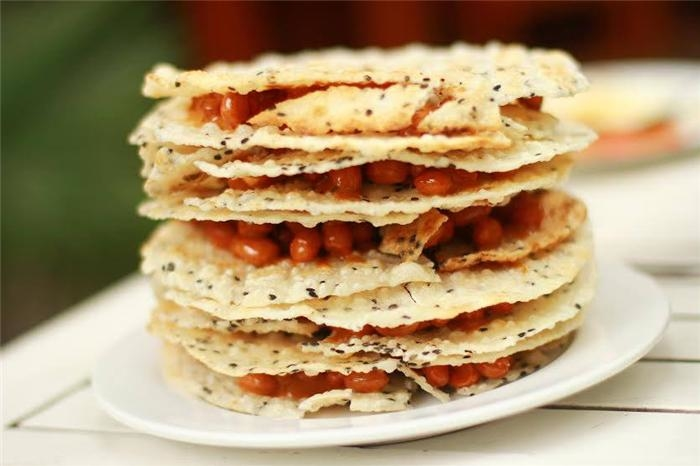 Why is it called a "Cu Đơ"?
In the past, in a village in Huong Son district, Ha Tinh province, one family has two sons handsome but very poor home. They do not have enough food to eat all day, not enough warm clothes. Where is the money to get married?
But one day, the eldest son was shyly telling his parents to marry. The grandparents are worried about where to get gifts. The house does not have alcohol, no pigs, no folds for nothing but the neighbors children. During the deadlock, the father took the pot of boiling molasses and then pour peanut (peanut) into. When it comes to offering, people eat well. To everyone's liking, he continued to cook and sell in neighboring villages. Since then, the cane molasses with peanut spread throughout Huong Son district.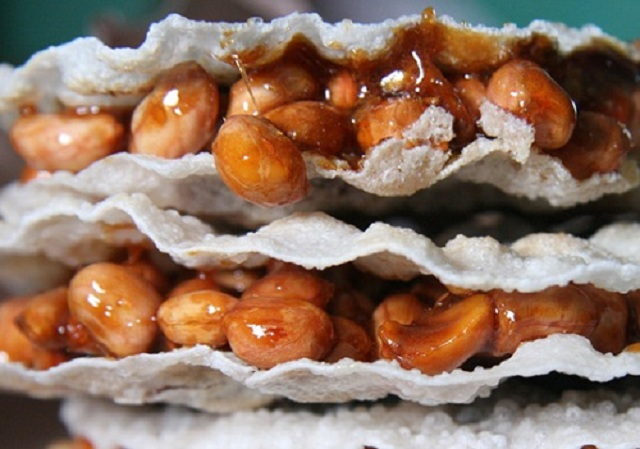 Initially it was called peanut candy (because only molasses and peanut) but it is unfair to the inventor should call the candy "cu Hai" (a father with two boys). When the Western movement flourished, the men here changed from "Two" to "Deux" (French for two, number 2) for "intellectual". "Cu" is only used in Vietnam, is the name for the intimate son (cu Ty, cuuoi). The brain writers also do not know how to change the word "cu" how to combine the French - Vietnamese call "cu deux".
Around the name of this wilderness there are many other explanations, that is during the French colonial invasion, when the French soldiers accidentally eat candy "cu Hai", so new to the hunter. When they know its name, they change from "Two" to "Deux" for general, so that the French call. "Cu" is, do not know how to combine the first Vietnamese, the French tail is "cu Deux" (cuue).
We also tell each other a happy anecdote about candy cuz when they gather together eat candy, drink green tea.
It is said that the ancient elders of Ha Tinh land have a very elegant habits. On the night side of the tea green tea with a few pieces of trimmer, the instruments sit "moon lunar, watching flowers, waiting for stars to fall." Old dirt can only be found with molasses, when it cools, it is hard as stone, but the candy does not write "contraindicated: to reach out to those who are weak teeth." So after a night "instant moon", the teeth still have teeth, lost teeth. It is a happy anecdote that the fathers often tell their children to compare to the present piece of candy. Because today's pieces of candy have been perfected, add the cake is coated from the delicious rice should eat both crispy and fragrant, not be stoned nor hard.
Talking about stencil technology is just plain simple. You wonder why such contradiction?
Cu Do candies combine harmony between honey, peanuts, multi-grain, ginger juice, lemon ... all the easy to find. But good or not candy depends on many secrets. A piece of candy Cu Do delicious when eaten crispy, meeting the sweet taste of honey, the fat of the peanut, sesame, parsley, spicy taste of ginger mixed with a bit of lemon ... Cu Do candy usually drink with green tea (the type of fresh tea leaves) on the cold days are extremely cool. The fat, sweet, spicy smooth softness spread where the tip of the tongue transmits warmth into our body, creating an unforgettable feeling.
Cu Do candy can be made by sugar, molasses or molasses and malt. The molasses type is made with molasses molasses. Peanuts choose firm, roasted whole crispy and peeled off, rice flour delicious medium thin cake (not thick nor thin) sprinkle sesame (black) to candy. The most important raw material is pure molasses, not sugar. When cooked to a moderate ratio of malt (made from rice seeds) moderate, the candy is crispy and fragrant, not like sugar candy
At present, there are many places in Ha Tinh, but the most famous are still the Library of Cau Phu, although prices are higher than others but still crowded. Therefore brand new: "Cuu Cu Bridge Phu also not buy also.