Press a button: a 10-ft projection screen rolls down automatically.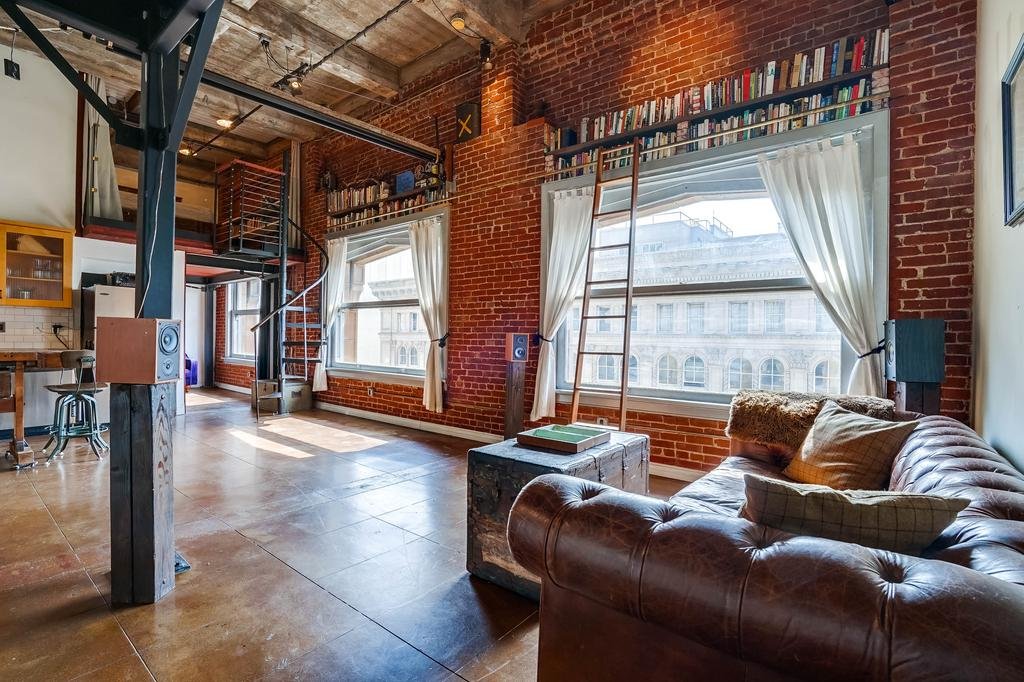 215 W 7TH ST #1210, LOS ANGELES, CA 90014 | Blog Video
12th-floor condominium loft in the Bartlett Building has super high ceilings, inspiring character and impressive style. Live/work space maximized by two steel mezzanines. One supports a high office and storage space. The other, atop a spiral staircase, spans thick I-beams to create a second, quieter bedroom upstairs with two spacious closets and glass balustrade overlooking the main living space. Behold dramatic views over leafy Spring Street, through some of the broadest windows of any historic building in DTLA. Exposed brick walls compliment polished concrete floors. High bookshelves accessible by a Harry Potteresque solid oak library ladder that wheels along a brass railing. Lighting upgraded with RH kitchen lighting, studio ceiling lights, warehouse-style lamps and brass nautical wall sconces. Oak storage bed included, with additional furnishings negotiable. Kitchen upgraded with modern subway tile backsplash. Bathroom features a large soaking tub, Carrara marble floor tiles and a marble vanity. Washer / dryer included. 10-foot projection screen automatically deploys from ceiling. Near Whole Foods and popular bars and restaurants. 24-hour security. Mills Act-approved for 68% property tax savings. Request a Viewing. To make an appointment, call 213-880-9910. | PROPERTY DETAILS
Get a free list of lofts new on the market, just listed. Fill out the online form:
Two mezzanines are better than one.
Copyright © This free information provided courtesy L.A. Loft Blog with information provided by Corey Chambers, Realty Source Inc, BRE 01889449. We are not associated with the seller, homeowner's association or developer. For more information, contact 213-880-9910 or visit LALoftBlog.com Licensed in California. All information provided is deemed reliable but is not guaranteed and should be independently verified. Properties subject to prior sale or rental. This is not a solicitation if buyer or seller is already under contract with another broker.