Being able to perform multiple exchanges on one page ensures that users can be more efficient, and do not need to go through many pages, resources, or multiple solution providers to carry out swaps.
Having everything on one page ensures that the process is streamlined and extremely easy, that any dummy could make use of it.
Having support for about 143 tokens ensures that OnePageX offers support for more tokens than just about any other exchange. Like we said earlier, this ensures that the needs of most users can be met in one central location. It also shows that OnePageX is hellbent on ensuring the satisfaction of their users are met.
What is OnePageX?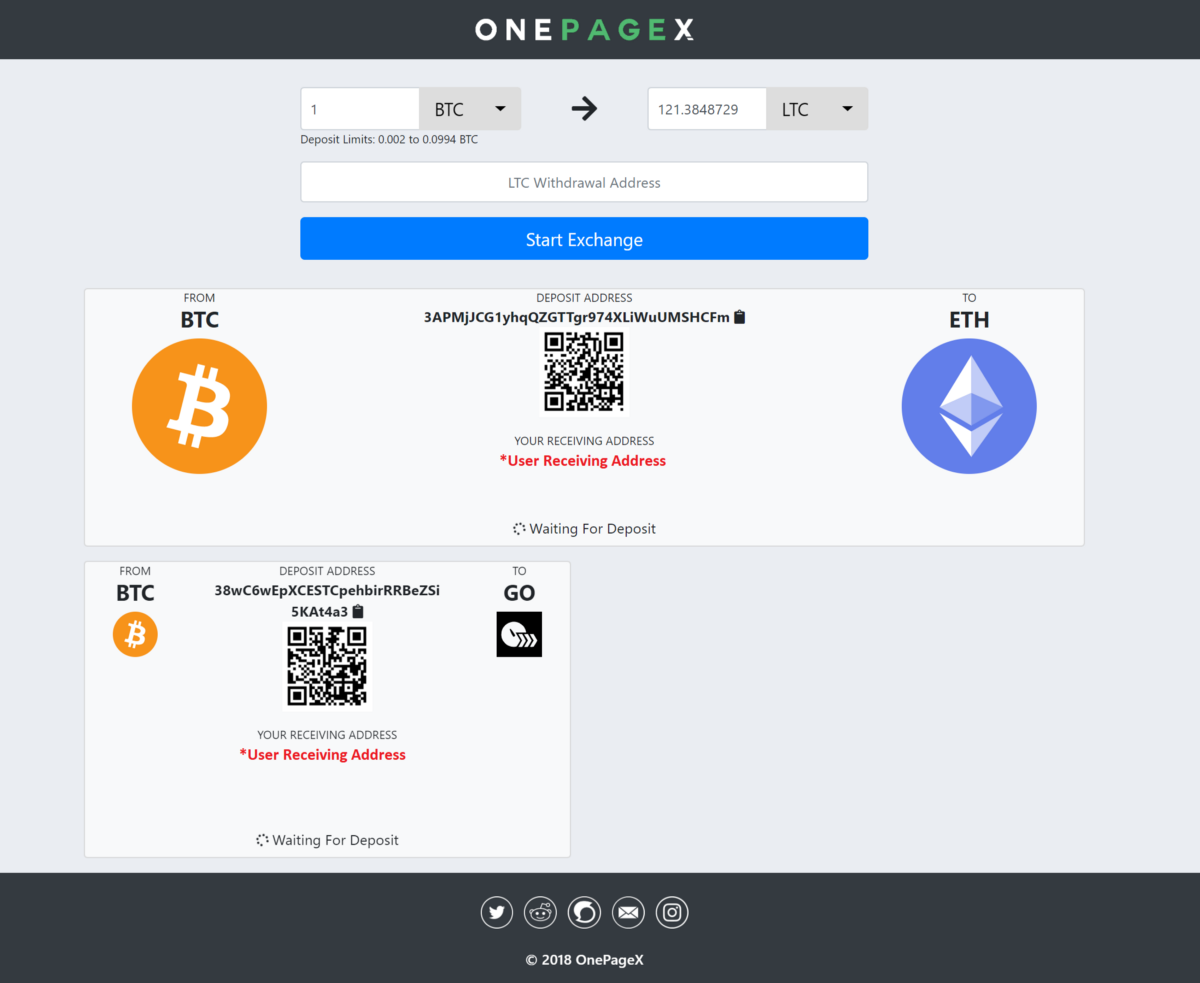 It is a website to exchange cryptocurrencies in a simple way and without having to register, at this moment there are 140 cryptocurrencies available so the exchanges are usually made through the best price and for that there is a search engine that generates the page.It is a platform for exchanging lots of currencies Is a platform under experimentation and I hope to show its strength to prove its success and credibility in the coming days It is the first to convert bitcoin into many currencies During a very short period Where you can have 140 different currencies It also does not need to register for the conversion process But you can easily convert your currencies Through the address of the portfolio to which currencies are to be transferred.
HOW TO USE ONEPAGEX
Using OnePageX doesn't even require the user to get registered. It supports a host of currencies, such as XRP, LTC, ADA and ARK.
To see the full list of support coins, kindly scroll to the bottom.


Importance of a wide selection of Cryptocurrerncy.
With the above there is a need to drastically increase the currency on the exchange. Binance claims to have over 300 cryptocurrency on its exchange so has others too. Hence there isurgennt need to drastically increase coin that could be exchanged.Currently there are hundreds of cryptocurrencies, each with different characteristics and different market domains, a platform like OnePageX that allows us to exchange between them without having to register in the Exchanges where these cryptocurrencies are exchanged is something really revolutionary as it drives the economy.
TRANSACTION
Transactions on OnePageX are almost instant. Obviously, for many transactions, appropriate fees need to be set. For example, if transaction fee set for bitcoin is too low, it will mean that the exchange will take a longer time to be effected. Most transactions are concluded within 25 minutes.
OnePageX's VISION AND WHAT IT OFFERS
There is always a vision behind every project and OnePageX has its vision based on making life in cryptocurrency exchange simple. The simplicity of OnepageX is shown from the very beginning by eliminating registration.With this everything has been simplified. The user only needs to generate a transaction and his/her URL will be stored in the session and available when ever the user has need for it again.OnepageX also introduced widget and integration known as OneBox which websites can use to perform quick transactions.With OnePageX, the best price is guaranteed as it dedicates it's time to make available the best exchange price. It also eliminates the problem of lack of uniformility in prices and manipulation of prices.Although OnepageX is still a new project, it currently has more than 140 cryptocurrency available on its exchange list thereby showcasing the bright future of its project.Multiple projects can also be carried out in a page. This enables multitasking and eliminates the problem of time wasting usually encountered in crypto exchange.
More Information & Resources: