Hi steemians, happy Sunday!. Hope your week was not stressful and hope you are enjoying your weekend. Tomorrow is Monday, can I hear a TGIM?, Maybe not. As a matter of fact, last week was an awesome one for me, I learnt, re-learnt and un-learnt. Monday was quite boring as I had nowhere to go and was only looking forward to the 3-day youth empowerment program organized by NBC - Nigerian Bottling Company. The program ended on Thursday and I decided to use this opportunity to write about it. I'm certain you won't be bored.
About NBC
NBC is a partner of Coca-cola Hellenic group saddled with the responsibility of bottling Coca-cola products in Nigeria. Meaning that the Coca‑Cola Company manufactures and sells concentrates, bases and syrups to its bottling partners - such as NBC, owns the brands and is responsible for consumer brand marketing initiatives. The bottling partners then use the concentrates and syrups to manufacture, package, merchandise and distribute the final branded products to trade partners and consumers.
As part of its CSR (Corporate Social Responsibility), NBC decided to launch the Youth Empowered Nigerian Initiative in 2017 in which as the General manager said and I quote;
"Participants would be taken through a 3-day business skill workshop designed to give them skills in project and time management, business planning, financial literacy, communication and sales skills that would help them thrive in the business environment, the training would take place physically, with online versions available and is expected to reach a total of 10,000 youths"
They were true to their words and the program kicked off in 2017 in Port-Harcourt, Nigeria with about 700 youths benefiting. And no, they did not stop there, it continued this year and was brought to the city of Ibadan.
HOW I GOT TO KNOW
Information is indeed very important as I did not know about the program until some couple of hours to the close of its registration. A friend of mine, however, dropped a link to the google form for registration on one of the various Whatsapp group I belong to. I'm glad I did not ignore it like I would normally do for other BCs. To cut the long story short, I was shortlisted along with about 500 other applicants out of over 3400 applicants as I later got to know. It was however disappointing that just about 300 people showed up. This prompted the organizers of the program to declare 200 slots open for the program. Surprisingly, day 2 saw a turn out of about 800 people!
DAY 1
I woke up around 4:00 am and made the mistake of saying to myself "let me rest a bit". Next time I woke up was 5:30 and then I remembered we were supposed to get to the venue by 6:00 am. Did you just say "what!"? That's exactly what I said when I saw it stated clearly in the mail I received some days before the program. By 6:15 I was done and I left the house. the venue was far and I had to take a bike and three cabs before getting to the venue.
Well, I got there around 7:00 am and I was checked in at the gate, you need to have a valid ID card and an invitation mail or text message before you would be allowed entry. At the gate, I was checked in while the man who was supposed to go before me was still searching for his ID card. I got in, and had not taken up to 7 steps before I met this woman coming straight at me, she motioned to me, implying that I double up. "Was I late", "could they have started by 6?" I thought to myself. Well, I was wrong, registration and confirmation were the only things that had started and this was done at the registration stands by the entrance of the hall. I was asked for my name which I clearly stated, after confirmation, I was given a tag, a pen and a jotter and was asked to go in.
I got in and immediately fell in love with the atmosphere, proper lightening, enough space, people seated in groups around tables, a video clip being played on the projector screens, the ever-smiling ushers, I could go on and on but let me stop. As my eyes played around, I saw my ex-roommate and friend Odunlami Bukunmi already seated at a table, I smiled. I was ushered to a table which had about 7 people already seated. I sat down and realized I have seen one of them somewhere that morning we must have gotten into the same cab at some point. Remember the man that was struggling with his ID at the gate? he came in shortly after 2 guys had already taken their seats at my table, he was also ushered to my table. He is Mr. Mufuthau, the grand secretary as we later nicked him.
One of my targets for the program was to network and this I began as soon as possible. I leaned to my right and said "Hello, I'm Michael", to which he replied, "Hi, I'm Razak Amusan". I later got to know he was a 200L Economics student of the Obafemi Awolowo University, I was so glad he was attending such a program as I didn't when I was his age. Just as I leaned to my left to do the same thing I did earlier, I was met by a "Hello". I introduced myself and he told me he was Eniola Alex - he later became our "table rep" for the day He is the CEO of Alex photography and he is not a stranger to students of the prestigious University of Ibadan.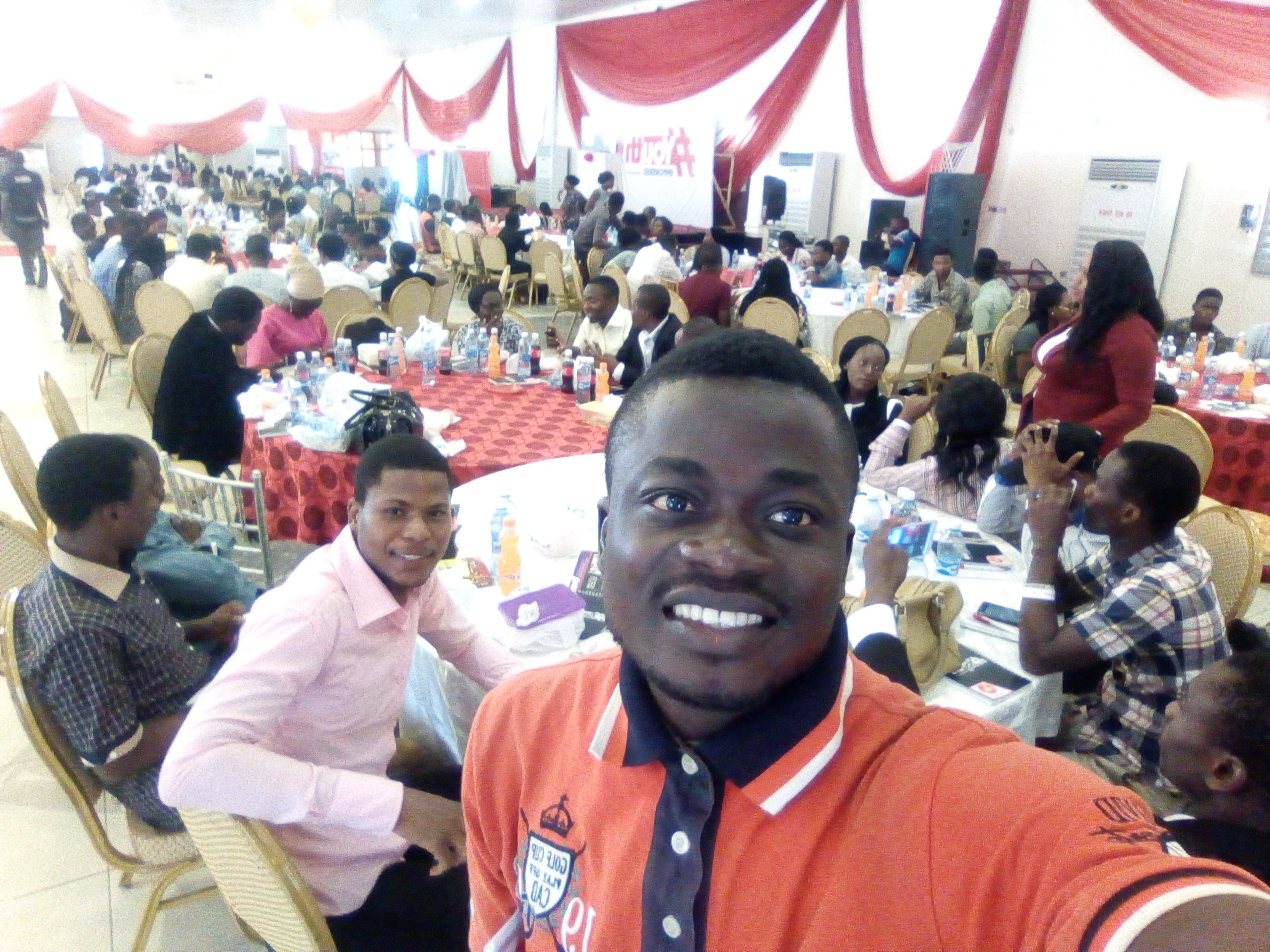 [Picture taken by Eniola Alex, I am the one in pink]
The program started at 8:00 am prompt and the facilitator for the day Ekundayo Odele gave us what she termed our first lesson; time waits for nobody so, what you have to do, do quick. Remember I said the time stated in our emails was 6:00 am. Three people came before 6:00am and was actually rewarded with gifts from NBC. It pays to keep to time.
There were two large tables joined together to form a pair, these tables comfortably accommodated 20 people hence there were automatically 20 people per group and each table had a mentor. At first, my table lacked a mentor and Mrs Ifeoma Okoye had to stand in gap. She asked us to introduce ourselves and I was able to pick up some more names. I remember Adeogo, the cool, calm and collected guy, it didn't come as a suprise when he said he was a medical student. I also picked up Idowu Oloyede, the microbiologist who labelled himself a talkative and Bolarinwa Saidat, the hairstylist cum caterer. Her words of encouragement along with Asenowo Oluseyi's cannot be forgotten.
Ifeoma Okoye was simply amazing and the thought of letting her go when we finally had a mentor broke our hearts. Not to worry, we were lucky to have Atinuke Smith, CEO Datina designs as our table mentor. She had been in the world of fashion for 23 years and she is a force to reckon with. My team learnt a lot from that woman. Towards the end of the program, I got the contact of everyone on my team and created a whatsapp group for us later that day.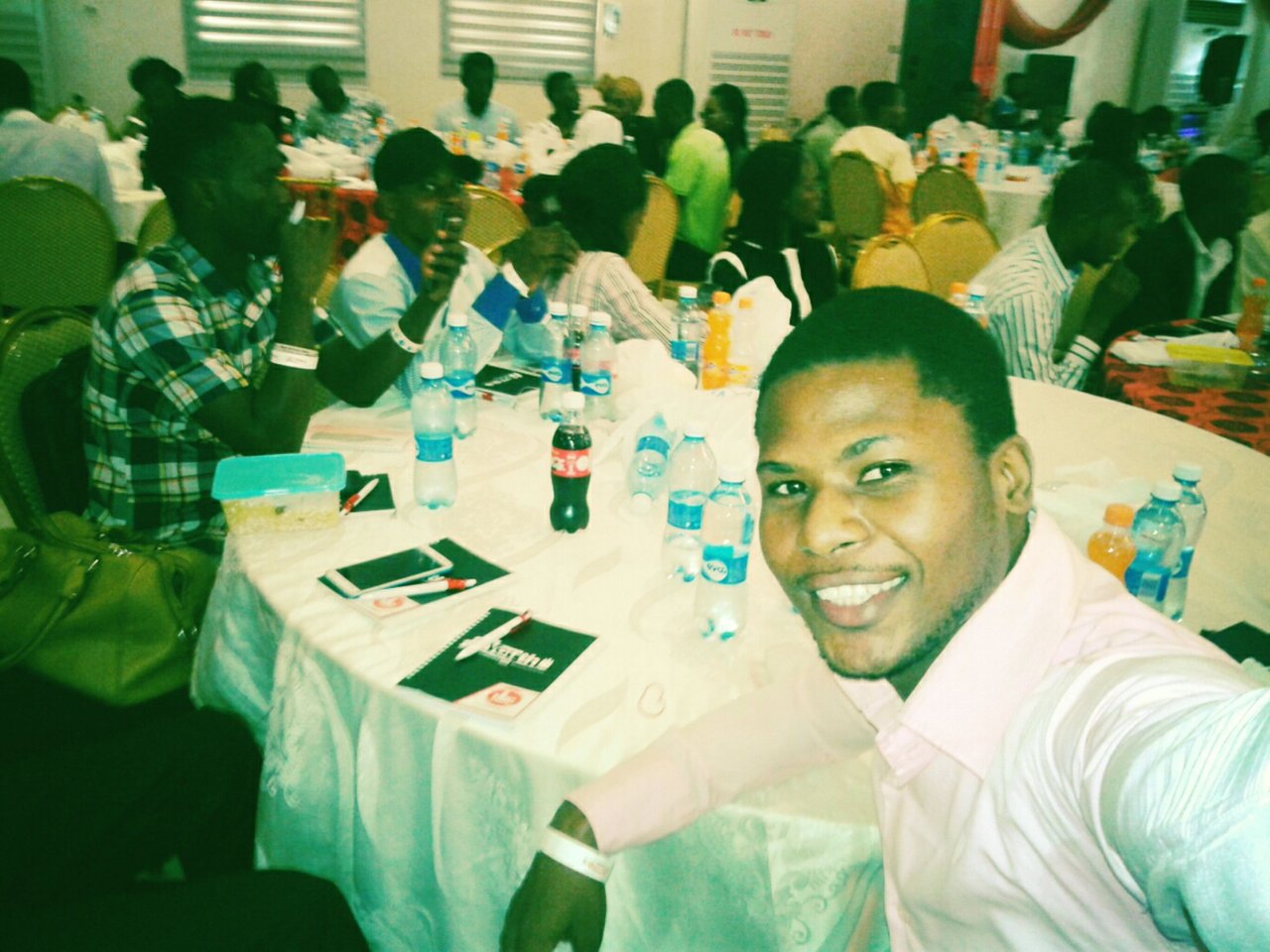 [Picture taken by me @mykelade]
Ekundayo Odele, the facilitator for the day took us through modules on Life skills. These includes;
Understanding and developing yourself
Self assessment tests
Interacting and networking wih others
Proper CV and Cover letter writing
The class was very interactive and she actively engaged us. We even had a mock interview. Did I forget to mention that we had both breakfast and lunch? The highlight of the day came when we had the Oyo state commisioner for youth and sports, Barr. Abayomi Oke address us. He lit up the atmosphere, challenged and sensitized us about available opportunities. He then had the DJ playing some music and we danced for some minutes, after all, all work and no play makes jack a dull boy.
Conclusion
Day 1, Tuesday 24th of April was memorable, I learnt a lot from the mentors and my team. The following day, I was prompted to go with my neighbour, since more slots were opened. I just couldn't be selfish with the opportunity. The crescendo was to come on the third day where each group was to create an idea and work out its viability and sustainability. The winning idea will get funded and a company will be incorporated for the winning group by NBC.
If you enjoyed this post please let me know, details of day 2 amd 3 coming your way shortly. Stay tuned.