Hello everyone, welcome to my blog and thank you for dropping by. It's the weekend! hope you are enjoying the break from work. I promised to update you with the details of my day two and three at the NBC Youth empowered 2018 and here it is. If you have not seen my post on day one, you can check it here. If you have, let's go on with day 2
Day 2
I left the house with my jotter and the tag we were given the previous day because the tag was to serve for the three days. I got to the venue just about the same time as Emeka Ossai, our facilitator for the day. He is a man with a pool of knowledge in Business and its elements and he has a vision to mentor about 1million youths.
I settled at my table this time with the knowledge of the name of almost everyone at my table. I think I forgot to mention Toluwabori Ibirogba we attended the same University but I didn't recognize her. Apparently, we had met before and we took some minutes to recount the experience. Then I got to know that she was a friend to the lady that posted the program's registration link to the whatsapp group I got it from and was actually the one who sent it to her. What a small world. I should mention that she became an integral part of the team and acted as the table rep for day two and three. She is good with kids, currently teaches and hopes to be a lecturer, need I mention that that was exactly the nickname we gave her - lecturer.
Day two was about business skills, Emeka Ossai did justice to business model canvass, writing a business plan and gave us a peek into pitching your idea and what shark tank is all about. Coupled with his teachings we had Tolu Adeniyi with us on our table as our mentor. She has been in the telecommunications industry for about 15 years and still had the time to identify a need in her environment, the need was a salon that specializes in the treatment and care of natural hair. She dedicates her weekend to this and work weekdays.
During the break, we decided to work on our idea as a group. Olajide Azeez the man that will always tell me "you can do it" was our scribe and he is a writer. Watch out for his book, it's going to be the bomb. We had so many ideas which included production of coconut oil, Recycling factory idea given by Senaya Simon and the amazing one stop soup store idea by Ajijola Oluwaseun and lots more. In the end, a vote was casted and we went with the free energy idea. It is a very interesting idea and I'm going to write about that soon.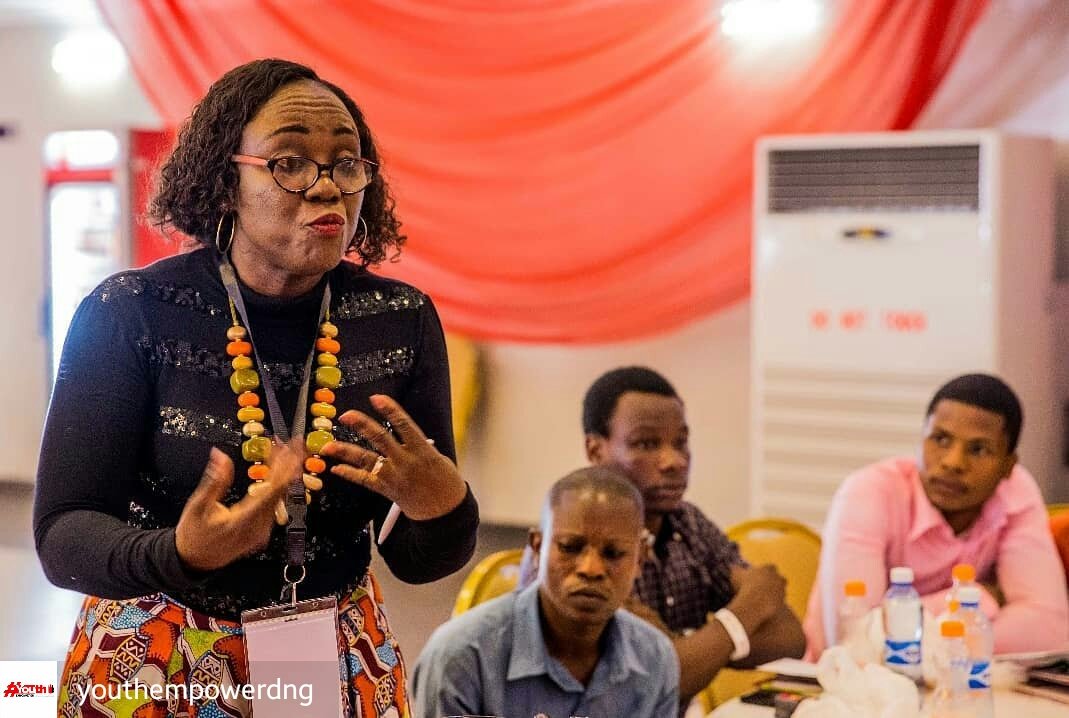 Anita Smith CEO datina designs at our table Credit: Kasherltd
With the help of our mentor, we started discussing about how to create a sustainable business around the idea. The aim of the pitch was to present an idea that is viable, sustainable, and profitable. In order to create such, we had to apply the business skills lesson we were taught. We started out by drawing up a business model canvass.
We identified our value proposition which was to provide affordable source of power to the Nigerian homes in order to mitigate the dependence on the epileptic power supply. Next, we identified or customer segment which includes students of higher institutions and homes that cannot afford the running cost of a generator. Other elements of the business model canvass includes;
Channels: These refer to the ways by which our product will reach the customers/end users
Customer relationships: It is not enough to get people to buy your product, making them come back is key. This is what this segment addresses, the things you put in place to win the heart of your customers. This can include integrity, customer services, incentives, discounts and awards.
Key activities: These are the things that must be done to make that product which is intended. This can include production and operational processes.
Key resources: In order to perform those activities you listed in the previous point, what are the resources you need. Once these are identified, they can be put under this segment. This includes; human resources, raw materials and structures.
Key partners: These can mean the important relationship your organization needs to have with certain people or organizations for the betterment of your organization. This can also include organization that maybe interested in your product.
Revenue streams: This refer to way(s) by which money comes into the organization, sales, service charges, commissions etc.
Cost structure: This is more like an opposite to your revenue streams, it refers to how money leaves the organization. This includes staff salary, procurement cost, advertisement cost etc.
---
The day ended with a mock pitch from four different groups. You need to see the reaction on the face of the panelists when a group stated that they needed about 280 million naira as start up capital. The mere mention of that amount resulted in an uproar from the audience. When the panelists gave their corrections, one of the things I learnt was from Akatu Ochai, he emphasized the need for starting lean as this can help you to grow your business and also be able to mop up and recover quickly if your idea doesn't work out. He also emphasized the fact that the odds of getting such funding for a startup is very low if not impossible.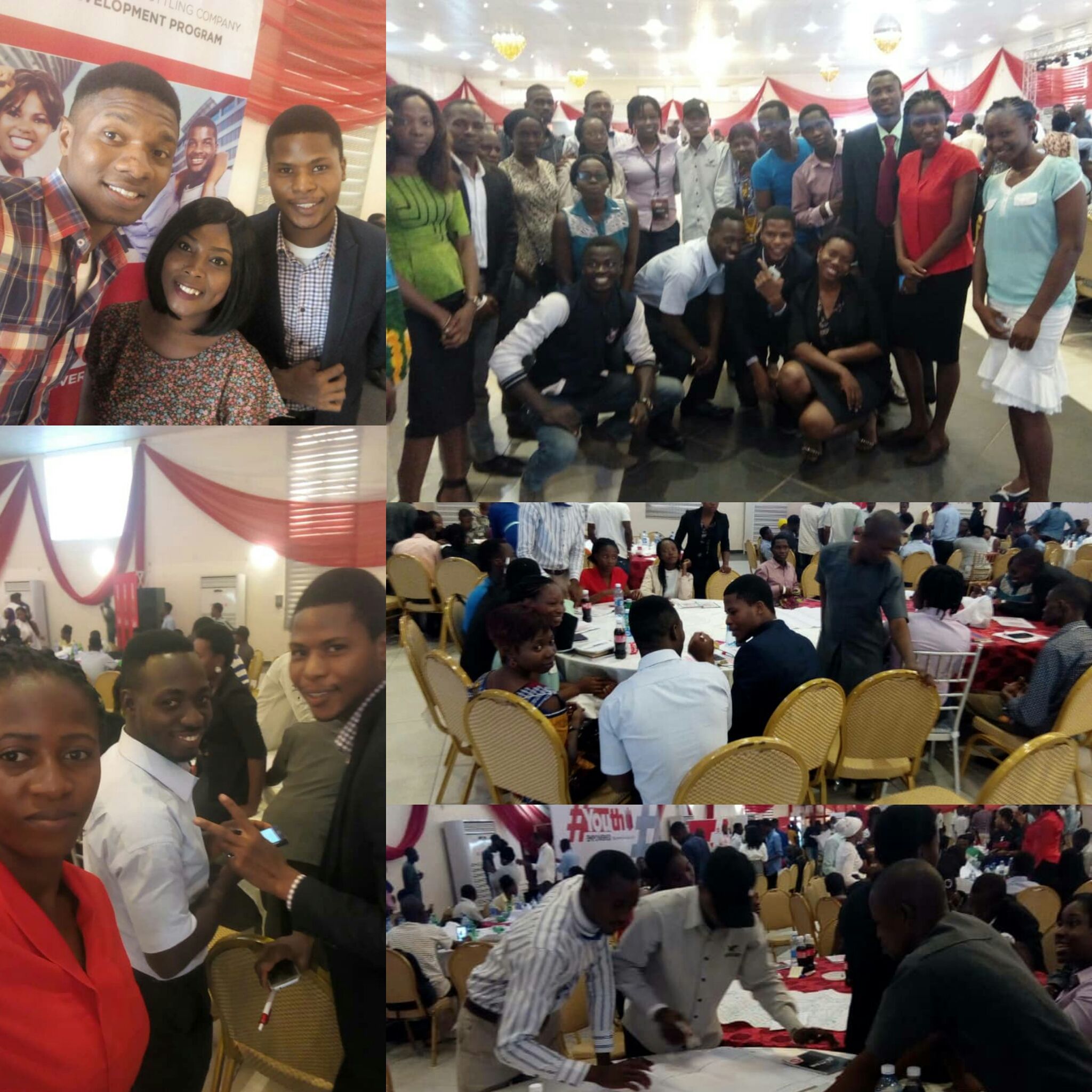 [Day 2 in pictures]
---
Day 3
This is the final day and the 30 groups were expected to pitch their ideas today. I woke up around 3:00 am to continue with my pitch plan while communicating with my group via whatsapp. Oh, seems I forgot to mention that I was chosen to present for my group. I felt honoured and I didn't want to let the team down. I streamed some pitches from shark tank and also got some videos from the next titan via YouTube just to make myself ready.
I was five minutes late as the program started at the dot of 7:30. We continued learning business skills with more focus on writing a business plan and making it attractive to sponsors. At our table was another embodiment of knowledge, Mrs Gwendolyn Oshoniyi, a top executive in the field of broadcasting. She helped us tailor our pitch and prepared me for questions that might be asked. She is someone who is passionate about mentoring and from whom I learnt about the importance of patience and growth.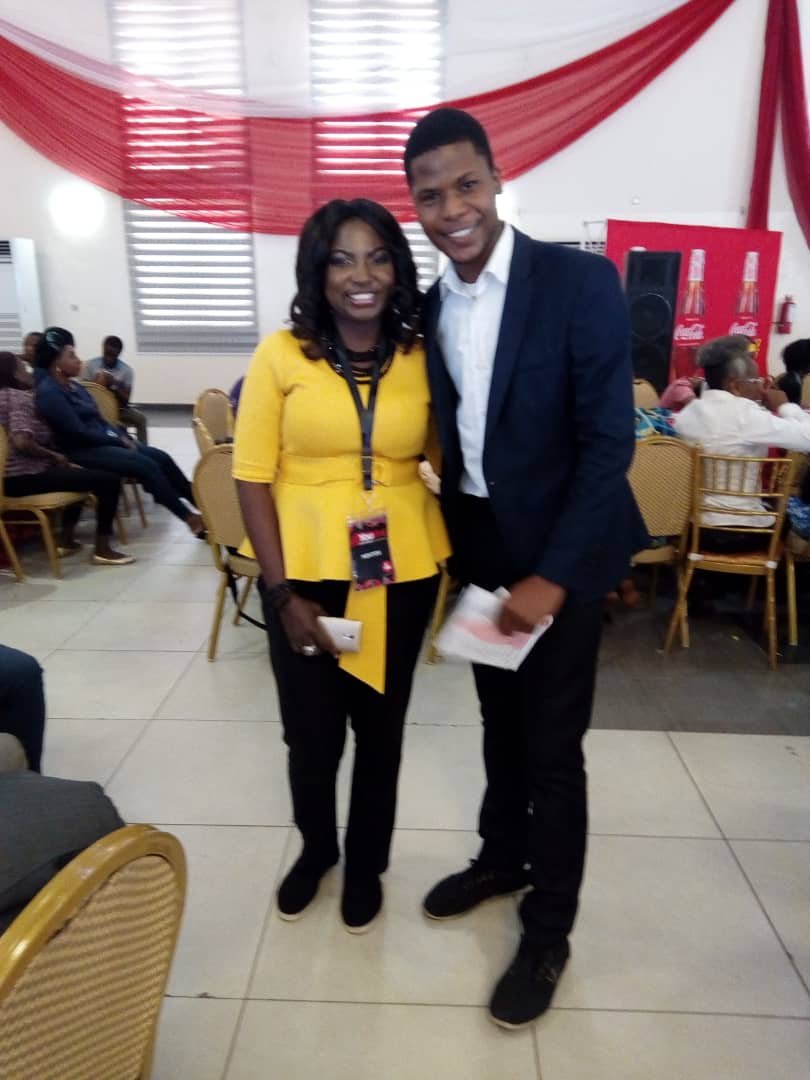 [Gwendolyn Oshoniyi and I]
At about 11:00 am, team reps were asked to pick up a tag which had concealed numbers in them, these numbers determine when each group will pitch. Even though we prayed to pitch late, our table rep picked number 4. All pitchers were then moved o a special section where we awaited our turn. I must be honest, I was nervous as I thought about having to stand in front of everyone and the 5 "lions" as the panelists were called. Each presenter had just 3 minutes to present and impress in order to get a chance to be among the top 5.
---
As I left the stage to take my seat, I though to myself, "did I nail it?", "should I have said more?". I took my seat and received a warm handshake from group 3's pitcher, Victor who said I did quite well, I nodded, even though I did not totally believe him. Just as Victor did, I replicated the gesture to Gbenga, group 5's pitcher. The three of us got talking and we gave our personal comments on the ideas of other groups as they leave the stage. There were so many awesome ideas spanning Energy, Agriculture, E-commerce, Fashion etc.
After all groups presented, it was time for the top 5 teams to be announced. These teams will have to come up again and within two minutes, elaborate on their ideas after which questions will be thrown at them by the "lions". While the pitching was going on, lunch was being served and I couldn't help but think that I could have been eating at that moment. Yes, pitchers were not served, our food was reserved with our group members. After some minutes of decision making, the names of the groups that made it to the top five was ready.
It was as though I didn't hear it the first time, my group was called the second time and I stood up and walked up to the stage, amidst cheers - the loudest being from my team mates. Yes, we made it to the top 5 and I almost didn't believe it. And so I had two minutes to pitch again. From the top five ideas, two were e-commerce related, one was aimed at connecting maize farmers to sellers and buyers, they also incorporated avenues for training the farmers and it was named alagbado.com. The other e-commerce idea has to do with connecting people to services they need on daily basis, it was named meet my needs (MMN).
The other two groups had to do with waste management. One of which was aimed at collecting cassava waste and making animal feed from them while the other was the recycling of pet bottles and cans into pellets which will be sold to companies in need of them. My group's idea is a somewhat source of free energy. A device that generate electricity without depending on fuel, sun, wind or battery. Cool right? that's what we thought too. If you don't know about it, don't worry, I am going to write about it soon.
After the top 5 groups pitched their ideas again, rain of questions fell from the "lions" and each group was scored. The "lions" were excused to delibrate and come up with a winner while certificates of participation was given out to each participant. Lest I forget, there was an educative session with representatives of Bank of Industry where we learnt about the proceedures involved in accessing loans, reasons why you might be declined loan access, bureau of credit and credit reports.
After some few minutes, one of the "lions" came to announce the winner and after placing us on hold, giving us suspense, the winner was announced. The group behind alagbado.com won and there came Right Said Fred's Stand Up (For The Champions) from the DJ. We gave a standing ovation to the winning group and that marked the end of the program. The winning group was to start another 5-day intense training which was to start the following day.
Back to my group, farewells are sometimes difficult but usually inevitable. We promised to keep in touch, share ideas and opportunities with each other via the whatsaap group and Alex didn't dissapoint us as he came with his camera. We had nice shots before departing to our various destinations.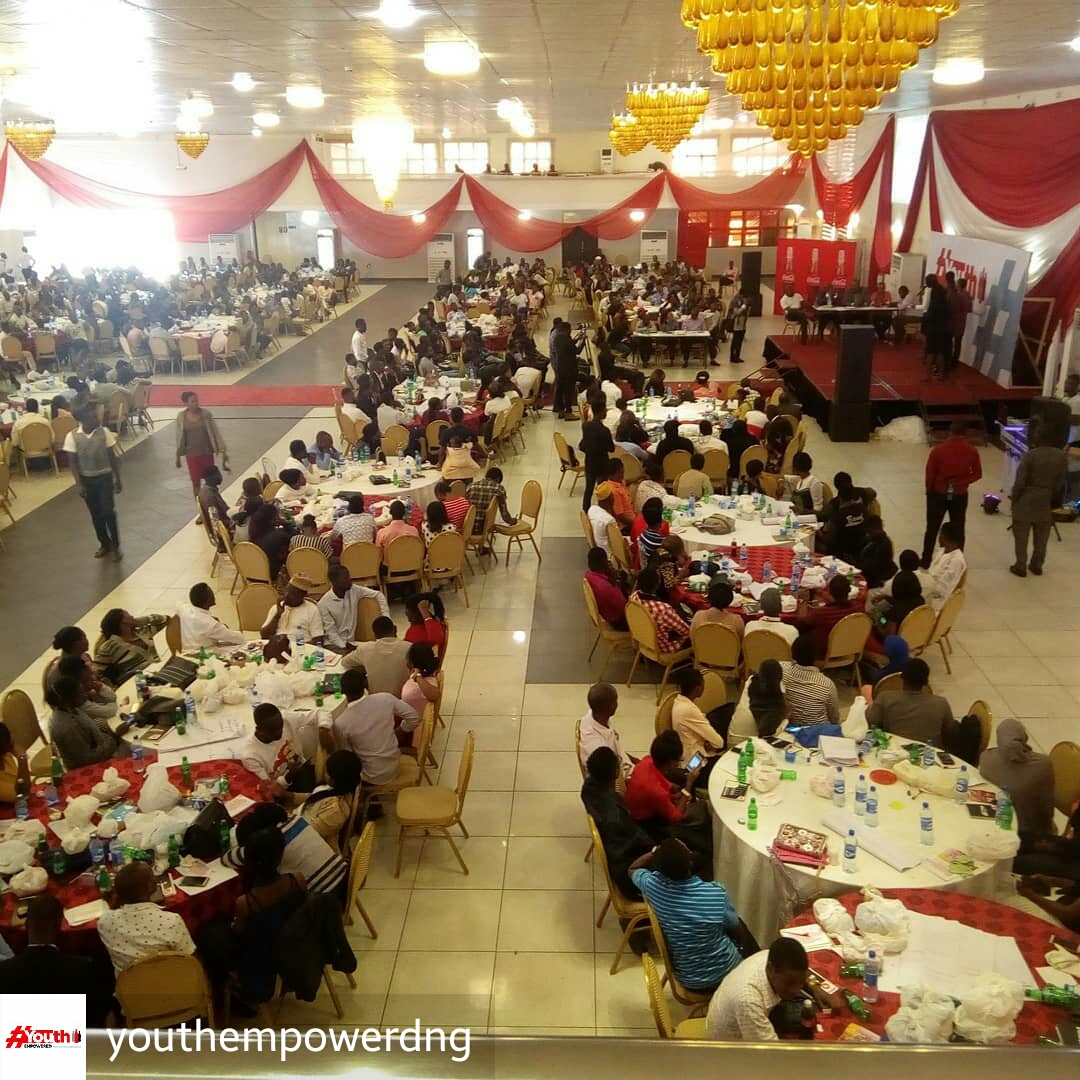 [NBC Youth empowered 2018 @ Daylan event center, Ibadan]
In all, it was a wonderful experience and I will recommend it to anyone especially undergraduates, fresh graduates and youths generally. If you have been following and you will like to participate, another opportunity will be available next year, you can follow kasherltd or youthempowerdng on instagram for timely updates.