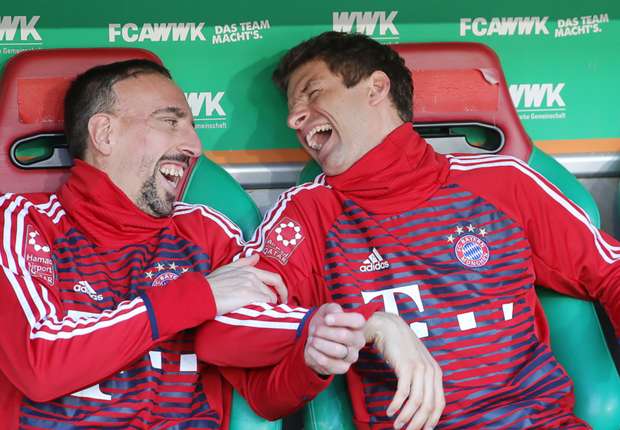 Sacking coaches, uncertainty around star players, Bayern are nonetheless streets ahead again in on the home front having wrapped up the title today
There can be no sweeter feeling for Bayern Munich today than winning a Bundesliga title – a sixth in succession - especially considering last week's shattering 6-0 defeat of Borussia Dortmund .
That would have been the perfect occasion for Bayern to claim the title but they were nonetheless made wait because of Schalke's 2-0 win against Freiburg. Instead of wrapping up a 28th national title at home in front of their own fans, they did doing so with a thumping 4-1 win at Augsburg in the Bavarian derby .
The celebrations might be lower key, but the message no less profound.
Bayern's victory says plenty about the competitive balance currently in the German top flight. How is it that 'FC Hollywood' can experience a season in which they sack their coach and endure plenty of off-field distractions and still win the Meisterschale in the first week of April?
This season proved beyond doubt that, even in a state of flux, Bayern are unbeatable domestically. Only twice before has the Bundesliga been decided quicker - both by Bayern and both in the last few seasons.