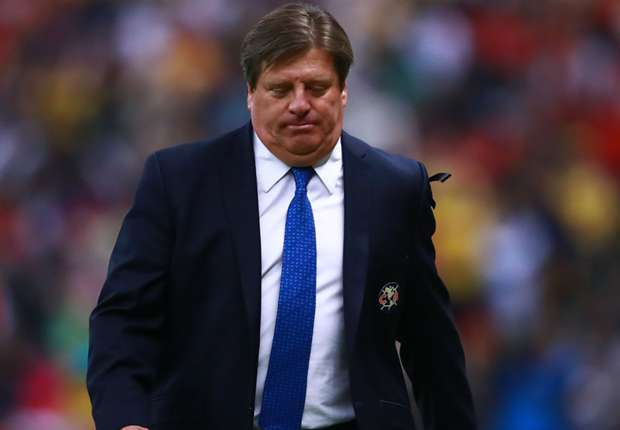 The former Mexico boss was steaming at how law enforcement handled a halftime scuffle and how the officials called the CCL semifinal
Club America manager Miguel Herrera accused Toronto police officers of hitting his players during a scuffle at halftime of America's 3-1 defeat to Toronto FC Tuesday in a CONCACAF Champions League semifinal .
After speaking about his team's performance in the contest and saying he was frustrated by the poor pitch at BMO Field, Herrera said what really irritated him about the experience was the police officials making things worse instead of better. The manager alleged members of the Toronto Police Service hit goalkeeper Agustin Marchesin, center back Bruno Valdez and the team's fitness coach Giber Becerra.
"We have to take advantage on a much better field, we've got to play a lot better. Honestly, I'm willing to leave that behind but what I'm very annoyed about - and the CONCACAF people know it and I hope they report it - the police were hitting my players. And the CONCACAF officials saw it, so I want to see it reported. Because if they're going to use the police to attack the players when you think they're going to calm down the situation and calm us down and the CONCACAF people saw it, I hope the report comes out that the CONCACAF officials saw the police's aggression toward America's players.
"They hit Marchesin, they hit Bruno and Giber. I think if there's scuffling we can calm ourselves down. That's what the security is for, to calm things down. But the security, it didn't intervene in this way. I saw the CONCACAF people there and I hope the report comes down. Because if not it means CONCACAF is going to hide what happened at halftime when they saw it. We hope the report comes out."
Herrera said there was minimal pushing and shoving between players on both teams, and the police "had no reason to get aggressive."