On the contrary, we at @walkofhope are amazed each day as Marlon keeps sending our group chat images of what he is doing. It seems that teaching 45 kids, well whatever number he gets each day, in total each week is not enough!
On the 3rd week now of our Music and Arts Tour FREE workshop sessions, he still have all the strenght to still work on Tatay Dagsa's ARTSPACE. Just 3 days more of 9-12 lessons and am telling you, it's not EASY PEASY.
But perhaps leaving a workaholic artist in a NORMAL ENVIRONMENT is exactly where he thrives?
![PicsArt_05-11-10.00.43.jpg](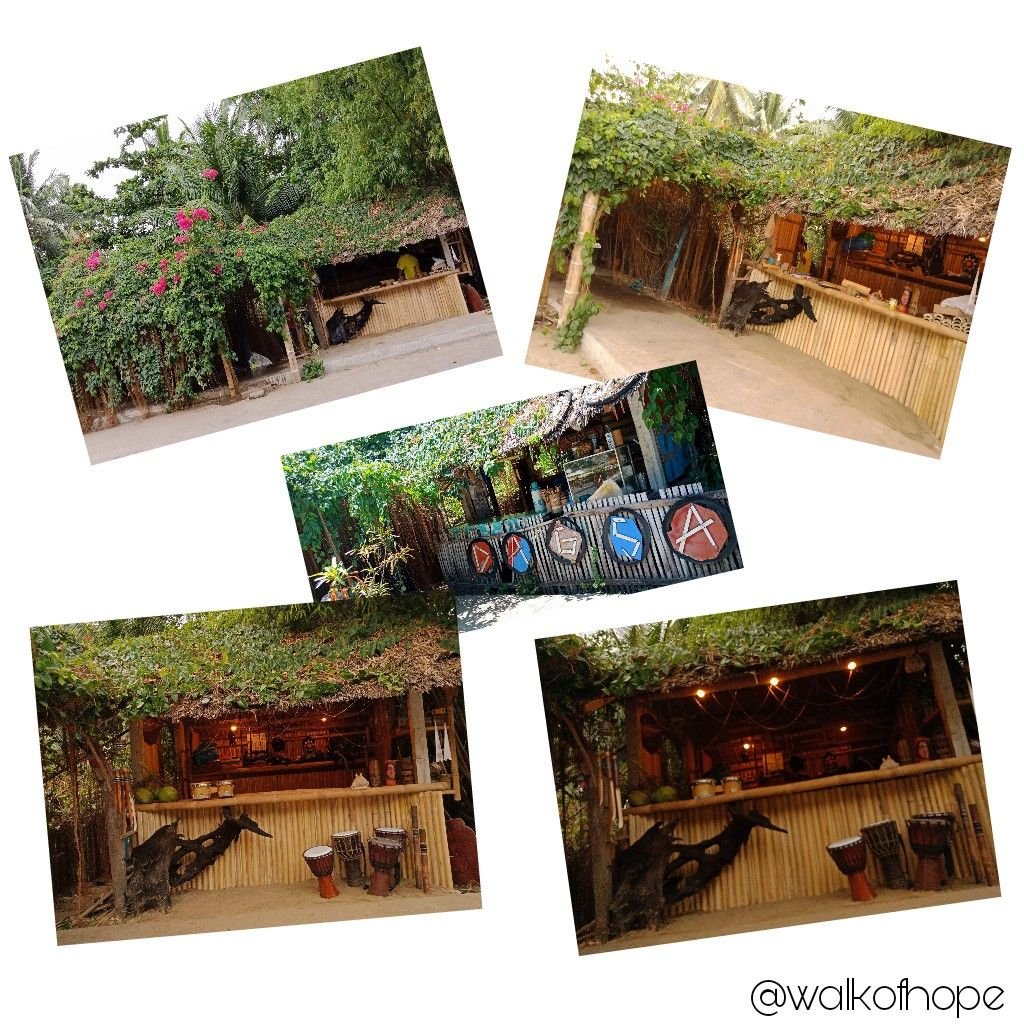 ) For those who are not in the know, Tatay Dagsa/Filcon Rivera is a creative in Bayawan City who will be joining
@flabbergast
in the Music and Arts Tour. Aside from this ongoing workshop, a DALI Dagsa artists' gallery is being created. Once this is done, they will then continue the tour from Bacolod City. This gallery will showcase the bamboo innovations that Marlon have been teaching the locals, also for the tourism industry. With this, any wandering artist is welcome to stay in DALI Dagsa in Bayawan where it's a 2-hour journey from Dumaguete City. As it's beside the sea, some curious tourists have found the place. ![received_1716058058481389.jpeg](https://steemitimages.com/DQmRjvqxTKk3znnFV5y9GbxSmg8dJ4dtbV1NLDCa8rpWCWM/received_1716058058481389.jpeg)|![received_1716068241813704.jpeg](https://steemitimages.com/DQmUi419iugo3i8Py8Ekk881fWuU1p8ap8pyYrymvBLrkq1/received_1716068241813704.jpeg) -|-| I can take orders for them, but sending them worldwide is a hassle. Will need to buy a submarine with my steem. 🤣😂😁 ![received_1719152808171914.jpeg](https://steemitimages.com/DQmTmUywPyYwokegbnKSVaSWhyo7EZvYX73hn8QQj3YmeD8/received_1719152808171914.jpeg) Anyone want to guess on what this is? Jamming with another creative! Marlon and Tatay Dagsa have known each other for long. It can't be helped that wherever they are, friends will visit them. And when they gather, they can rock the world. ![FB_IMG_1526165597979.jpg](https://steemitimages.com/DQmRb2nkJR9LLchA3z6W3WCKxKTi8kQZ5SRTvLDvByVUjoK/FB_IMG_1526165597979.jpg)|![FB_IMG_1526165613832.jpg](https://steemitimages.com/DQmcsnswwPKMTEUR9eToy3ASvvf1LXZufgQaYYnZ2fpvWtP/FB_IMG_1526165613832.jpg) -|-| Disclaimer: credit to
@flabbergast-art
from his facebook page. This workshop ends on Wednesday and a program for the kids will follow, the date still to be advised. With the Department of Education's participation, certificates of completion will be given. Bamboo trophies will be given from our side. I got no clue on what they would look like so let's wait for Marlon to surprise us. ![JPEG_20180302_072839.jpg](https://steemitimages.com/DQmbNShoCHWhUJFRnprZqoVehYbms9WBtMAUqtSvfMN4G85/JPEG_20180302_072839.jpg) Disclaimer: photo by Ian Abalos, graphics by
@bearone
In lieu of Steemit Philippines' mission to PROMOTE THE PLATFORM THROUGH IT's CHARITY INITIATIVES,
@walkofhope
brings Music and Arts to the underpriviledged Filipinos in Visayas and Mindanao. Disclaimer: all credits to
@flabbergast-art
for all the images ![immarojas-3.png](https://steemitimages.com/DQmNSvo6E6dy9k7V1ctEugJP8VFP5wDSDkq6jsdNqcAuJ6A/immarojas-3.png) ![banner_steemsugars.jpg](https://steemitimages.com/DQmPzu9NUuJmbkV2riRq8jxcJ4jxfoTNoaSUYFiy4d1Zvt7/banner_steemsugars.jpg)
![immarojas_new.png](

)