The day after Valentine's Day, we arrived at our field site in the fynbos-covered mountains to a jarring vista. Though hardly lush and verdant before (ensured by an on-going drought in South Africa's Western Cape province), the crags of rock where we conduct our work were now desolate in an entirely different way. Overnight, a blazing bush fire turned the plant covered slopes into this: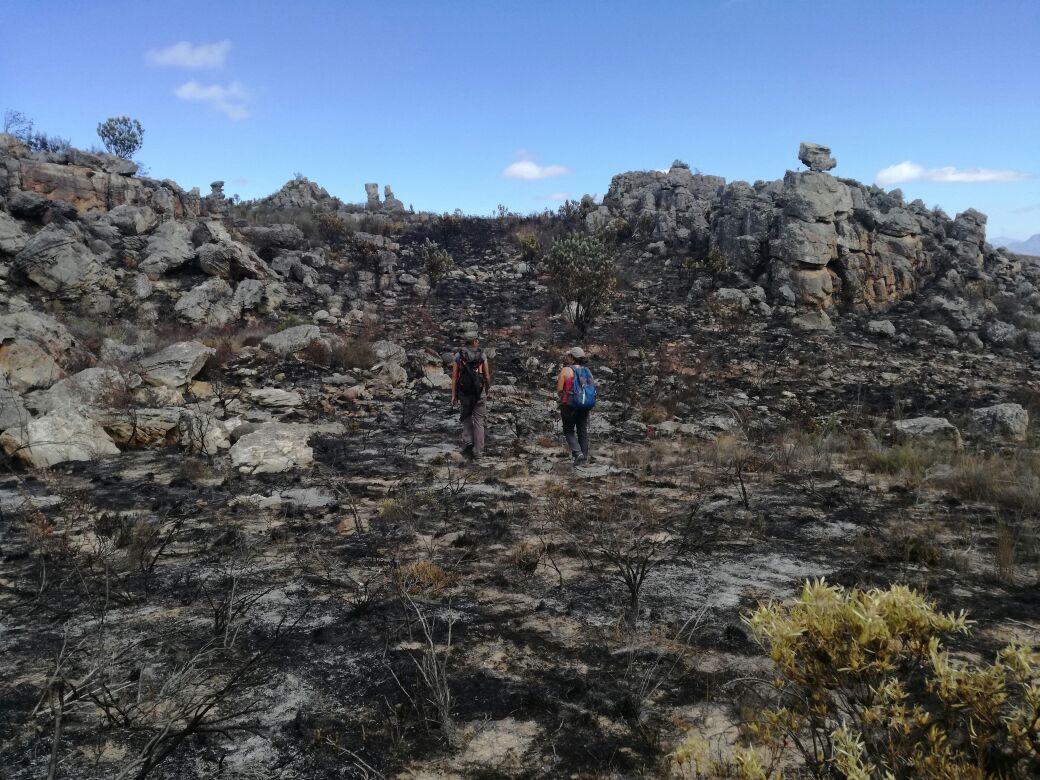 Another researcher and myself navigating the charred ruin of a post-fire field site
The whole field site simply burned down overnight. The day before, we'd seen smoke coming from one valley over and checked it out: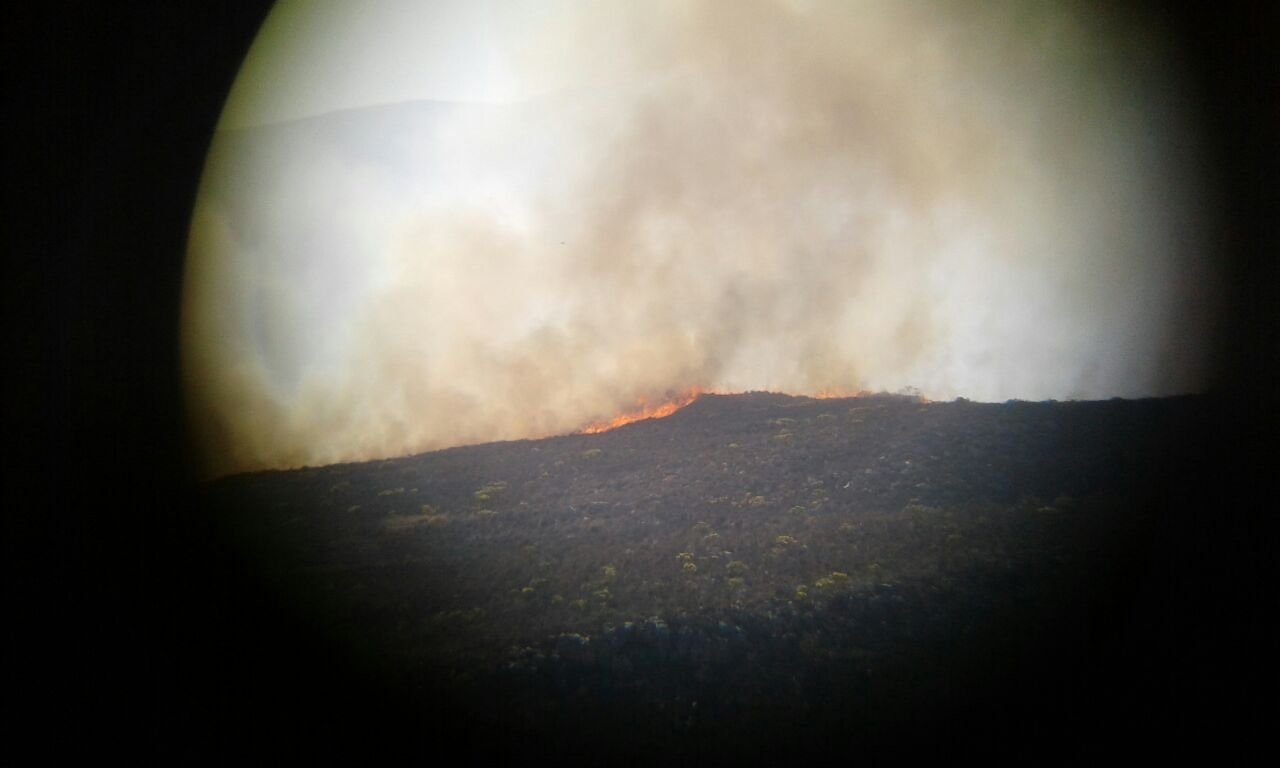 We kept an eye on this through the day with binocs. Though those flames look small, they are actually about chest height
Though the flames seemed to be moving in a different direction, and though we'd alerted the appropriate authorities, the fire still managed to rampage through our site before it was brought under control. Returning to the scene the next day was like stepping into an alien landscape. Where once tall protea bushes had stood, we now had this: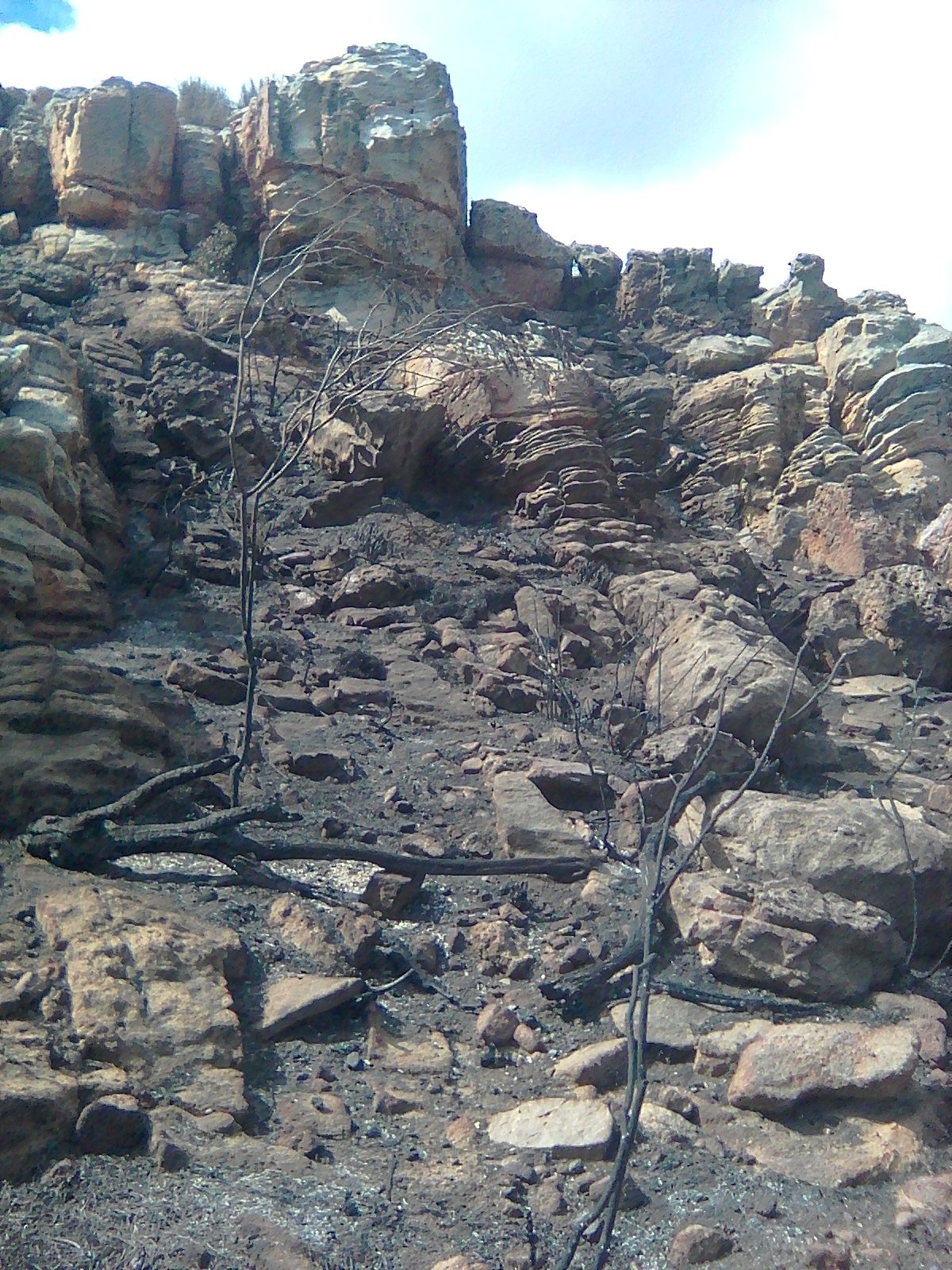 Already tinder dry from the drought, these went up like kindling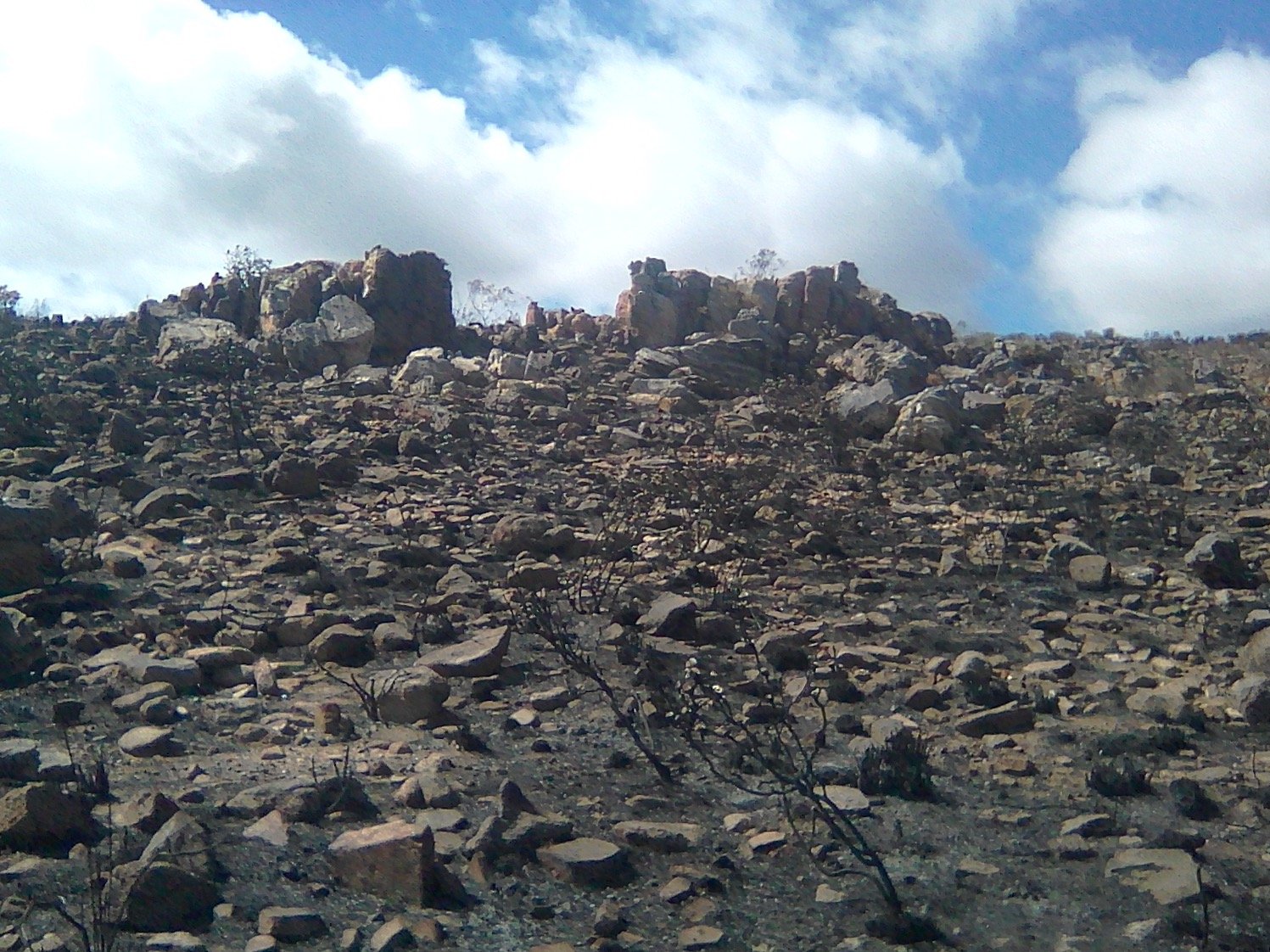 Coming to a landscape like this just a day later is utterly surreal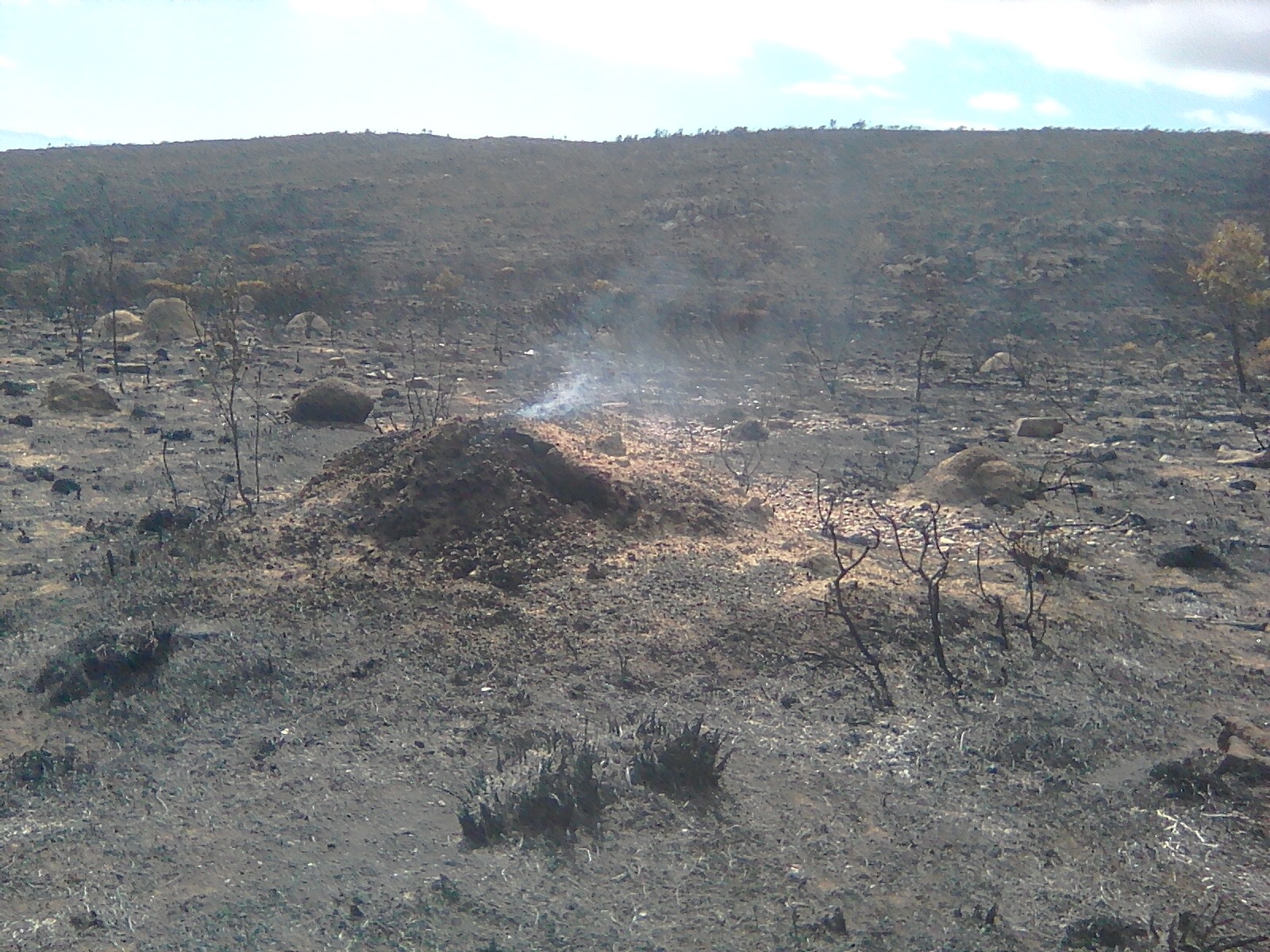 A smoldering termite heap. In places there were still patches of active flame
The cause?
The previous night, we'd been delighted by the arrival of a thunder-storm, complete with some of the rain the area desperately needs. Though the rain was short-lived, it seems likely the electrical storm that accompanied it was what started this blaze. The little bit of moisture introduced into the soil was hardly a match for months of desiccating sun that turned the entire area into one massive brush-pile.
Still, even in the midst of this there are some signs of life: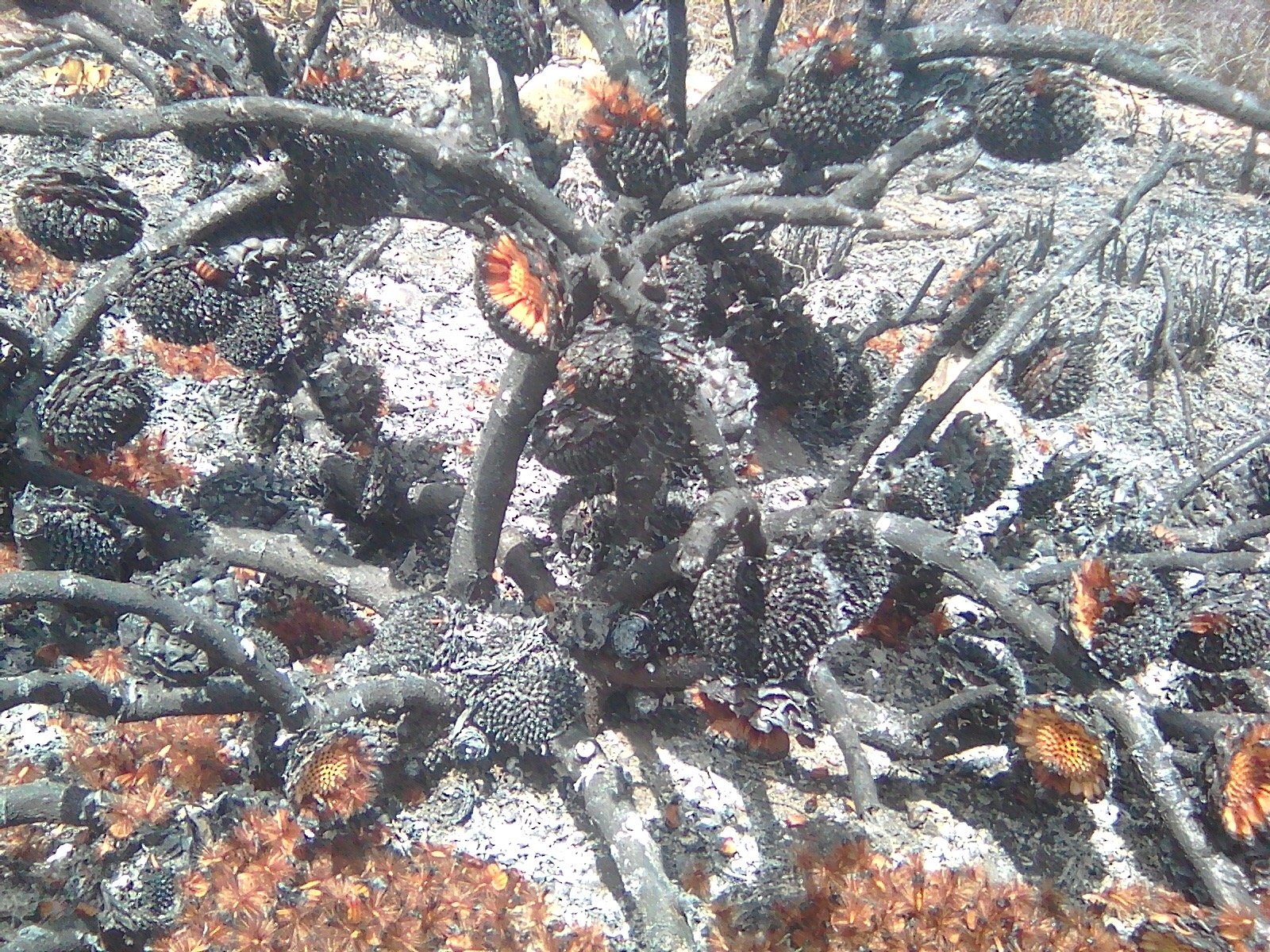 A ground protea, triggered by the fire, releases its seeds
Fynbos ecology
For the vegetation of this region, fire is a natural part of life. Though this is a fairly disastrous outcome for a biology field site, it is simply another part of fynbos ecology. Fires in 10-14 year cycles encourage new growth in the newly enriched soil (which otherwise becomes nutrient depleted). If fires occur more frequently, the longer lived shrubs don't get a chance to mature. In contrast, when they are not frequent enough, other species begin to die back. For some types of fynbos however, cycles as long as 25 years are the norm. In such cases too, these pyrophilic plants benefit from this natural resetting of floral succession. What's even more fascinating about this process is that factors such as the intensity of fire will affect which species appear after this 'reset.' For some, seeds buried for fifty years will suddenly sprout if the fire was intense enough to stimulate their germination.
Now while the biologist in me is fascinated by the intricacies of this unique system, the after effects of the fire itself will take more getting used to. For the next few days as I go to field, I think it will still come as a bit of a shock to see this vista each morning, so blackened and charred where once I had to push my way through prickling bush and proteas. But as the weeks roll on, we will hopefully start to see some new growth.
Well, happy Steeming people,
The Wise Fox
Fynbos fire ecology references:
https://africageographic.com/blog/is-the-cape-fynbos-going-up-in-flames/
http://magazine.africageographic.com/weekly/issue-37/cape-town-fire-fynbos-table-mountain-life-in-the-ashes/
https://www.kbrc.org.za/news/fynbos-and-fire/
http://www.fynboshub.co.za/fynbos-and-fire/