I am @barge on Steem and on Smoke. I have decided to use @krunkypuram to post to The WeedCash Network. This post will be simultaneously published on the Smoke blockchain and here, on WCN.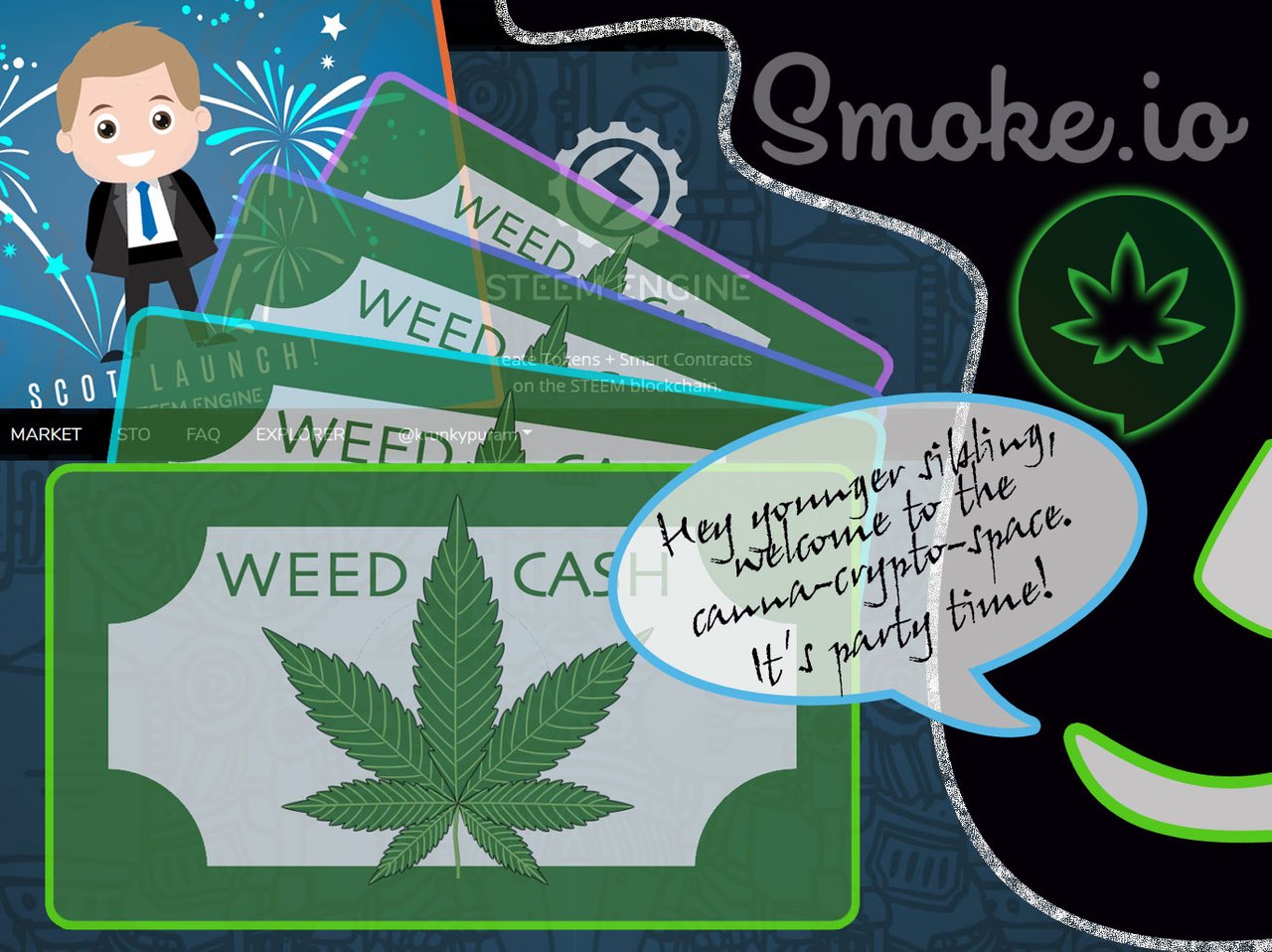 So we have crypto-space and within it we have some dedicated canna-crypto-space. This is split - at a headline level - into the SMOKE blockchain (smoke.io) and now The WeedCash Network - a semi-autonomous subset of the Steem Blockchain.
I have come across little discussion of this situation - ie that of having a potential 'duplicate' space - and how this may be regarded. It's still early days but I would like to call out the elephant (mouse? kangaroo?) in the room and throw down some thoughts about the co-existence of smoke.io and the Weedcash Network.
I am a very happy user of the Smoke blockchain and I would like to see it take off. Wouldn't something like TWC just throw a spanner in the works by competing for users and attention?
For those unfamiliar with one or either:
The Weedcash Network is the first example of a 'Community' on the Steem blockchain and it has only just come into being. Although dependent on the Steem blockchain for its existence, 'communities' can adjust certain parameters for themselves. Thus WCN uses the WEED token, has a 4 day payout window and a 60-40 split for authors and curators, a 42 day 'unstaking' (powerdown) period. Any top-level posts to WCN will also show up on Steem, but comments and replies made via a Steem interface (steemit.com / steempeak etc) will not show up when viewed in WCN [edit: clearly not so any longer as there is a Steemitboard comment on this post that shows in WCN interface]. The interface for trading the WEED token, including post-payout collection, staking (powering up) and distribution is steemengine.
Some links:
Smoke.io is a blockchain for Cannabis – community, culture, art, production, consumption, guidance, activism etc. Although cloned from the Steem blockchain it is a separate entity in its own right. Smoke launched in the Autumn of 2018 with the SMOKE token. There are currently around 7k users and growing. The content is extremely well organised and plenty of outreach activity is taking place to bring in users, organisations and businesses who have an interest in Cannabis (and psychedelics). Many of the folk on smoke.io are also on the Steem blockchain.
Right, so I had known about Steemengine and token creation and was therefore excited to hear about Scot (see links above) and the expansion of the blockchain into communities. However, when I first saw the post announcing the WeedCash Network (see link above) I had to stop and think about the implications. I am a very happy user of the Smoke blockchain and I would like to see it take off. Wouldn't something like TWC just throw a spanner in the works by competing for users and attention?

@richardcrill [CoffeeBuds]– whose baby this is - is also a top-20 witness on Smoke.io. I saw him state - validly IMO - on Discord somewhere that if he hadn't created a weed community then someone else would certainly do it. My thought was that that someone else may not have had any connections to smoke.io! The fact of this close linking is, I feel, relevant and positive. It seems to point to the possibility of a harmonious and expanded co-existence between the two.
Personally, I cannot see how WCN could possibly replace smoke.io and I do not believe that to do so was the intention behind it. Richard says elsewhere that this has been a long-term dream/plan of his which has only now - with Scotbot and Steemengine tokens - become actionable. It is brand new. Smoke.io has been around for a while and is already very well organised into structures and topic areas which cover all aspects of cannabis consumption, culture, cultivation, issues, art, medicine blah blah. It is a fully integrated system, functional, up and running and it is growing like da plant herself :). Plus it doesn't need to ask 'permission' from a 'mother' blockchain in order to enact its vision and it is not susceptible to knock-on effects of alterations to the 'mother' (hard-forks).
I do not know what is in store for WCN. I will watch and interact with this space. I do not think it will repeat the form of smoke.io and I do not think it could, although of course there is a big Green overlap :P. WCN is a different entity and is only just beginning its evolution, it will become what it will in its own right. It may well be a space where those on Steem who do not normally post about cannabis feel able to do so. Certainly the possibility of earning WEED tokens will be attractive and no extra credentials are required, which makes it very easy. As it is, many people on the Smoke blockchain have already been posting to WCN. Any which way, The Weedcash Network will most certainly also be an entry point for new users to the blockchain space who may never otherwise have made it. It expands the existing space just by having come into existence!
I realised then, that it is actually counter-productive to see WCN and Smoke as being in some kind of 'competition'. To do so creates division, 'us vs them' thinking and greatly limits one's perception of what could be! The crypto space is still very small and the crypto-canna-space, even smaller! When there is only one entrance to a building, not so many may hear about it or find their way there even if they may be so inclined. When the number of entrances to the building increase, so too do the access points and thus potentially the numbers all round. So what if in the short term some folk come to WCN and don't go on to smoke.io, others will! There is no need IMO to be concerned about numbers being pinched one from the other, nor any 'guilt' at supporting 'competitors' – the more entrances we have to the crypto-space in general, the sooner the word will spread, keeping the blockchain, decentralised revolution moving forward ever faster than before.
For me the priority here is drawing people away from the old-paradigm control freaks and into this decentralised blockchain space of free expression – whichever sub-space they may step into first. There is room for everyone and more, and there is room for everyone to be everywhere at once if they so wish and can keep up. Why limit oneself with limited thinking in this regard?

For me, WCN is conceptually like a smoking room on the Steem blockchain that I can retire to when I wish, and post stuff away from my barge stuff - lighter, more colourful stuff perhaps, dunno yet. I do not intend to duplicate my smoke.io content here (this post excepted lol, but it is relevant to both places). Barge and the Krunk are the same person, just wearing different hats.
Thanks for reading