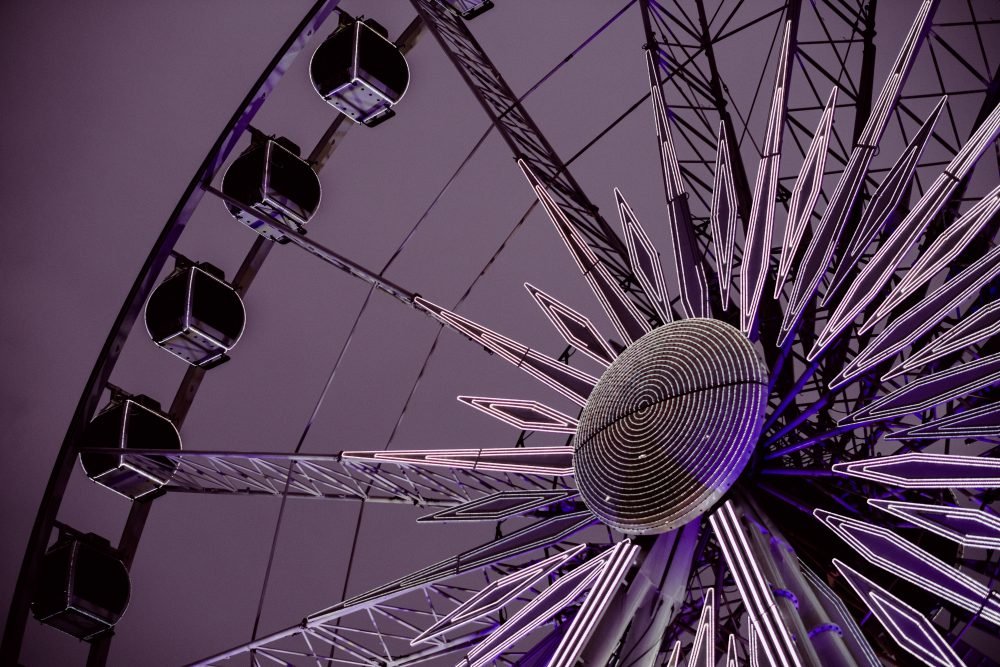 source
"You wouldn't," said Tom, horrified, taking a step back from her. "We are not going to drop a shoe on the security officer's head while up in the basket, Marcy."
Marcy shook her hips like a chicken hitting the ground with its beak as it searched for food. "The system deserves a good swift kick in the ass."
"Not if that lands us in the Farris wheel jail cell," said Tom trying to hold onto reality while she took him further into the world of ideas, which, at least in her mind, had no ramifications, that challenged the kind of person he thought he was.
"Are you a square?"
Unlucky for Tom, this was the first date that he'd been on with a girl since the cavemen started drawing what they were doing on cave walls, this translates to never having been on a date. Who knows when the next one would come along.
He spoke from the shadows beside the door. "I'll join. I want to join."
As quickly as he had joined her in the room, they were out the back door and headed to the Farris wheel where the unlucky security guard waited.
Tom, letting his irrational mind get the better of him with metaphors that ran along the line of - She is as electrifying as the connections between the eyes, as stunning as a starfish that glows, as perfect as it gets for me, before he knew it, was handing their tickets to the ticket collector and sitting in the bucket with her waiting for the lever to be pushed up.
"Do chickens fry eggs?" Her question made Tom think he'd heard something else when she asked again, "Do chickens fry eggs?"
"No, I mean, they don't have fire."
As soon as the buckets where at the top of the Ferris wheel that had Tom and Marcy in them, the level was pulled to the off position to allow patrons to be shuffled off and then on.
Marcy reached into her purse. The balloon filled something she pulled out of her purse was the smell of overripe bananas and a lot of peppers. She stuffed the bag in her shoe, poke holes in it, and toss it down over the head of the security guard she had set her sights on.
"Watch out below!" She pretended to care as my face lite up a bright red when it hit the security guard square on the head.
The security guard was shocked, speechless, stunned, that is until he felt the pepper in his eyes. He took off toward a direction that he randomly picked like Dolly Parton without a bra, like Sponge Bob after a night of bad writing.
"I'm sorry - so, so sorry," Marcy said to the man who lifted the bar expecting an explanation, giving her her shoe back. "That was our celebration cake for our one-year anniversary." She batted her eyes which always had an effect on men.
"That's alright miss. Just, please remember, no food up there next time."
"Yeah, of course. See ya." She took hold of Tom's hand and scurried off into the night.
THE END
If you would like to find out what freewriting is all about, go here.

Regular Freewritehouse features
Announce the Adoptee -Monday
Recommend your Favorite Freewrite and Win SBI - Tuesday
We-Write and win SBI - Every other Wednesday
Freewrite Favorites - Thursday
Adopt Me!! -Friday
Over 20 Club - Saturday


# Badges

---
---
If you are enjoying my work, please -
===
Upvote my posts through steem auto and add the other people and groups you would like to support.

Support me and others through steembasicincome shares. (This also helps you because you will also get a share for sponsoring somebody.)
Affiliation links
Click here --> Steemmonsters. This is an official affiliate link. So, not only will you get awesome cards, but you will also be helping me out.
---
---
A project with me and the bananafish knights is yours to quest in.
---
---
Some coins you may want to grab -
---
---
Ongoing Contests
---
---
My Completed Freewriting prompts:
---
---
---
---
---
---
---
---
---
Curie Author Showcase - May 24, 2019
===
How can you make this table or create something even better?
stackedit.io, which is great for seeing what you are doing while you are building your page.