This is my entry to @freewritehouse's and @zeldacroft's WeWrite challenge
I donned my Mills & Boon hat for this one, so I hope it's not too corny.
The images are my own.
THE PROMPT
At the Club
by @zeldacroft
The club lights flashed and waved to the beating music. They washed the dancefloor in neon colors, in time to the heavy vibrations of the giant speakers. Surprisingly, Toby admired the bright lights, how they illuminated the huge space and modern architecture. Though he found himself nursing a headache at the bar.
Jan from accounting had organized the "bonding time" for the office, saying how it'd bring everyone closer together. Toby had been devoid of any good excuse, so now he was stuck between a beer, clubbers, and Jan, with her volume louder than the pounding speakers.
"And so that's when I said, 'Kevin, that's the wrong variable!'" She snorted in laughter at her own joke. Toby managed a smile. "You see, he made a simple mistake!"
"No, I get it. I think Susan's around here somewhere, she'd appreciate hearing it too."
"That's a good idea, but I can tell her on Monday!"
Toby took another drink. He liked Jan well-enough at work, but tonight was proving a little more difficult.
"That does bring up a good point, though. I haven't seen many people from the office here." Scanning the room, she asked, "Do you think they're stuck in traffic?"
"Yeah, maybe," Toby answered, knowing full well it was more a case of empty promises. Still, there was something about the disappointment in her eyes that struck him. "But hey, you got some of us here."
She gave a small smile and looked around again, this time lingering towards the lights.
"Hey, let's go dance!"
Before Toby could gently protest, she'd swept him onto the floor, beer and all.

MY CONTINUATION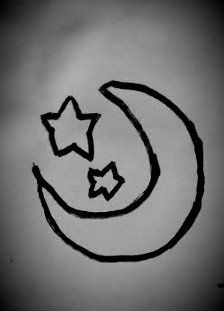 If there was one thing Toby detested more than pounding music, it was dancing to that pounding music. But rather than add to Jan's disappointment, he allowed her to drag him through the mass of swaying forms; one hand held high as he manoeuvred his beer glass over the heads of the pulsating crowd.
At first, he stood motionless watching Jan, his mind busy with a plan to extricate his aching head from this awkward situation without causing her offence. But soon the mesmerising colours of the neon lights washing over her body, undulating to the thumping rhythm of the bass, caused his feet to move unbidden keeping time with her as they leaned closer, the better to hear each other above the tremendous din.
He'd never quite got the hang of talking and dancing simultaneously, and they laughed together at his two left feet which tripped over each other every time he started to speak. In fact, he found himself laughing a lot with Jan, his headache forgotten as she made a running commentary on the crowd around them, irreverent but not unkind until Toby's sides were splitting, and he was gasping for breath.
Their animated conversation continued back at the bar, the spell binding them together broken only when Susan interrupted to say she was calling it a night since none of the others had turned up.
As the three of them made for the exit, who should come crashing through it but their nine thirsty workmates held up in traffic after an accident on the motorway. Toby could not account for the warmth that flooded through him when he saw the look, somewhere between relief and gratitude, that lit up Jan's face.
Years later at a gathering for their 10th wedding anniversary, Jan was recounting the tale of the night she and Toby had laughed themselves into love at the Silvery Moon Nightclub. Her mother, hearing this for the first time, was quick to remind her of the palm reading she'd had on her eighteenth birthday and the psychic's prediction that she would find her true love by the light of the silvery moon.