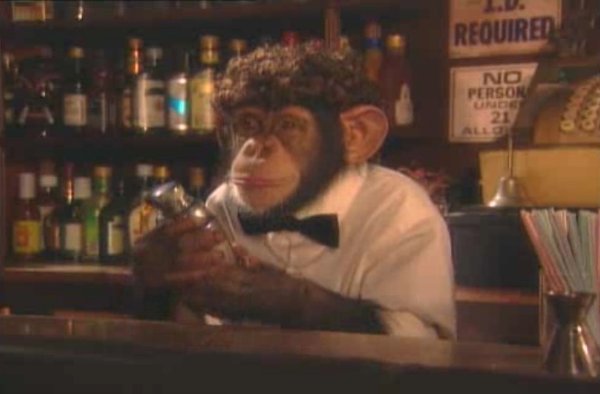 Image source
---
I read I article a few days ago and it was about the most stressful jobs in the world today. Among the listings were jobs like flight controller, a heart surgeon, pilots, policemen/woman, firefighter, stockbrokers ...and so on. In the top 10 or so was the job bartender or waiting staff. And most of you who did not worked in this profession will say OH man that is so easy everyone can do that where is the stress in handing out drinks to drunk people.
I myself used to work for a few years in bars and restaurants during university and later on. It started out as a summer job during my college years nice way to earn some cash. For those of you tunning in for the first time, I live in Croatia which is pretty tourism-oriented and jobs in this industry can be found easily. One thing led to another my university education did not help at all to find a better job. I have a bachelors degree in archaeology making my masters and it is not worth, not even the paper it is printed on. But this is a topic for another time 😁
Back then it was the perfect gig it is a cash business, you get paid under the table and there are tips so cash to get by until payday. There are some more perks when you are in your 20s one of them is you have unlimited access to alcohol which is always a good point. The party never ends in those years there is also sex women or men or whatever you prefer.
Later on, when you get older you really don't care about that stuff anymore. I mean you get older your priorities change and if they do not you are an idiot, to be honest. The job starts really drains you physically and mentally. You work long hours standing on your feet for 8, 10, 12 hours, you work on holidays when everyone has the day off, loud music day and night, your eating habits and nutrition go flying out the window, you start to eat shit and irregularly or smoke two packs of cigarettes a day. The list goes on and on but the worst is the in my case was the dead end you don't move up or down and you don't grow in your work environment. You are looked down upon and are unappreciated. That is the reason why I made a career change still tourist oriented but more challenging. For those of you who are tending bar, you will know what I am talking about and I did not even get started on the customers and the dumb ass questions and requests they mostly have and will have. I mean that aspect will never change for as long as there is humanity.
This brings us to one more thing for those with the blablabla attitude that I am talking about an easy job. You're constantly engaged upon by customers by the management or the shit for brains boss you have. In other high-stress professions, you have control and appreciation for what you do like teachers or doctors also a high-stress job but mostly happy people after work. As a bartender at the end of your shift first thing you need is few drinks to get you leveled or something harder and stronger.
To help you nonservice industry working folk I will give you a few tips now so you might consider or even think about the next time you see a pissed off bartender/waiter.
---
He or she is probably pissed off for a very good reason so here we go.
BE POLITE - Good day, good night, thank you, please, you came to me I do not need a drink from you. These words are not that hard to pronounce and believe you me they are fucking magic words, they will open doors you never knew were there.

I AM NOT A MIND READER - If I could do that I would not tend bar I would have my own show in Las Vegas like Siegfried and Roy with tigers, fireworks, and shit. Tell me what you want a simple beer or a coffee won't cut it this is not 1776.

SPECIAL TREATMENT AND WISHES - You are not the Queen of England there for you are not special to anyone.

COMPLAINING THAT YOU ARE WAITING FOR 15 MIN - Especially when it is a busy day/night. I don't give a fuck get up and go somewhere else.

DONT WHISTLE, YELL, SHOUT OR SNAP YOUR FINGERS - To get the attention of the staff, first, it is extremely rude so check #1 again. Second, you would not do that in the real world someone would break your finger think about that.

INTERRUPTING THE MAN WHILE HE/SHE IS WORKING - Wait your turn it will not speed up your order the opposite will happen.

CUSTOMER IS KING/QUEEN - shove it up yours, you are no king/queen and this is not your castle behave normal and nice check #1 again.

DONT SAY THE DRINK IS NOT STRONG ENOUGH - And you cant taste the alcohol that is the point you moron go and drink rubbing alcohol you begging deadbeat.

DONT ASK FOR FREE DRINKS - Or a round on the house we had a few blablaba, how much I need to spend to get one on the house blablabla. If you follow #1. maybe you will get one on the house. In the meanwhile here you go

MAKING A MESS - Do that at home I have enough to do and cleaning up after you if just rude and most do not have the time for that.
And the worst fucking thing one can do is not to tip or leave a shity tip. My coworker used to say Tiping in not a town in China. It is a sign of appreciation look at it like Steemit investing in good relations it will help you in the future believe me I know.
I am sure the list could go on and on and on like the Energizer bunny but I leave that to you let me know your experience in the comments below the god, the bad or the funny I don't care.
---
Good luck to all of you until next time @zija2022 and as always resteem follow if you like this post 😁