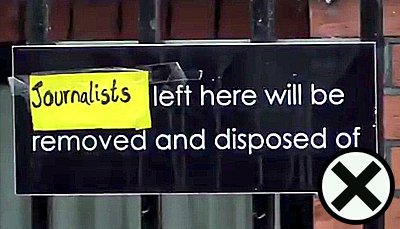 At around 10:30am UK time, several London Metropolitan plain-clothed police officers were freely let into the Ecuadorian embassy by staff and arrested Julian Assange after Ecuador withdrew his asylum. Julian Assange's arrest comes nearly 7 years after ex-President of Ecuador Rafael Correa, confirmed that Assange could stay at the Ecuadorian Embassy indefinitely. There is a video going around on social media of the arrest but I'm purposely not link the video here as I find it to degrading and upsetting to watch or share.
Where has Julian Assange been taken? He's been taken to Westminster Police station and was arrested for the initial offense of skipping bail. Assanges lawyer, Jen Robinson confirmed shortly after that he was also further arrested on behalf of the U.S. for leaking documents obtained by alleged war crimes whistleblower, Chelsea Manning.
Arrest of Julian Assange | Met Police - 05/11/2019
Julian Assange, 47, (03.07.71) has today, Thursday 11 April, been further arrested on behalf of the United States authorities, at 10:53hrs after his arrival at a central London police station. This is an extradition warrant under Section 73 of the Extradition Act. He will appear in custody at Westminster Magistrates' Court as soon as possible.
Julian Assange's arrest comes just days after it was revealed by Wikileaks that Assange would be arrested within "hours to days".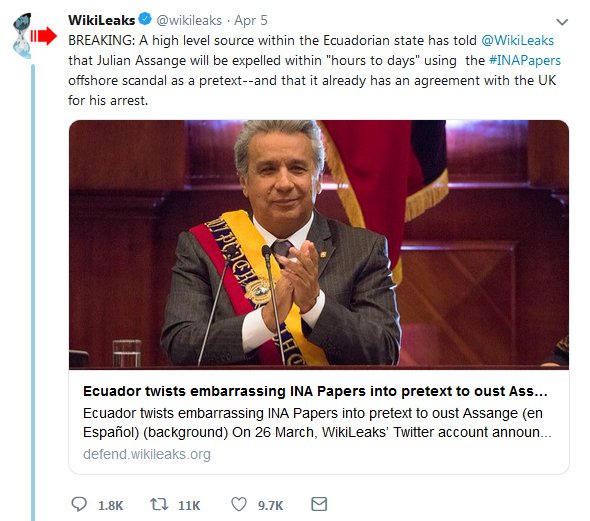 ACLU Comment on Julian Assange Arrest | ACLU - 05/11/2019
"Any prosecution by the United States of Mr. Assange for Wikileaks' publishing operations would be unprecedented and unconstitutional, and would open the door to criminal investigations of other news organizations. Moreover, prosecuting a foreign publisher for violating U.S. secrecy laws would set an especially dangerous precedent for U.S. journalists, who routinely violate foreign secrecy laws to deliver information vital to the public's interest.
DOJ
The DOJ claims that part of what Assange did to justify his prosecution (beyond helping alleged whistleblower Chelsea Manning in obtaining documents) was to encourage Manning to leak further docs to Wikileaks for them to publish.
WikiLeaks Founder Charged in Computer Hacking Conspiracy | DOJ - 05/11/2019
ALEXANDRIA, Va. – Julian P. Assange, 47, the founder of WikiLeaks, was arrested today in the United Kingdom pursuant to the U.S./UK Extradition Treaty, in connection with a federal charge of conspiracy to commit computer intrusion for agreeing to break a password to a classified U.S. government computer.

During the conspiracy, Manning and Assange engaged in real-time discussions regarding Manning's transmission of classified records to Assange. The discussions also reflect Assange actively encouraging Manning to provide more information. During an exchange, Manning told Assange that "after this upload, that's all I really have got left." To which Assange replied, "curious eyes never run dry in my experience."
Knowing now for sure that this is related to the documents provided to Wikileaks by Chelsea Manning, it's no coincidence that Manning herself was arrested and imprisoned for the second time last week.
Chelsea Manning Is Officially Back in Jail | Law & Crime - 03/08/2019
Chelsea Manning has refused to comply with a subpoena and is therefore back behind bars. Manning, the former U.S. Army intelligence analyst who was infamously convicted of violating the Espionage Act by disclosing thousands of "classified (and unclassified but 'sensitive') documents" to WikiLeaks, was subpoenaed to testify before a grand jury in the Eastern District of Virginia and has refused to do so.
What Happens Now?
"narcististic who cannot get beyond his own selfish interest"*
Julian Assange has just appeared before District Judge Micheal Snow at Westminster Magistrates Courts where the Judge found Julian guilty of breaking his 2012 bail conditions. He'll appear again before District Judge Snow via video link for a
second hearing on May 2nd, 2019
. The emotionally compromised judge overseeing the case in court today called Julian a "narcististic who cannot get beyond his own selfish interest". It sounds like he's already made his decision.
John Kairiakou, A regular on the popular Unity4J live-streams, doesn't feel confident that Julian will get a fair trail if he is extradited to the US to face hacking related charges.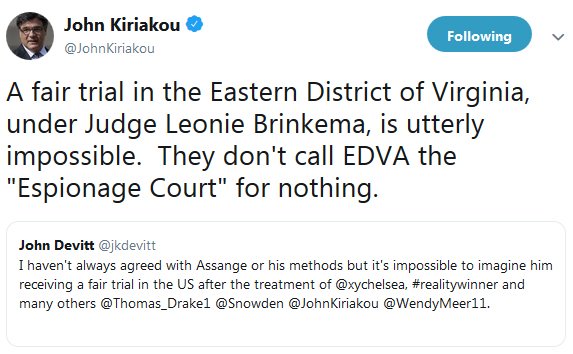 Source
Also, one of the Swedish lawyers who started all this have recently woken up and are currently circling Julian eyeing up which parts of Julian Assange's carcass are left for them to feast on too.
Lawyer says to push for Sweden to reopen Assange investigation | Reuters - 05/11/2019
STOCKHOLM (Reuters) - A Swedish lawyer representing the alleged victim in a rape investigation involving WikiLeaks' founder Julian Assange said on Thursday she would push to have prosecutors reopen the probe, that was dropped in 2017.
For the time being, Julian will presumably be taken to and held at a local prison somewhere in London at least until his video link hearing on May 2nd.
---

FORTIFIED
Steemit | Gab | Twitter
THANK YOU FOR READING
- If You Would Like To Help Me To Make More Great Original Content Please Consider Upvoting and Re-Steeming -