I've been told before that WikiLeaks upholds the mainstream narrative of the September 11, 2001 attacks in the U.S. I never looked into it though. But as I scrolled through the WikiLeaks feed a few days ago, I saw a retweet from @WikiLeaks for an MSNBC video that quoted them:
What kind of Senator provides an unquestioning platform for a Infowars 9/11 conspiracy theorist with a long history of lying and conceals the established facts which demonstrate exactly the opposite: the tape was moved to the day of WikiLeaks' publication?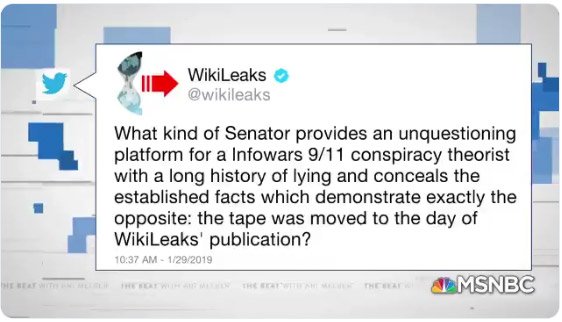 Source
The person WikiLeaks refers to is Jerome Corsi. WikiLeaks was responding to Sen. Richard Blumenthal, who himself responded to WikiLeaks on MSNBC by saying:
"It's not about me, it really is about what the Special Counsel knows and can prove about Wikileaks coordinating with the Trump campaign"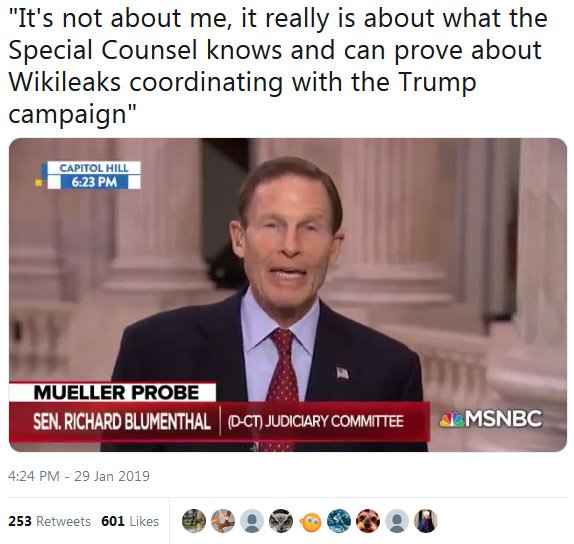 Source
WikiLeaks wanted to discredit Corsi, and they did it by casting him as a "9/11 conspiracy theorist." You only call people that to devalue what their saying, to discredit them. This indicates to me that WikiLeaks in general, or whoever controls the Twitter account, either accepts the mainstream official version of 9/11, or if not, at the very least doesn't like alternative theories to be talked about.
Calling someone a "9/11 conspiracy theorist" is done by those who accept the official 9/11 narrative. It's done to discredit what someone is saying, not by demonstrating what they are saying is wrong or false, but by trying to assassinate their character.
WikiLeaks (or someone in charge of the Twitter account) seems to have little respect for people who question the establishment version of the 9/11 event. Otherwise, they wouldn't have used the term "9/11 conspiracy theorist" to try to discredit someone or devalue what they say when 9/11 or questioning the official narrative has no bearing on the matter at hand.
---
Thank you for your time and attention. Peace.
---
If you appreciate and value the content, please consider: Upvoting, Sharing or Reblogging below.


me for more content to come!
---
Like what I do? Then consider giving me a vote on the Witness page :) Thanks!

My goal is to share knowledge, truth and moral understanding in order to help change the world for the better. If you appreciate and value what I do, please consider supporting me as a Steem Witness by voting for me at the bottom of the Witness page.