The SAQ (the state wine stores in Quebec, Canada) recently received a few bottle of Canadian Pinot Noir. I jumped on them like a dog on table leftovers.
I bought two bottles, the Quails' gate 2016 from the Okanagan Valley in British Colombia and the Domaine Queylus Tradition 2014 from the Niagara Peninsula in Ontario. Those two main wine regions in Canada are separated by 3400km and 4 time zones. I decided to open them both and to compare them.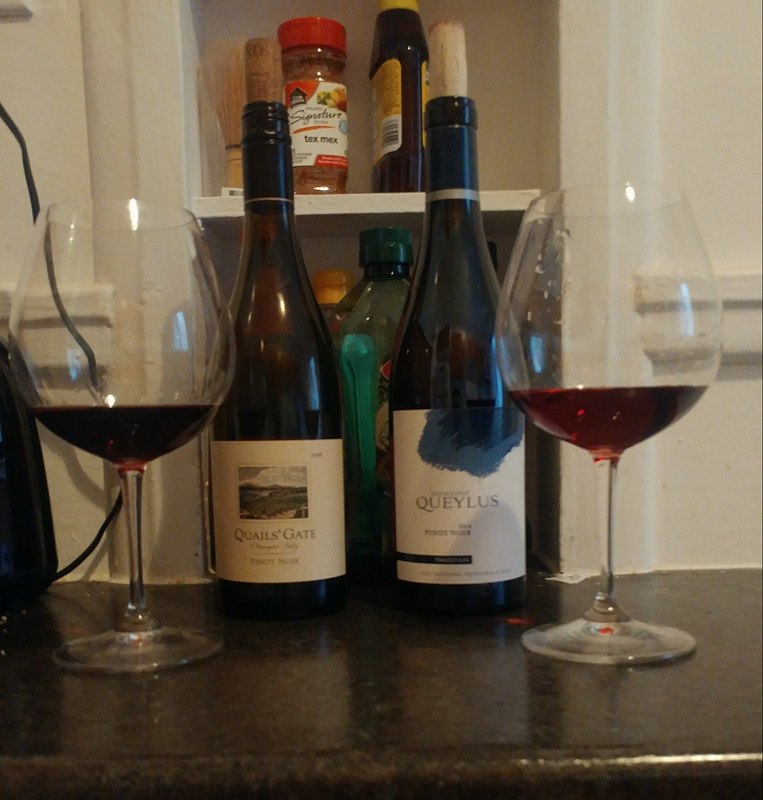 Quails' gate Pinot Noir 2016:
I already tasted the Gewurztraminer from this Estate and I really appreciated it. I had expectation concerning this bottle which were not completely met. The main aromas were smoke and plum. I had those aromas once in an Oregonian Pinot Noir and I always think it is a bit weird. In the mouth, there was hint of saline water. It was a light bodied with a ruby color. That was interesting but not a kudos.
My rating would be a 3.3/5
Domaine Queylus Tradition Pinot Noir 2014:
This wine was all about finesse and elegance. It was a bit more tannic than the Quails' gate and It was also more complex. It opens on cherry and raspberry but I has well-balanced wood. This was an exquisite wine.
This domaine makes 3 Pinot Noir, Tradition, Reserve and Grande Reserve. They want to mimic the Village, Premier Cru and Grand Cru from Bourgogne. The tradition is supposed to be the Village AOC and I think it is as good as Village AOC from Côte de Nuits. I'm really excited to try the better quality version from this domaine.
Final Rating: 4.8/5