Thanks to all that has voted for the @jacor-witness during the last week. The campaign did well and we are already serving the community as we are part of the top 100 Active witness list.
For those that have not voted yet, we would love if you do as we would want to be part of the Top 50 over time as we prove ourselves.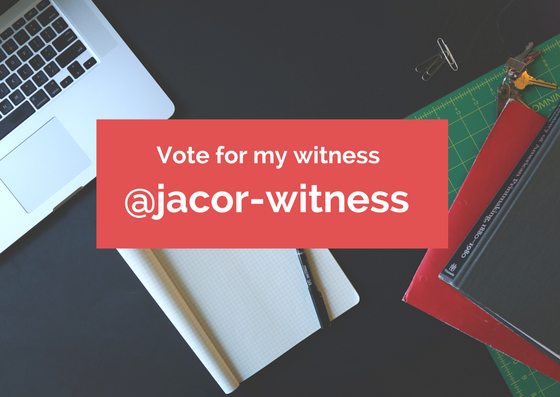 What is a Steem witness?
Due to the fact that many people on the platform is not technical I thought I will give an overview on exactly what a witness is and what tasks it performs.
The Steemit application, which is used by all of us to blog is running on the Steem Blockchain. Many other applications can be written to run on the Steem Blockchain. Just like any other blockchain, Steem requires a group of people to create Blocks in the chain and in contradiction to other Blockchains, Steem does not require miners to create blocks, but it needs people to validate the blocks that are created. The group of people that validates the Blocks are called Steem Witnesses, and it is based on the Delegate Proof of Stake. Please have a look at the following video to understand more about DPOS.
Who can vote for witnesses?
All Steemit users like you and I can vote for Witnesses in order to have our say in who maintains the network. Each of us has 30 Votes, to select our favourite Witnesses.
The @jacor-witness is not in the Top 50 List yet, so you will need to scroll to the bottom of the page, type @jacor-witness in the textbox provided and the select the vote button.
You can vote for your favourite witness using the following link:
https://steemit.com/~witnesses

What is a witness suppose to do?
All witnesses runs hardware and software on a server, which needs to be maintained to ensure that the Steem Blockchain are maintained by a network of computers. In the @jacor-witness case, the hardware and software are maintained by a group of software technicians with years and years of experience, which makes us unique to a certain extend, as our company maintains the witness and not an individual. This allows us to ensure that we have a reliable witness running 24 / 7 / 365.
Our current server spec:
Initial Server Spec
32GB RAM
Core i5
SSD storage
Version 19.2
We are only a few votes away from a Full Rank Top 100 witness.

All votes will be very much appreciated. We are a committed team of people to ensure a reliable service and are asking for community support by voting for our witness.
Happy Steeming!
---