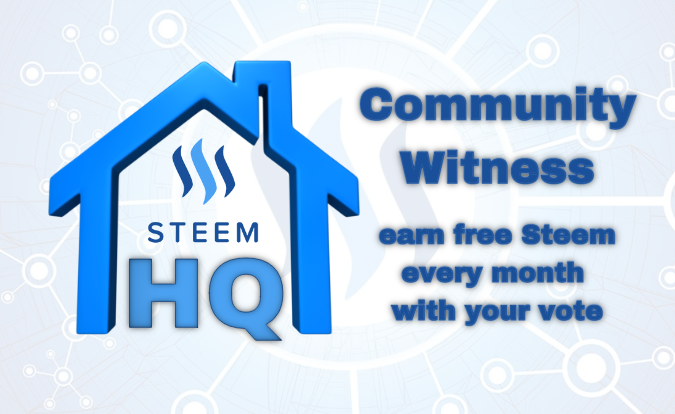 2nd Milestone: Community Witness witnessed it's first block
Dear Steemians,
only a few days after the project started, we already reached our 2nd milestone!
The Community Witness successfully witnessed block 20325855 on the Steem Blockchain! As you can see on our website, all participants, who gave their vote to steemhq.witness already got credited proportional to their Steempower.
Our server runs very smoothly with about 20-30% load average. Memory usage is about 50% so there's plenty of time until we reach the point for a hardware upgrade. In terms of witness ranking we still sit on rank 182.
Currently we use the following parameters as a witness:
| Parameter | Value |
| --- | --- |
| Registration Fee | 0.100 STEEM |
| Block Size | 65536 bytes |
| Running Version | 0.19.2 |
| SBD Interest Rate | 0% |
Stake your Steempower into the Community Witness
This project is the perfect opportunity for all people who wanna use their stake to make extra profits. With vote for witness you'll get a share of all witness earnings proportional to your Steempower and get payed once a month.
You can always checkout all relevant data right here:
https://www.steemhq.com/witness
You haven't heard of the SteemHQ.com Community Witness yet?
Join the Community Witness with just your vote!
Vote for steemhq.witness on Steemit or directly on SteemConnect


Your feedback and support is much appreciated
If you have any suggestion how to further improve the Community Witness feel free to leave a comment below.
Help to promote this service and simply resteem this post! Thank you!