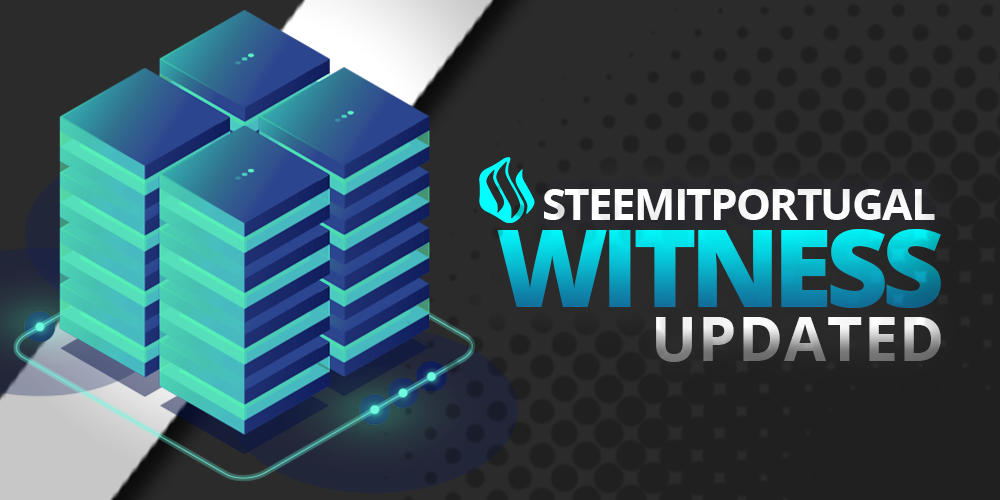 Steem Witness Information
Steem version: 0.22.1
Current witness position: 197 (121 active rank)
Total missed blocks: 27
Block size: 65536
Reputation: 53.649
Account creation fee: 3.000 STEEM
Effective Steem Power: 6971.00 SP

Current server specs
Witness node
The Portuguese community ( Portugal, Brasil, Angola, Cabo Verde, Guiné-Bissau, Moçambique e São Tomé e Príncipe ) on steem recently updated the Witness server for the second time to the following specifications:
CPU: Intel(R) Core(TM) i5 CPU @ 2.50GHz
RAM: 16 GB RAM DDR4
HD: 512GB SSD
Bandwidth: Gigabit Internet
Power redundancy
Bot node
This node is a VPS that runs NodeJS bot to support/encourage the Portuguese community to create good content on Steem:
CPU: vCPU
RAM: 1 GB RAM
HD: 20 GB SSD

Project presentation
This project has as main objective to promote the sustained growth of the Portuguese community in the Steem platform, with the creation of a community account for the benefit of all members of the Portuguese community.

The @steemitportugal account will be used for the benefit of the community, so that all members benefit from it in an equal and balanced way.
Whitelist
Yes, this project has a whitelist! We created a whitelist in case the project members make improper posts on the steem blockchain the @steemitportugal account doesn't vote for this account. Our focus is to get members to make good content and encourage their participation in this platform.
If you vote for our witness and if you have no delegation to the account, you will still have a 5% daily vote.

Delegation system
Upvote % Table
| CATEGORY | DELEGATED SP | UPVOTE % |
| --- | --- | --- |
| Master Delegator | More than 1000SP | 40% |
| Super Delegator | More than 500SP | 30% |
| Delegator Member | 10SP up to 500SP | 20% |
Those who delegate to the @steemitportugal account will have an additional % of the SP delegated to the account.
The Steemit Portugal account will only give a daily vote to each user.


United we are stronger!
If you are interested in helping the community and participate in this project you can delegate by clicking in one of the links below:
10SP-25SP-50SP-100SP-250SP-500SP-1000SP-
Thank you to all the members that are contributing to a strong and united community!
@prc,@forykw, @portugalcoin, @mathesuggr, @aleister, @tixinhacapitinha, @liliana.duarte, @tiplas, @guzman, @trincowski, @vdux, @marfonso, @fcdvpds, @mafaldation, @crissimoes, @pedromonteiro, @myfreebtc, @vincentnijman, @ricardovieira, @pg-live-pt, @shaunmza, @rmach, @wglenz, @nascimentoab, @psos, @helgapn, @bitcoinportugal, @whymonkey, @pardinus, @pataty69, @armpcm, @onze, @leurop, @paulobassman, @steeminer4up, @assistentesocial, @loukosporbola, @tcapit, @zedikaredirect, @minloulou, @foodiecouple, @nuagnorab, @also.einstein, @hmayak, @teutonium, @demokratos, @markitoelias, @ewkaw, @shaunmza, @leodelara, @charlie777pt, @ribalinux, @martusamak, @revelim, @wagnertamanaha, @riscadox, @brazine, @orjantomarcelo, @equipodelta, @phabulu, @mrprofessor, @cyberspacegod, @paulobassman, @nutritree, @coyotelation, @diogosantos, @davidgermano, @menkarbit, @em3di, @freyman, @lpessin, @foodiecouple, @dsound, @prc, @steemean, @tracer-paulo, @d4rkflow, @saltiberra, @fernandosoder, @helgapn, @riscoin, @gazetagaleguia, @loukosporbola, @arcanu, @ukrainian.trail, @imagemvirtual, @bitcoincoimbra, @cgbernardo, @thisisawesome, @siddartha, @afonsocb, @osazuisdela, @kamarguita, @accioncultural, @treze, @compostorganico, @rivellion, @terrasdodemo, @warnasgaming, @zpedro, @queridinha, @xunguita, @tbtek, @deltacristiana, @monstershunter, @leavingtheherd, @lovegirl69, @caboverde, @karenfernandez, @steempt, @mabylinne, @gordonrose, @inesisasantos, @miafatisantos, @raqueltaylor, @inessantinho, @warnassolutions, @joaopfrancisco, @professionalgirl
Put the steemitportugal as a SET PROXY we are very grateful!


We support witnesses and communities:
@good-karma, @ocd-witness, @curie, @ausbitbank, @cervantes, @drakos, @emrebeyler, @pharesim, @steempeak, @abit, @arcange, @helpie, @justyy, @qurator, @dsound, @prc, @menkarbit, @c-squared, @steempress, @steemitboard