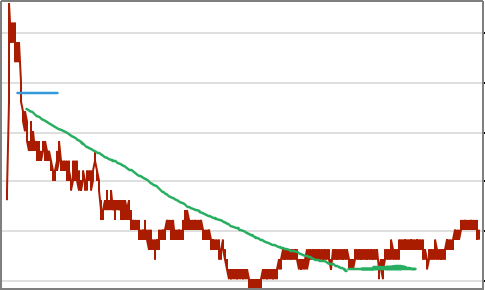 The Results
Note: I realised that counting P/L in "ticks" isn't so intuitive as % profit values differ at different odds ranges (you can test this on Arbcruncher's Back/Lay tool to see what I mean). Therefore, I will be using percentage profit/loss to stake figures going forward.
2nd July 20.00 CET: Belgium vs Japan
Selection: Over 2.5 @ 1.98*
Target price: 8 ticks @ 1.90
Stop-loss: 4 ticks @ 2.02
Risk-reward ratio: 2:1
Actual result: Exited @ 1.82 for +16 ticks (+8.6%, +£38.29)
Note: Only 91% of my stake was matched at 1.98, which reduced potential profit slightly. This can happen in fast moving markets, and in this case I decided not to back the remaining 9% at a lower price.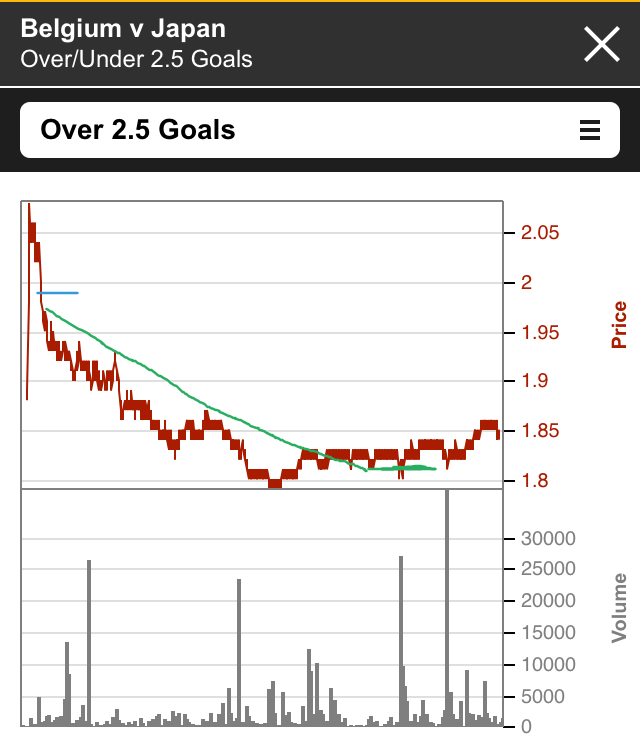 The blue line is my entry point, and the green flat line is my exit point. I'm really happy with this trade as the low was 1.8 - I gave it chance to go lower, thinking it could go as low as 1.75, but when the trend seemed to reverse I exited at 1.82.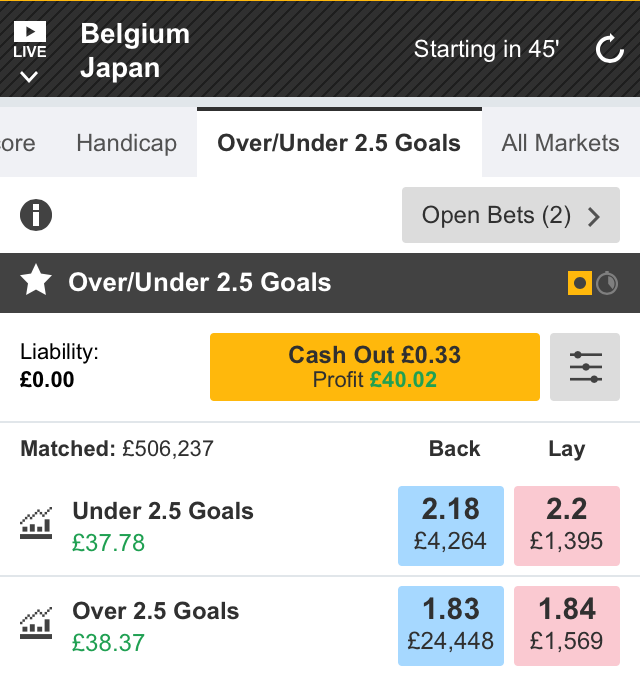 3rd July 16.00 CET: Sweden vs Switzerland
Selection: Sweden (Match Odds) @ 3.20
Target price: 20 ticks @ 3.00
Stop-loss: 10 ticks @ 3.30
Risk-reward ratio: 2:1
Actual result: Stop-loss hit @ 3.3 for -10 ticks (-3.1%, -£15.51)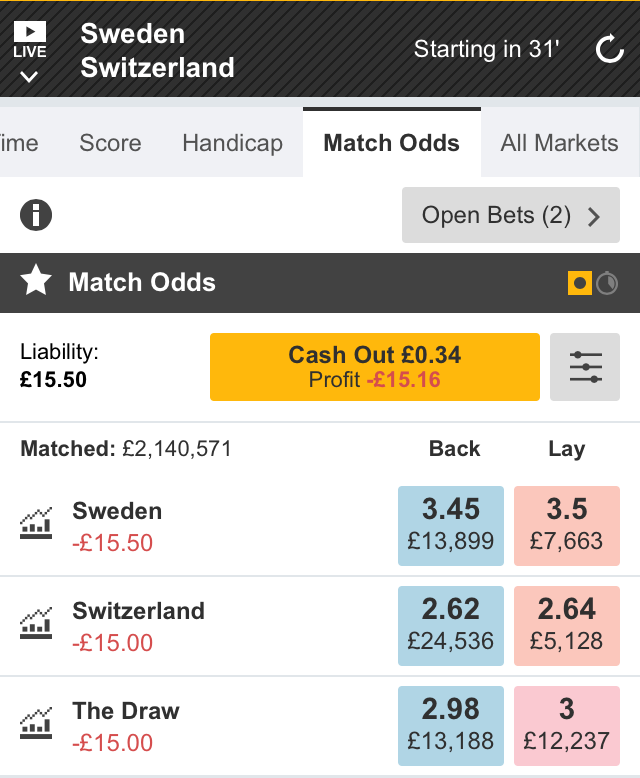 I was pretty surprised by this being a loser to be honest, as Sweden seemed a good value underdog (and this was justified by their deserved 1-0 win in this game). Check out the chart though, as Sweden's price continued to drift to ~3.5, which shows how important it was for me to get out at my stop-loss of 3.30. Sorry I didn't manage to get a chart screenshot.

3rd July 20.00 CET: Colombia vs England
Selection: England (Match Odds) @ 2.16
Target price: 16 ticks @ 2.00
Stop-loss: 6 ticks @ 2.22
Risk-reward ratio: 2.67:1
Actual result: Stop-loss hit @ 2.22 for -6 ticks (-2.7%, £-13.50)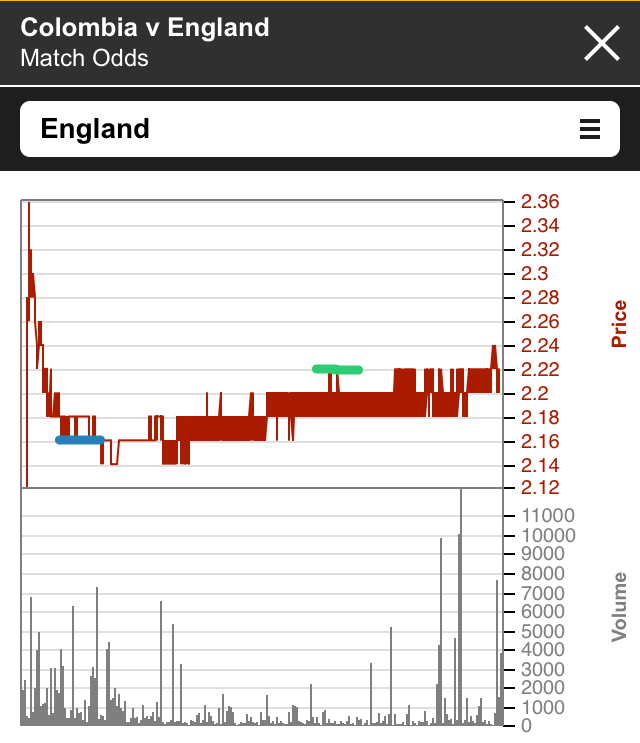 I was also a little surprised by this one, but in hindsight I suppose England hadn't played any good teams in the tournament, so people may have been doubting their favouritism status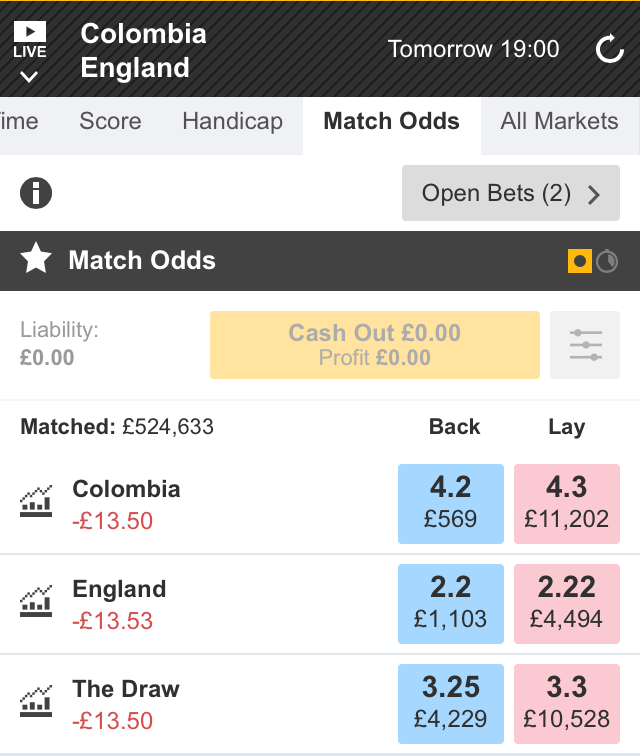 Overall: +2.9%, +£9.28 (+25.75% ROI on risked stake)
Not the biggest overall profit but considering I only managed a 1/3 strike rate, I'd say a profit is a pretty good result. Not only does this show the value of a good risk-reward ratio, but it also shows how important it is to let your winning trades run as much as possible. My target for the Belgium-Japan O2.5 was 1.90, but such was the momentum of the move, the price broke through this level quickly, and I managed to get an extra 8 ticks out of the trade. The two losing trades I managed to get out at my stop-loss, showing the discipline (that I promised I would) :).
In hindsight, I'd have made a lot more simply betting on these picks:
O2.5 in Belgium-Japan won easily (3-2)
Sweden won 1-0 deservedly
England were winning 1-0 deservedly until the 93rd min so a great trading opp if I took it inplay
However, I hope this has shown how we can make some low-risk returns by predicting price moves. If I can make a profit despite being quite "rusty" at this type of trading, then with practice, you can too! Just remember to make a plan, and stick to it. Why not try "paper trading" in a spreadsheet first to reduce your risk?
I'd love to hear your comments about this kind of trading, and if there's interest, I may look to make this a weekly feature in the top European leagues.
Adam (acelad)
---
Please upvote

, resteem

and follow if you enjoyed this content :)

---