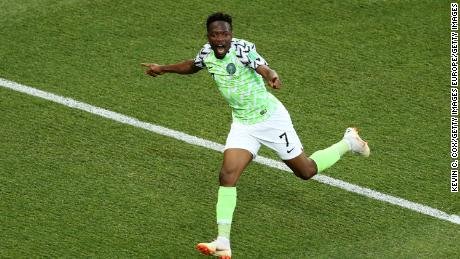 Nigeria woke up from slumber after their opening match in Russian 2018 world cup to win Ice land on 2:0 defeat.
What a spectacular display by Musa who scored the two goals to secure Nigeria a first victory of the tournament and reduces Iceland's chances of going over to the second round.
Iceland player Gylfi Sigurdsson missed a late lifeline penalty at the 89th minute for Iceland a penalty that would have boosted the player to look for an equalizer.
Ice is now first in group D with 6 point and Super Eagles are now second in Group D with 3 points leaving Argentina and Iceland with 1 point each.
Excitingly, Nigeria, Argentina and Iceland could still join undefeated Croatia in the next round but should Iceland fail to beat group leaders Croatia in their final match, a draw or better for Nigeria will be enough for them to progress.
Follow us on Twitter
Join our discord for our weekly match predictionCLICK
Banner designed by @sparklez