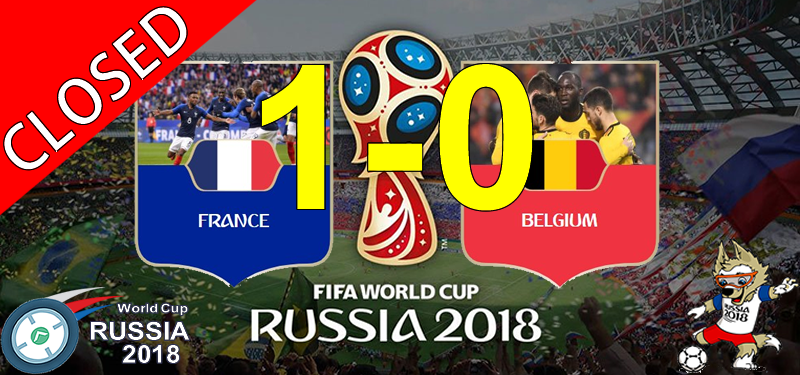 #FRA- #BEL - Semifinal Stage, St. Petersburg Jul 10 2018 - 21:00 Local Time
The Gauls arrive at this instance undefeated after winning 4 matches and draw the one that played against Denmark for the group stage (a match in which the substitutes abounded and in which neither of the two selected wanted to win). In the round of 16, those led by Deschamps prevailed 4-3 to Argentina in an intense duel and with many goals from the initial stage. Already in the quarterfinals, the French team managed to defeat Uruguay 2-0 in a game fought and tactical from the initial stage. The Belgians are here after winning the 5 games they played in the World Cup, showing a high efficiency in terms of results (14 goals in favor and 5 against). The team of Martinez knows what he plays and his hand is noticed as a coach. Just review the 3-4-3 system that you use to corroborate this statement. Of course, the Spanish coach is multifaceted and is not closed at the time of posing the games that their players dispute. The last match that both had selected was 3 years ago, more precisely in June 2015. That time, the Belgian team won 3-4, after winning 0-3 partially and 1-4 with a few minutes left to the referee whistle In the end, two French goals fell in the 89th and 91st minutes respectively. Undoubtedly it will be a clash of power to power, as both teams know what they play and have very good players.
How to Participate
1. The dynamics are extremely simple, Choose the matches and just have to predict and write the result of the game in the 90 reglamentary minutes in the comments. For example: France 0-2 Belgium

2. If a game goes to extension or penalty shots, not is considered a winner, since the prediction of the result is based on the 90 reglamentary minutes.
3. 15 minutes before each game no more predictions will be taken into account.
4. You Follow the accounts: @steem-bounty, @knircky and @jmhb85.
Rewards
1. The reward of this publication will be reflected in the comments through the @steem-bounty account.
2. The reward will be given through votes from the creator of the reward.
Rules
1. Only one result per user is allowed.
2. No votes are allowed in the comments.
3. If an abuse of the rewards system @steem-bounty is detected, the user will be sent to the blacklist and will not receive more rewards.

Support our witness
Thank you very much for your attention and we hope you will vote for us as witness!

In order to do so you can go to:

https://steemit.com/~witnesses

And enter the "steem-bounty" account into the text field and click vote.

Or use steem-connect to vote directly for us as Steem witness!