Fool me twice. Shame on me.
When dealing with money, especially digital coins, you really have just one chance. If someone shorts you or bounces a check, it would be hard to sue them for the money lost. I do not take checks, but I did take money transfers at one time and never once did they fail, until one was reversed. When the bank asked me what a bitcoin was, I said "Never mind. Keep the money." I closed my account and took the loss.
Small quantities are best just as diversification is best. The majority of my trades are ten thousand or less. I always count the folded stacks of ten bills each before pocketing the cash and sending the crypto-coin of their choice. I always send the exact dollar equivalent to the person based on a reliable site, currently coinmarketcap.com, and I always get that sideways look like the dog who hears you whistling a constant tone.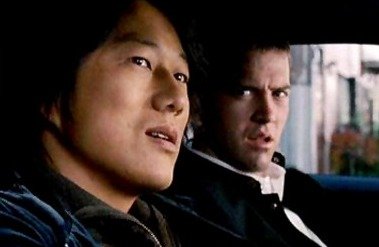 One car to find out what a man is made of?
Two or three times through this process and regular investors start asking questions like, "Why don't you charge a percentage?" and "I have never seen you count the money, why not?" My answer is simple. Any percentage I charge will easily be made null if the price falls slightly, even before we pay for the coffee and leave the restaurant. Any money I count could easily contain counterfeit bills that I may not catch, so what is the point?
Either I trust the party or not. I am not going to hash that trust out in a public place, and buyers do not come to my home. Each buyer does have the stack of money in my safe. The same bills they gave me counted, checked, and banded with their name on it. If I miss a fake bill, my gold dealer does not. If I had a bank account that I trusted with ten thousand or more, the bank teller would likely catch bad bills too, but the banking system has proven to be unreliable except in handling the sum of my monthly bills.
The Application
There is a man I met in my neighborhood who had stopped to talk to me several times. He knows many people, is friendly, had advised me about the rules of the clubhouse and the like. Over the years, he found out that I once used bitcoins long ago, and I learned that he trades debt. Worlds apart!
Worlds Collide
He called one day and said, "I know you do not use bitcoins, but do you know where I can buy some? My employees in Venezuela are requesting something they can spend." I told him that I would help him get some. Showed him the ropes and sent him my coins, through shapeshift, to fill the void and allow him to pay his employees.
This monthly exercise went on for a few months and I started to buy the bitcoins for him ahead of time. He did wonder why I was not counting his money before leaving, and asked about it. I told him, "It is simple, if anyone shorts me, the next deal will not happen."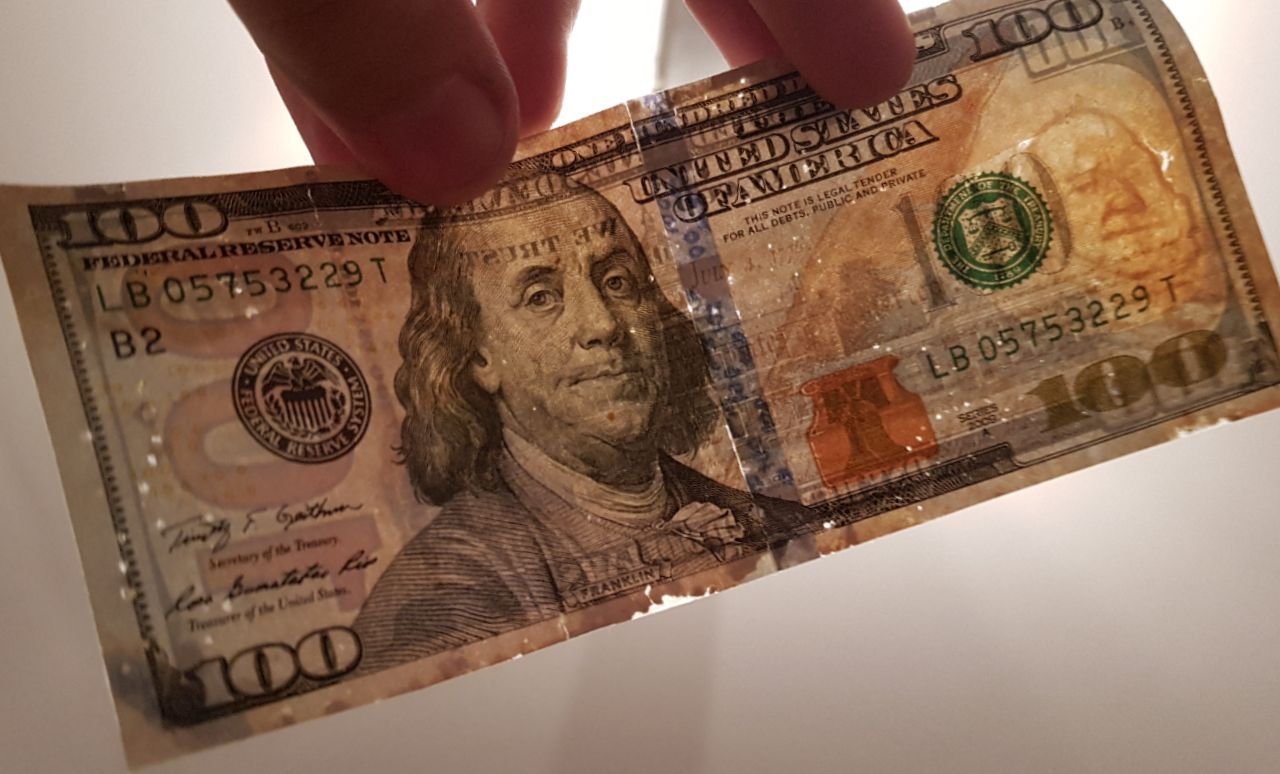 Not that same day, but the following month, we had a problem. He came, I sold him coins, and took his stack of dollars. I really don't like dollars. I left, went home and counted them, all good. I checked them to see if they were real. No, they all said, "Federal Reserve Note." Then I noticed one that was taped all around and shredded in the middle. The paper was not like its brothers.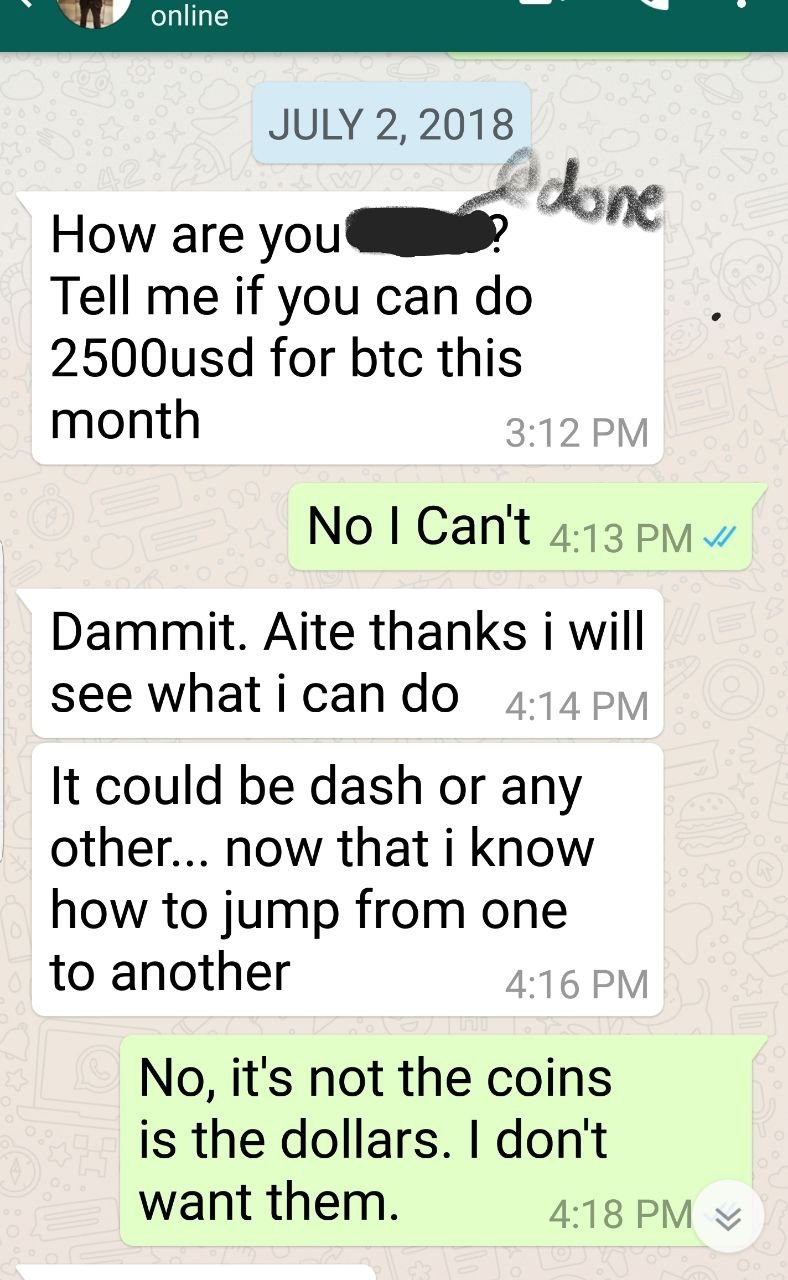 I put this one aside.
Next day, I took the rest of his bills to an exchange in the streets, which are one ever twenty feet, and traded them for another currency.
All were fine, but they paid me less for the bills that were old, stained, or had writing on them. Last I checked, a check is worth more with writing on it. Better when they are even signed. This is all called "Fun with Paper."
Time went by and the call came in the form of a text. (right)
He is now finding people on localbitcoins.com, paying escrow fees as well as a ten to thirty percent mark up for his coins, not to mention dealing with people that may try to give him dollars that the Federal Reserve did not print.
Getting shorted is fine. Receiving fake money is fine. As far as I am concerned it is all fake. The government will charge you capital gains on a property that is worth two times more paper dollars when you sell it, though the price in silver dollars has not changed.
I lost four dollars and found out what my neighbor is worth.
I still see him from time to time and the topic does not come up. Which is the way I wanted it in the first place.
I do not deal in bitcoins. Ethereum has also become slow and expensive to send reliably. Their days are numbered in my wallet too.
Thanks for hearing me out.