I swallowed hard. I needed to come up with a plan. I needed to get the fuck out of here before anything worse happened. I could now see the seriousness of the current state of things. Yesterday it was just elaborate BDSM with orgasm torture; tomorrow it might be something else entirely.
WARNING: This post contains sexual content! Read at your own risk ;)
++++
Well, lovelies, we've reached about the mid-point in this little novella. I think we'll see another seven or eight chapters before the end, but I'm not completely certain yet, as I'm totally writing this as I go along :)
If you've been following along, thank you for bearing with me. You are truly lovely. It's always been my dream to be able to share my writing and bring a little joy into the lives of others, so thank you for making that possible <3
If you're here for the first time, you may want to catch up. This is the eighth chapter in a serialized erotic novella I'm writing here on Steemit. If you'd like to read the first seven chapters, you can find them here:
Alexis Daimon, A Slave in Space — Erotic BDSM Sci-Fi Novella — Chapter 1 (Serialized)
Alexis Daimon, A Slave in Space — Erotic BDSM Sci-Fi Novella — Chapter 2 (Serialized)
Alexis Daimon, A Slave in Space — Erotic BDSM Sci-Fi Novella — Chapter 3 (Serialized)
Alexis Daimon, A Slave in Space — Erotic BDSM Sci-Fi Novella — Chapter 4 (Serialized)
Alexis Daimon, A Slave in Space — Erotic BDSM Sci-Fi Novella — Chapter 5 (Serialized)
Alexis Daimon, A Slave in Space — Erotic BDSM Sci-Fi Novella — Chapter 6 (Serialized)
Alexis Daimon, A Slave in Space — Erotic BDSM Sci-Fi Novella — Chapter 7 (Serialized)
Thank you for reading — enjoy!
++++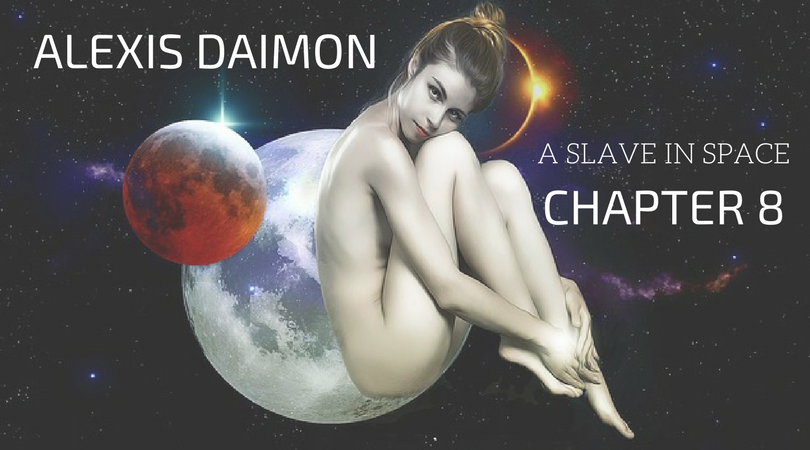 I ate first—a delicious stack of pancakes with real maple syrup—and then I took a very long, very hot shower. Having a satisfied belly did wonders for helping me focus, and there was something about a shower that not only helped me relax, but also brought a certain clarity to my thoughts—almost as if it were washing away the dirt and from my mind as well as my body.
I'd finally made a decision. There was no point in exploring the palace anymore. I'd been unable to find anything the first time I went exploring, and I was tired of wasting time. The only thing to do at this point was to go straight to the source of the problem. I had to confront him.
I would not be intimidated by this "Dr. Masterson"—or whoever he was. If this was, in fact, some kind of simulation or dream, perhaps by doing something unpredictable, I could bring myself out of it. But regardless, I wasn't going to sit back and wait for something to happen.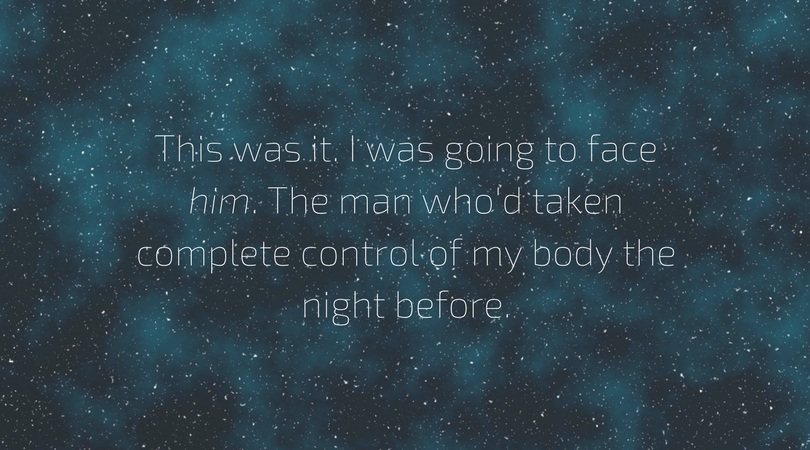 After mentally preparing myself for a few minutes, I dressed in as many clothes as I dared—sweatpants, a sweatshirt, and socks. I didn't want to even remotely appear attractive in any way.
This was it. I was going to face him. The man who'd taken complete control of my body the night before.
I picked up the phone that I'd used before to reach the guards. My hand trembled slightly, and I gripped tighter to steady it. I could do this. I had to do this.
The phone continued to ring several times, so after about a minute, I hung it back on the receiver. That's strange, I thought. They had picked up so quickly before.
I walked out into the hall and heard the muffled sound of voices. It sounded like it was coming from a room nearby, so I followed it for a moment, then stopped. I cocked my head to one side, listening. They were laughing. That seemed odd, as well. They had been so stoic before.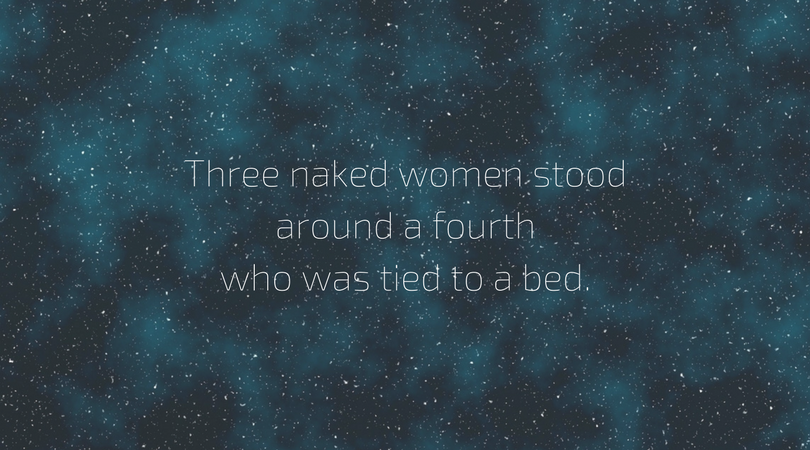 The door to the room was partly open, so I peeked inside. Three naked women stood around a fourth who was tied to a bed. Only after a few seconds did I realize that it was the guards—and the woman lying helpless on the bed was the pretty blonde guard with the freckles. She was gagged, but not blindfolded, and she lifted her head, meeting my gaze. She gave me a pleading look.
I gasped and jerked my head back from the door, but it was too late. The other guards had seen me already, and they were coming for me. I ran blindly down the hall, but I knew it was pointless. A few seconds later I felt rough hands grab me from behind.
I didn't resist as they led me over to the bed, stripped off my clothing, and positioned me onto my hands and knees. The tall brunette with the muscles lifted a metal bar onto the bed, and I jumped, eying it suspiciously.
A spreader bar, I thought. I'd seen them before, but I'd never used one. This one had four cuffs attached to it all in a row.
One of the other guards, a curvy, busty blonde, shoved my head down onto the bed, pushing me into a face-down doggy-style position. She pulled my hands down between my legs and placed them into the cuffs on the middle of the bar. Another guard placed my ankles into the cuffs on the outside of the bar.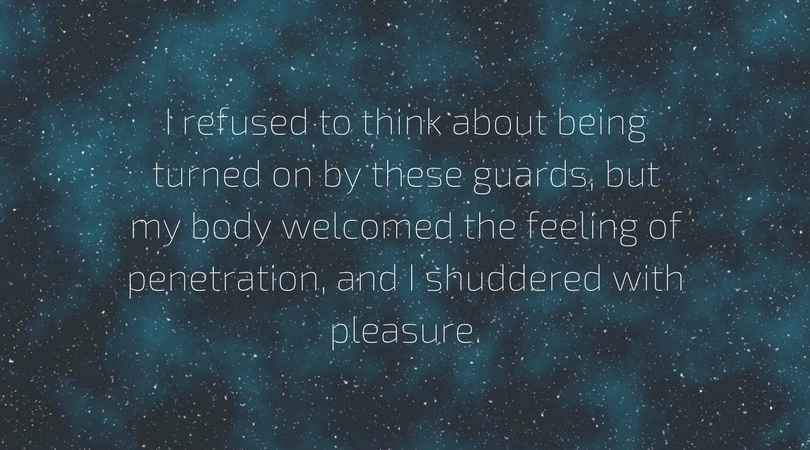 I didn't even have time to think about what was happening before I felt hands all over me. I cried out as two fingers slid easily into my pussy.
I must still be wet from this morning, I thought, in denial. I refused to think about being turned on by these guards, but my body welcomed the feeling of penetration, and I shuddered with pleasure. Another hand massaged my ass while someone else gently slapped my cheeks—then the slaps got harder.
I moaned loudly, and one of the guards laughed, encouraging me to be louder, while the one who was using her fingers inside me started moving more quickly.
"Oh, look," one of them said. "She's trying to come!" They all laughed.
"Tsk. Tsk. Not so fast, love," said another voice. I thought it might be the shorter one with the buzz cut. She had a soft voice and a British accent.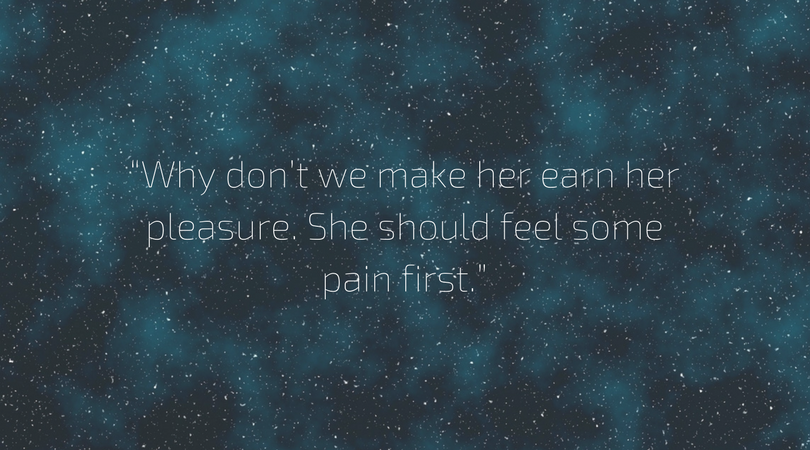 "What should we do to her first?" another voice chimed in.
"Why don't we make her earn her pleasure. She should feel some pain first." The third voice, the deep voice of the tall brunette, made me the most nervous. Her tone sounded dangerous—and it was clear to me that she at least held some kind of authority over the others.
The others agreed and began slapping me on the ass again. They giggled as they did so, and I stifled my cries. It hurt, but it wasn't anything I couldn't handle. I considered making it seem like it was hurting worse than it was. Perhaps then they would take it easier on me. Or maybe my cries would just encourage them further.
"Open your eyes," said a gruff voice close to my ear. I did open them, and found a pair of nipple clamps staring me right in the face. The brunette grinned wickedly as she wiggled them in front of me. "You ready?"
I glared at her, and she laughed coldly. "You won't be giving me those dirty looks for long, dear." She slapped me hard across the face, causing my eyes to water, then she roughly placed the metal clamps on my nipples. I screamed through gritted teeth as she pulled on them.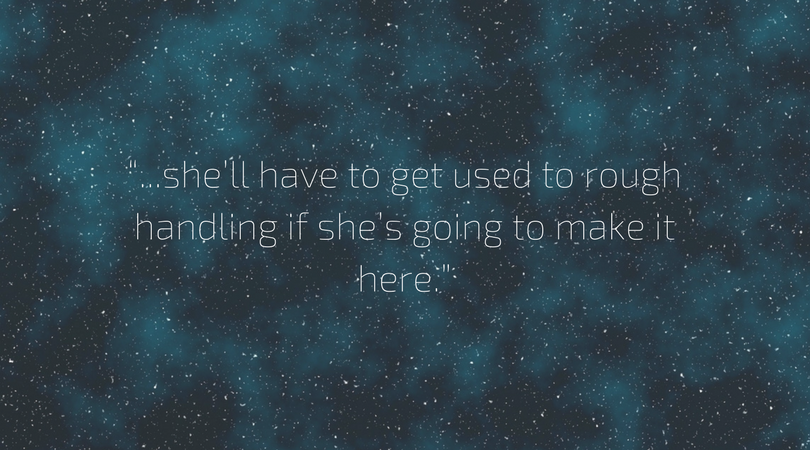 "Cam," one of the other women said from behind me, obviously referring to the large brunette. "Maybe we shouldn't be so rough with the master's property."
"Are you fucking kidding me right now?" Cam sounded angry. "I'm not going to actually hurt her. She can handle it. Besides," she added bitterly, "she'll have to get used to rough handling if she's going to make it here."
What had happened to make her so angry, I wondered. Had she once served the doctor in a different capacity? Perhaps in his bed?
I was jolted from my thoughts by a hard slap to my already tender rear end. I had a feeling this was going to be painful. It was bad enough that these women were taking their sexual frustrations out on me, but if one of them was also jealous of the attention I was receiving from the doctor—well, I had to hope that they had enough respect—or fear—for their employer that they would be careful not to do too much damage. Or—hadn't the guard just referred to him as "the master?" Maybe I had been right about the jealousy after all.
My mind was becoming increasingly difficult to control as the sensations and my own arousal became impossible to ignore.
Over the sounds of my own moans, I dimly heard Cam bark an order. "Sasha, bring Heidi here."
The busty blonde set to work untying Heidi's ropes next to me as I regained some of my senses. I covertly glanced to the side to get a better view of her. She was beautiful. Her breasts were small—a little more petite than my own—and I was both envious and desirous of them. I imagined cupping them in my hands and squeezing gently, the small nipples round and alert, sensitive to the touch.
Heidi noticed my stare, and I looked away, my face growing hot. I'd been attracted to women before, but I'd never been in any real sexual encounters with one—if you discounted a couple of drunken make-out sessions in college. I wonder what—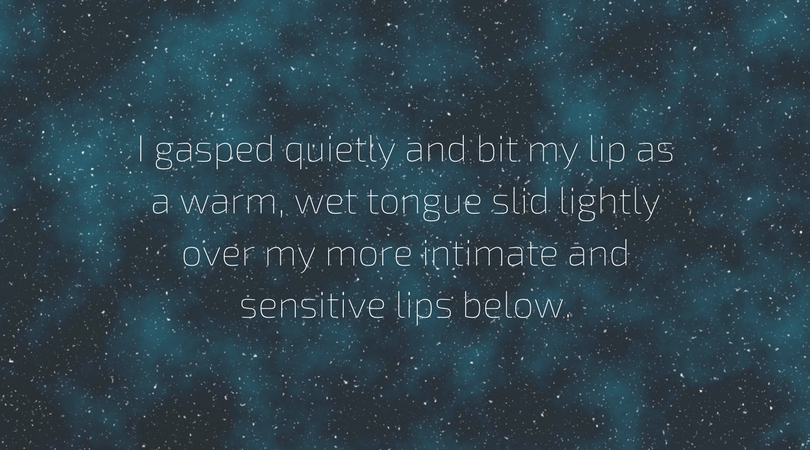 "Okay, Heidi," Cam said, "If you can make her come in less than five minutes, we'll let you go, and we'll play with her instead."
Wait, what?! My heart started to pound in my chest.
I didn't hear a reply, and I waited, the sound of my own heartbeat growing louder as it thumped in my ears. Then, I felt two soft hands gently caress my bottom. I gasped quietly and bit my lip as a warm, wet tongue slid lightly over my more intimate and sensitive lips below.
I fought back a wave of pleasure and stifled a moan. Five minutes now seemed like an eternity.
To be continued...
---
Thank you so much for reading :) This is the eighth chapter in a serialized, erotic sci-fi novella. I will be posting a new chapter about once a week, and when I'm finished, I will compile all of the chapters into an ebook and give it away for free download here on Steemit!
Please feel free to leave your thoughts, feedback, constructive criticism, etc., below in the comments.
Much love,
~xx~
Dina