"It's too early to give up", that was the last statement I said to myself while I pat myself at the back and got up from where I was thinking aloud.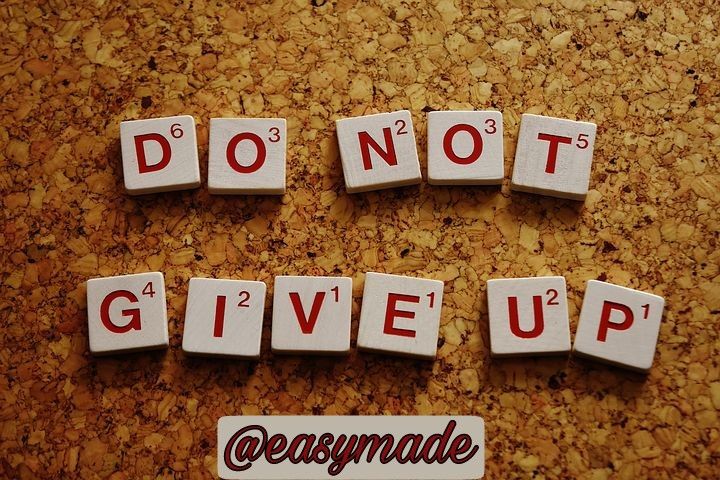 I had been in a mess for a while. My life was done. I was confused of the reason why I was living. Every little thing just pissed me off.
Two weeks had gone that I left where I was working as a cleaner. I wanted to move forward in my life. I couldn't be doing some petty jobs that wouldn't fetch me enough money to start my own business. I needed a solid business model that could make me achieve my dreams.
To work in a company as a cleaner for 4 years after my secondary school has not been fair at all. How much was I getting paid? Just #20,000. 20k that does not always last me for 2 weeks. Lagos life was so expensive.
Why had I not quitted all these while since it didn't pay me?
Hmm... A friend of friend had always encouraged me to leave the company 2 years before I finally left. I had always told him I couldn't leave at that moment because I had not saved a penny. What would I be eating?
My parent had indirectly told me not to expect anything from them anymore, since I started to work. They didn't even care if my pay was low.
I couldn't depend on my friend either. He also had responsibilities to take care of. I had to carry my cross myself. I had always given him reasons why I could not quit the job that time.
Now that I quitted the job, what was my plan?
That friend of mine had always told me to learn a skill - an offline skill like bricklaying and sort. But the only skill I had interest in then was computer sales and repair. I had another friend who was into it. He repaired and sold computers (desktops, laptops and their accessories).
The little money I could save was even less than 100k. 20k every month for 4 years - that's 960k. All I could save was 72k. That was poor of me. But I told myself it wasn't my fault. People who even got paid higher than I were also always broke. People who live in Lagos can relate to this experience.
But thank God, the little I saved could pay for the skill acquisition. I was asked to pay 40k and buy some tools I would be needing. I spent almost 25k for buying tools... And the money left with me after everything was just 12k.
The journey was rough. I mean very very rough. I spent 2 years at computer Village, Ikeja learning computer repair. But today, I give thanks to God I overcame all the challenges that came my way.
I raised some money from repairing friends' computer while I was still learning. I bought a piggy bank. It really saved me. I could save some money. In short, my life is better now.
Had it been I gave up! Had it been I looked down on learning the skill! Had it been I didn't pay attention to what my friend was telling me! I wondered what could have happened to my life.
Have you also tried many few things and non is working for you? Are you still working under someone without having any skill? Why not gear up and learn a skill that could promise you a good future? It's never too late.
Do not give up! It's too early.
PS: THIS IS ACTUALLY A FICTIONAL STORY. I ONLY LINKED UP WITH ONE OF MY FRIENDS' WAY OF LIFE.
Thanks for reading.