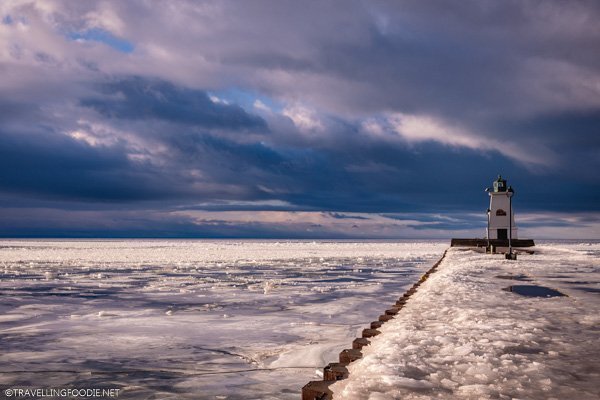 It was a dark, silvery afternoon…the wind howling at 90km an hour and I was headed to the lake to take pictures of the waves, of course.
As I approached the Lake Erie shoreline, I caught glimpses of the spray between houses and cottages and my anticipation grew and I became mono focused on capturing "the" picture.
Newbie photographer than I am, I plowed up onto the pier concentrating on one thing—getting some good shots.


Another photographer who braved the winds and lurking dangers came up to me with his wife and warned me not to get near the canal, or I could be blown in and drown like others had before me.
It's not that bad out here, I thought.
Suddenly—a wind shear—one of the most powerful jolts I have ever experienced, almost blew me over. I dug my feet down with all my might.


The photographer and his wife shouted to me that my red mitts blew out of my coat pocket and were now floating in the canal!
We all moved behind one of the benches cemented to the pier to keep us grounded and from being blown in.
Of course I had my camera pointed to the bright speck bobbing around the swells.


It's amazing what you'll tell yourself when you feel excitement—you'll even re-name fear and call it something else.
After a brief lunch break at the beach cafe, I made my way back to my vehicle.
But the winds picked up again and I found myself swarmed by seagulls.


Click, click, click.
Everyone jumped into their cars, but I kept my camera pointed upwards.
Purple poop splattered my SUV and other cars on the pier.


People began honking their horns to scare the seagulls away.
People were acting crazy like they were experiencing PTSD from Alfred Hitchcock's The Birds.
Not me, I'm super photographer.


But afterwards, back at my desk, I left off editing the images.
My mind was filled with white spume, gray waves and a leaden sky. But what was it that burdened me?
I felt as if a heavy iron lid clanged down over me, shutting up the heavens and the wild delight of a March day at the lake—and then it hit me.


The one thing I had left of Blake was claimed by the waves.
He bought me those wool mittens at Whistler when we were waiting for the Peak 2 Peak Gondola.
We rode in that glass enclosed cabin with a 360 degree view of mountains and trees—suspended like a tiny red bead on a wire stretched between two peaks.


And I thought it would go on forever—that this was a turning point in our lives and I saw our future ahead of us, gliding effortlessly through space.
Until the day I found him with Anne and watched the silver cord that joined us break.
And what joins us now is vague—is it mountains, snow? Or the bitter years it took to realize…
He had no memory of that day.
© 2019, John J Geddes. All rights reserved
Photo credit: Raymond Cua (Travelling Foodie)