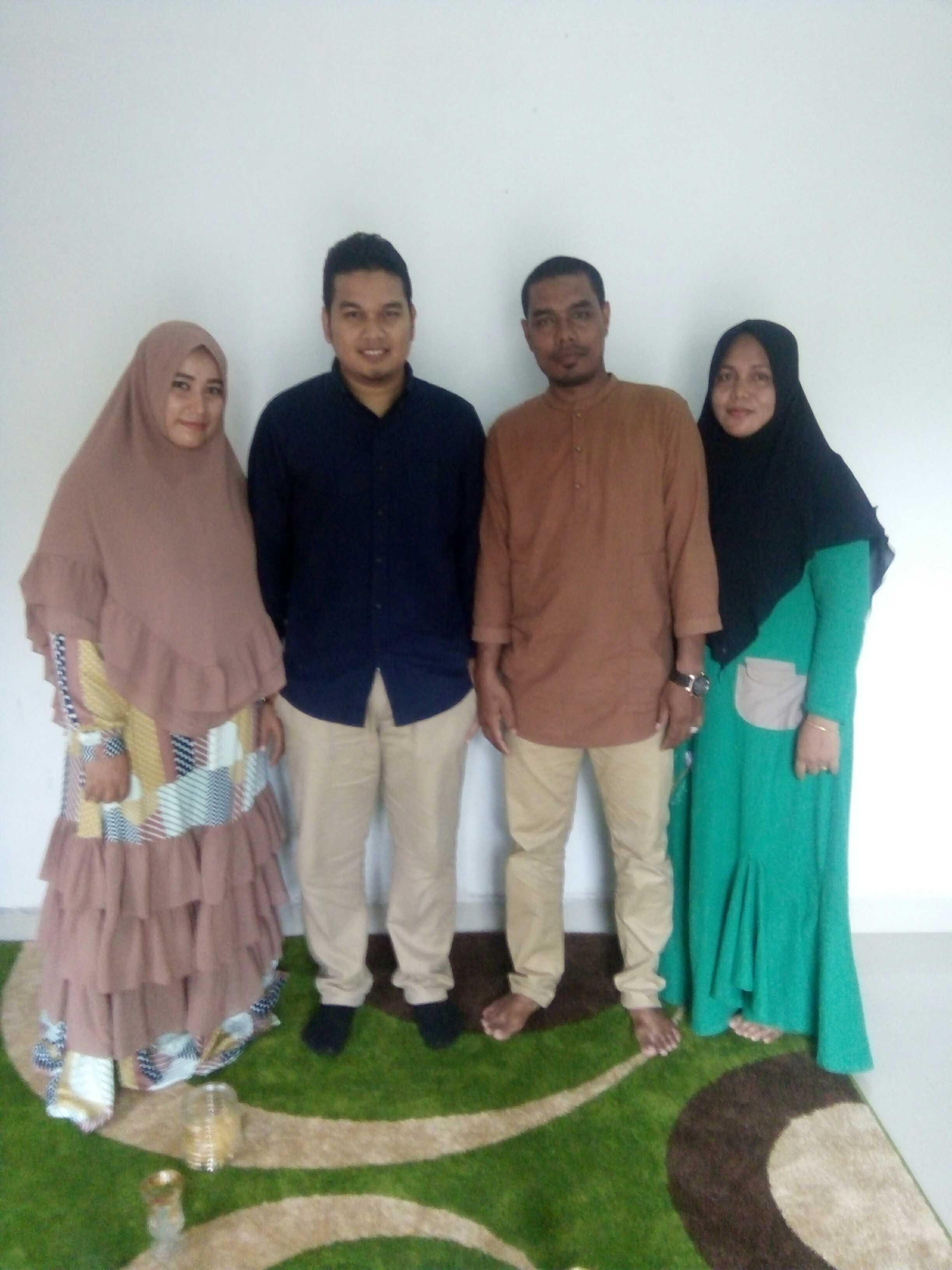 That afternoon saw a man walking down the street, with a lackluster look and with a black eye bag under his eyes, a man wearing a white long-sleeved shirt and black trousers and carrying a bag, the man was sales at a cosmetics company, walking down every street and entering every house, going on and on every day like that even though sometimes it didn't work, but of course there was more failure because somehow it was very difficult for a man to offer cosmetic products.
After being tired of walking, the man looked for a place to sit and chose to sit on the sidewalk, the man straightened up the drink that was carried in his bag since earlier, the man stared at the street where there were several people passing by, whatever he had in mind at that moment with an expression which is hard to guess. Next to him sat a woman about 20 meters away from the man, the woman wearing a blue shirt and carrying a bag that was big enough and seemed quite heavy, the woman saw the man start talking.
"Well, may I ask for a little of your water to drink?" The woman asked the man sitting next to him.
the man handed over the drink that the woman received, and began to straighten it.
"Thank you very much," the woman said, handing the water bottle back to the man
"Together" the man replied
"What are you doing here? it looks pretty tired "asked the woman again to start a small conversation
"I'm tired of walking around here, I'm a salesman," replied the man,
"Oh that means we are the same, I also just walked through these streets and into homes to offer goods, I sold electronic items," the woman said, smiling and showing and patting the large bag she was carrying.
"The bag is big enough and looks heavy, are you okay?" Now it was the man's turn to ask
"Oh yeah, I forgot to ask you to speak first but forgot to introduce myself, my name is Shinta" the woman introduced herself
"My name is Fian, you haven't answered my question," said the man named Fian
"Hmmm, of course this bag is very hard for me, but I have to do it, because nowadays it is very difficult to find a job that suits your wishes" Shinta spoke while looking up at the sky with a pretty hot sun that afternoon.
"I understand what you feel, I was made a cosmetics sales for women even though I'm a man and it was very hard for me even sometimes in one day I didn't get results" said Fian with a sad face
seeing that Shinta quickly said
"But I have not given up, I did this only as a stepping stone to achieve my goals, raise money for college and then become a teacher, things like this are just a small matter" said Shinta eagerly who managed to stun for a moment and be silent. once lost, Fian had aspired to become a businessman, but because he did not have the capital Fian started this job and slowly began to forget his dream.
"Hey Fian, why are you daydreaming?" Shinta wakes up Fian from her reverie and of course makes her stutter and misbehaving, Shinta just smiles at Fian's behavior.
"Fian you're very funny," Shinta said with a smile
"Shinta, I also have a dream and I almost forgot about it and thank you for being excited again" said Fian now his voice was emitting stability.
"Thankfully, Fian, you are back excited, men must be like that, they must always be enthusiastic," said Shinta
"S-shinta b-may I ask for your cellphone number ?, I still want to meet you next time if you don't mind" said Fian stuttering, which now managed to make Shinta laugh.
"Of course" Shinta took out her cellphone and they exchanged contacts. They continued the conversation a few moments before Shinta rose from her seat and carried the large bag.
"Okay, Fian, thank you for the water, and stay excited, I'll wait for a call from you" Shinta's farewell
Fian began to rise from his seat
"I should be thankful for today's lesson, of course I'll call you" Fian said with a smile
"OK, bye"
"Bye"
Fian and Shinta walked towards the opposite direction, but there was something different this time, Fian stepped firmly and with a cheerful expression