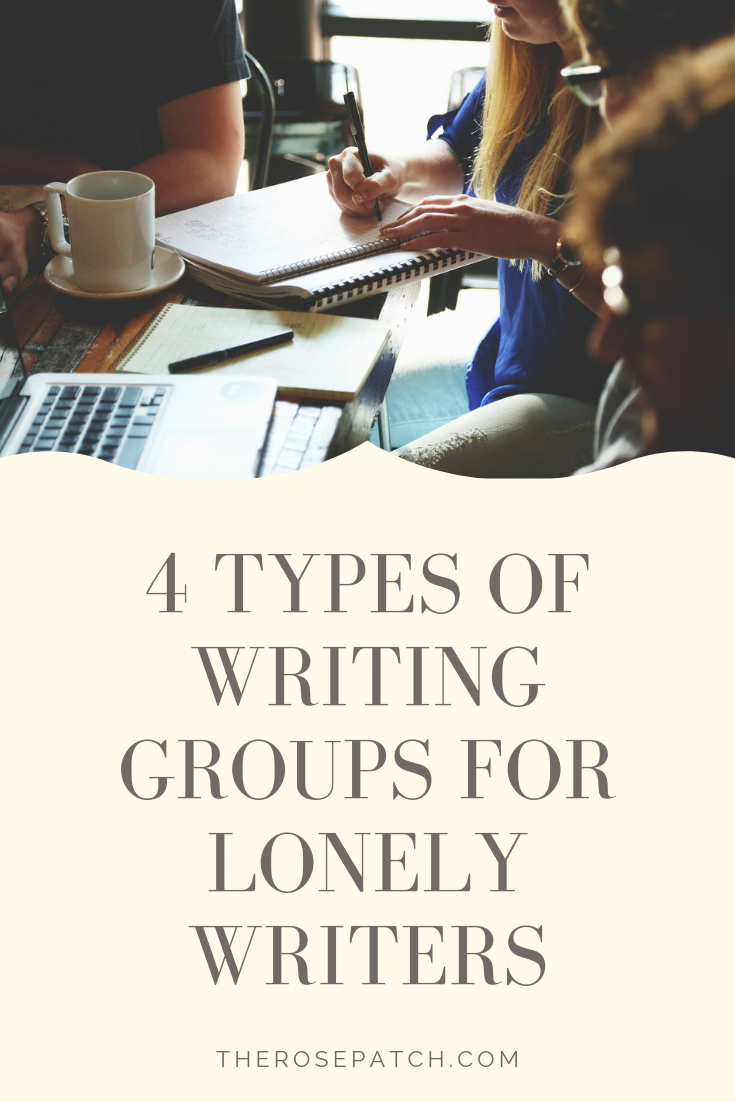 Being a writer is an extremely lonely lifestyle. The characters in our heads constantly beg for their stories to be told, and we often feel frustrated when there's no one around to challenge us or to help us find the right words. We long to find a group of people who share in our struggles and experiences.
Writing groups can give lonely writers like us a haven of like-minded individuals who understand us and make us feel like we belong. In a writing group, writers have the opportunity to be held accountable to make a habit of writing.
But where do we start and what should we look for? This can be just as daunting as the need to belong to a group. Unfortunately, writing groups are not "one size fits all." Each writing group will have a different focus and varying levels of experience, so it's up to us, the writer, to do our research so we can find what is right for us and our needs. In this article we will go over four different types of writing groups.
Local Groups
Local groups will usually meet in person at a library or coffee shop once week or once a month at a set time. You can share what you're working on, discuss your struggles, or do writing exercises together. One benefit of these types of groups is they provide a sense of structure, and you can feed off of each other in a tangible way that sparks creativity. Imagine sharing ideas with the people in your group and seeing their eyes light up with inspiration. It can almost feel magical.
The social benefit from local groups is a great one to consider. You can develop firm friendships and meet with members outside of the group to collaborate. Drive to writers' conferences together, swap writing books, or share local resources (like locations that have free wifi but don't care if you sit there for three hours and only buy one coffee).
A local group is also a great place for live critique sessions where you can get instant feedback on your work.
Online Groups
Many online writing groups use Discord as a platform, while others may use Facebook or an online message forum. The great thing about most online groups is they can be a bit more flexible. You can log in anytime to talk to other members and get ideas. Some online groups will have a system for getting feedback. If that's the case, you can submit something you need critiqued anytime. The only downside to that is waiting for comments, but while you're waiting you can be working on another project, or leaving feedback for other members.
You'll also find a diversity of perspectives from people with different backgrounds in an online writing group, which can help broaden your horizons as a writer.
Genre-Specific Groups
There are many writing groups that focus on one specific genre of writing. So, if you're writing fantasy, sci-fi, young adult, LGBT+, literary, poetry, etc., you may be able to find a group that focuses on your chosen genre.
In a genre-specific group, you'll find people who love what you love and will accept you. Members of a group like this will also have extensive knowledge of writing conventions and expectations within the chosen genre when it comes to finding the right publisher or market. You don't want to join a group of people who write children's stories if all you write is hard science fiction, and vice versa.
The only downside to this type of group is you wouldn't have the opportunity to be challenged in other genres or styles of writing within the group. If you don't plan on trying out other genres or styles of writing, this type of group might be the right place for you.
Community Writing Groups
Some groups don't focus on any one genre or style of writing, but rather offer writers a community of other writers. This may simply be a place to sit and relax and chat about anything!
While some community writing groups may offer writing exercises or critique sessions, usually the overall purpose to support one another. Sometimes it's nice to be in a group where you don't always have to talk about writing. You can be comrades who understand and respect each other.
Finding the Right Group
Right now you're probably saying, "There are so many options, how do I find the right group for me?" While it may seem difficult, it isn't going to be as hard as you think. Figure out what your needs are. Are you looking for a genre-focused group, or something more general? Do you want to be part of a larger group, or something smaller and more intimate? Decide what you need as a writer and start looking for that.
The best place to start your search will be the internet. Try Google, or do a search within a social media platform you prefer to use. Keep in mind that you may end up joining several groups before you find the group (or combination of groups) that best fits your needs.
The important thing to remember is that all of us writers deserve a group that accepts and respects us both as a person and a writer. Don't settle for one that doesn't.
I've been quite happy with the writing group I'm in. It's an online community-driven writing group, and I've grown and learned so much since joining, and have made many friends. To learn more about them, check out their website here to find out if they would be a good fit for you.
---

---
Posted from my blog with SteemPress : http://therosepatch.com/four-types-of-writing-groups-for-lonely-writers/
---