Introduction


Technology is evolving everyday, new innovations bring disruption and replace the old one. Technology has transformed humans from an uncivilized state to civilized state. Thanks to a new revolutionary technology called Blockchain. It's immutable, incorruptible and unhackable nature makes it more superior than any other existing technology. Blockchain has the capability to transform every sphere of our society, that's why the world is giving a very special attention to adopt it in every business workflow.
Indeed technology provides a huge variety of choices in every service that it is being implemented. But it is not easy for any new technology to spread it's legs in every sector in which it has potential capability to transform it. But history has proved that those technologies which had faced huge opposition at early stages are now ruling the entire world, I am talking about Internet; in the similar fashion blockchain and crypto space is on the same track and sooner people can't live without it.
There is no doubt that crypto technology can transform our payment sector and it can bring new digital possibilities. But people often doesn't easily trust new affordable crypto payments even if it is technically advanced because of fear of failure. In the recent times you may have heard statements in the media which states that you can easily pay with crypto for your coffee at any cafe bar with Bitcoin, Ethereum and any other crypto tokens. But these statements are just vaporware, as the reality is completely different. Only 0.1% of commercial services accepts crypto as a payment for daily life activities. Which implies very low adoption of crypto in real world applications. The reason for limited adoption of crypto is because of slow transaction processes and high commission fee. As crypto market is highly volatile in nature merchants fear to accept it as a payment because it doesn't protect the actual price. Thus, customers need to convert crypto into Fiat and vice versa to utilize the benefits but it is lengthy and time consuming process. And the way of making crypto payment is too complex, requires some technical knowledge and is not easy and convenient as classical payment solution. Low liquidity is also a challenge for proper adoption.
Currently we all have addicted to the card payment methods as it provides simplicity and convenience. But the card issuer has full control over all our transactions and accounts as the entire working system is centralized. They can freeze our accounts at any time for any reason and we can't do anything against them. But indeed the Fiat currency that we believe in, is also not at all safe; episodes like hyperinflation and currency devaluation are nightmare to us. Our hard earned money will lose its value and ultimately we have to suffer a lot.
_But now thanks to a team of professionals who are on the mission to ease the Crypto as a payment solution for global adoption by creating a project called XCard.
Project objective


The main aim of the XCard project is to create a blockchain technology powered decentralized payment ecosystem by Mobilum. It has it's own wallet, API exchange and a crypto payment card called XCard. Together all facilitates a complete crypto and Fiat based instant payment solution. A single payment card which is powered by both Fiat and crypto currency that provides an ultimate solution for everyone. It is worth to note that XCard is a fully licensed payment ecosystem from the country of Estonia and Latvia. As XCard is incorporation with Visa and SEPA that increases trust and authenticity of the service for reliable usage.
Principle of operation


XCard is aiming to disrupt the credit card sector with the implementation of advanced crypto payment technology. Thus, XCard will be a crypto credit card and can be used to make payments both in Fiat as well as in cryptocurrency. Users who want to onboard on XCard must connect their existing payment card or bank account details with XCard app. Upon users consent XCard's payment card will be available to make instant transactions.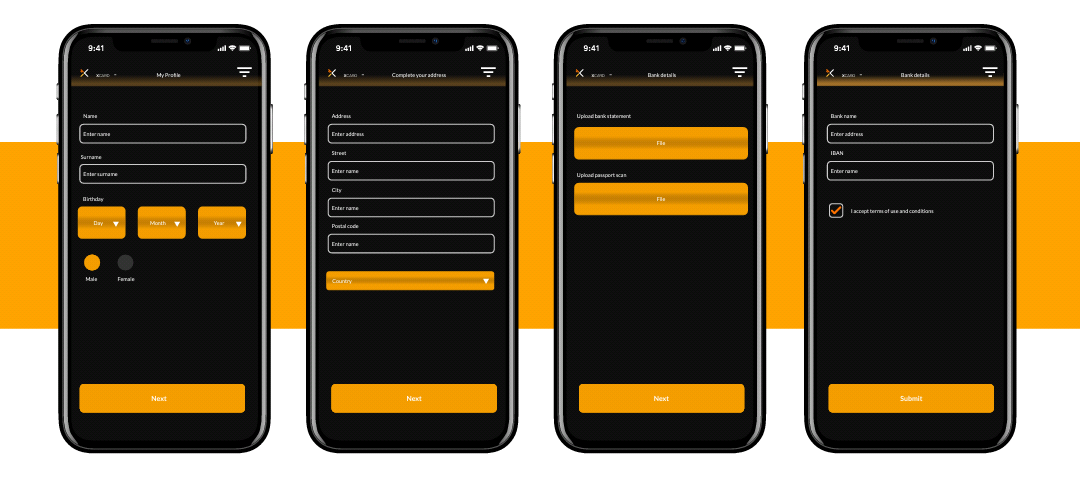 Users can topup crypto funds with Bitcoin, Ethereum or any other accepted crypto on the XCard wallet and then they can choose the amount to be spent via the XCard. In the similar fashion users can topup the XCard using their existing payment cards in Fiat and start spending from it.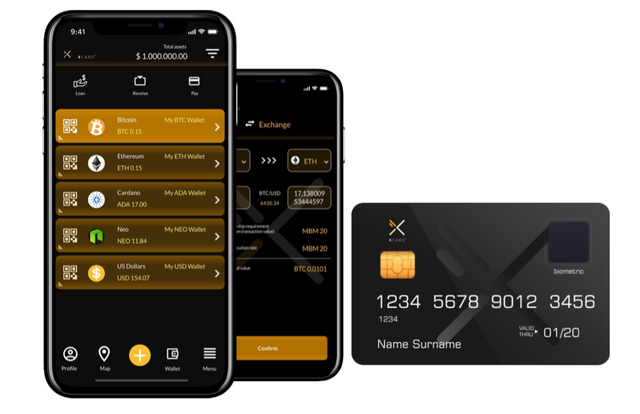 Advantages


• XCard allows to make instant payments by the XCard through crypto and Fiat currency;
• _getting started on the XCard ecosystem is very simple and you can start using your XCard services;
• users can easily topup their XCard through existing payment card and through crypto currency;
• XCard users can get loan on the card with crypto as collateral;
• Card has its own secured wallet for storing and utilizing crypto assets;
• XCard users can lend their crypto for users applied for loan;
• XCard has plans to ease the entire ecosystem process by releasing more wallet and e-commerce widget for better user experience;
• users can make instant payment settlements through XCard, it's a single card for all;
• XCard is the world's first biometric crypto credit card;
• XCard allows to connect fiat currencies and crypto assets in real-time;
• XCard uses it's own internal token called MBM token for all platform operations;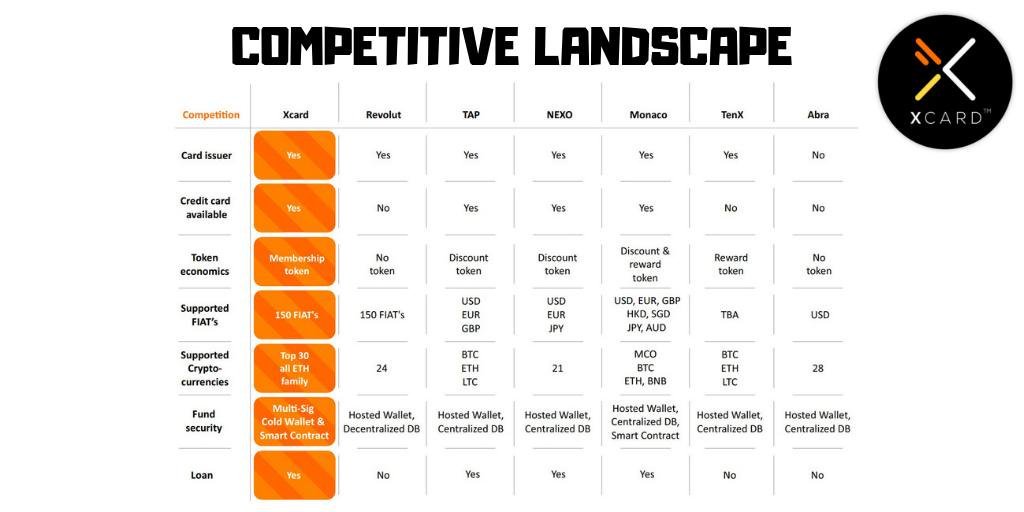 Token structure


• Token ticker: MBM
• Token platform: ERC20
• Total tokens: 640 million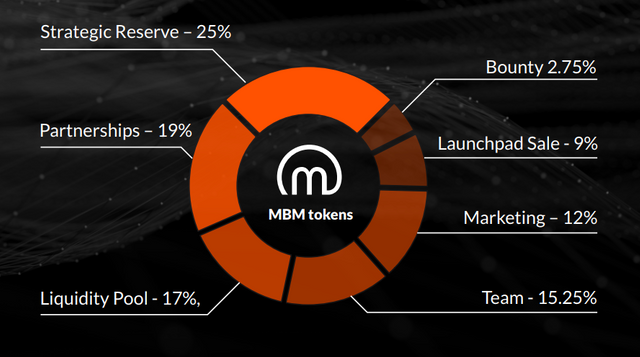 Conclusion


It is good to see such a real use case project is accelerating the growth and real world adoption of crypto and blockchain technology. XCard is fundamentally utilizing the benefits of crypto to settle and make instant payments with our existing card system. Mobilum and XCard fintech are bringing new possibilities in the payment sector. XCard's cryptocurrency wallet is highly secured. Thus, users can make payments in crypto and Fiat currency instantly through XCard. XCard will bring endless opportunities in payment sector with the adoption of crypto and blockchain technology.
Finally I would suggest you to read the official whitpepaper of the project for more details. This project needs much public attention and I wish all the best for this great project.


Learn more about XCard:
Website: http://xcard.io
Read Whitepaper: http://xcard.io/static/XCard-Whitepaper-21082019.pdf
ANN thread: https://bitcointalk.org/index.php?topic=5177945.0
Telegram: https://t.me/mobilumcom
Facebook: http://www.facebook.com/mobilumcom/
Twitter: https://twitter.com/xcardbymobilum
Medium: https://medium.com/mobilumcom
LinkedIn: https://www.linkedin.com/company/mobilumcom
YouTube: https://www.youtube.com/channel/UC9Yy1zIpqzMFLSNUN05Nvqw
About Author:
Bitcointalk username: Abhijeetcg
Bitcointalk profile link: https://bitcointalk.org/index.php?action=profile;u=1676105;sa=summary
ETH address: 0x96e95a1F40cf5a50178053740ADE18046815362d