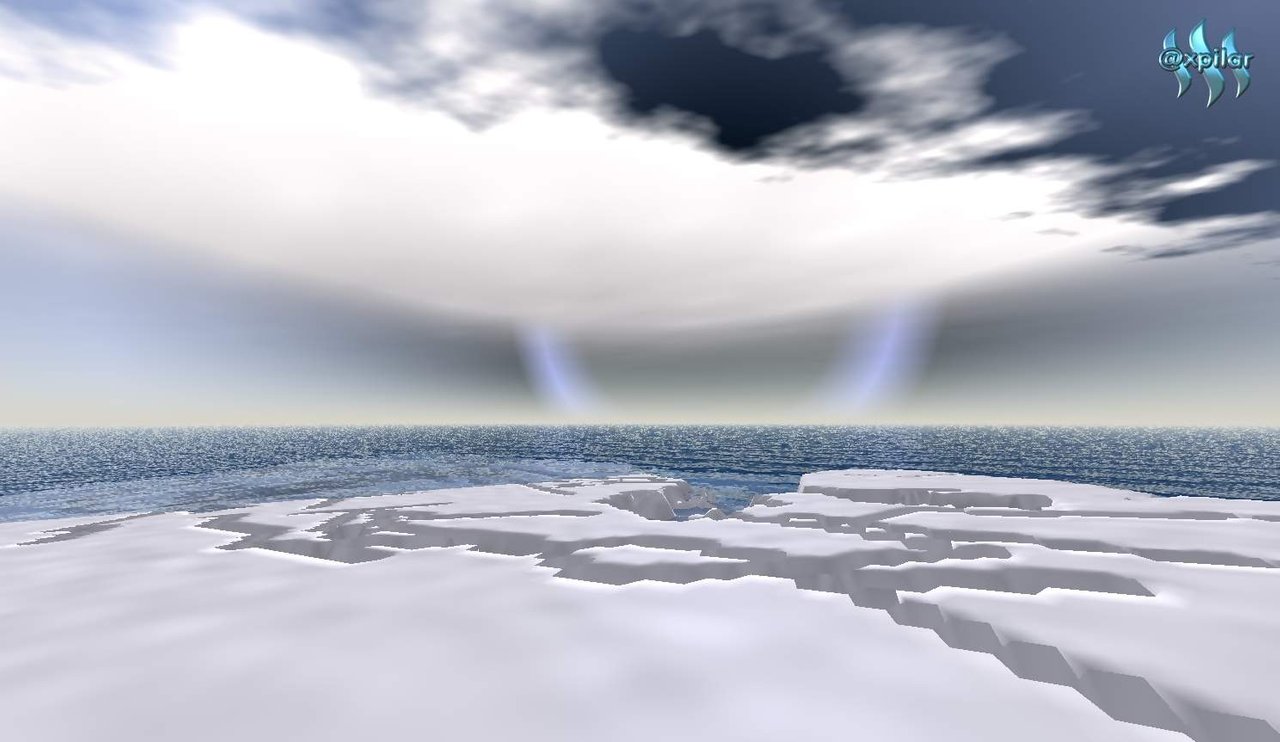 Digital art image of @xpilar
My arrival to heaven
I started that expedition looking for an answer to that question that everyone was afraid to ask; I arrived without even knowing how and where but here I am.
I sit on this ice thinking that I will freeze more however this cold is just an illusion, something that is not perceived, rarely is warm and soft, it feels like sitting on soft cotton; I decide to turn on that pocket radio and look for some melody that frames the moment and makes it even more special, I try to tune in but nothing is heard; Just noise and nothing else.
I think about going one more time trying to put that melody and strangely an angelic song resonates, perfect voices in a sublime choir left me ecstatic and moved to the point where tears of my blue eyes flowed.
I looked at the sky at that moment and found what I was looking for, wide open as if a dome will open to reveal the wonders of the outside, so it opened for me, while the winged angels played in that blue sky, laughed and sang while They extended their hands to reach them.
I looked at them and my hand extended higher and higher I expected to feel their warmth, at that moment I touched them, I felt the peace and I was already in heaven, in this magnificent sky.
---
Spanish Mi llegada al cielo
Comencé aquella expedición buscando una respuesta a esa pregunta que todos temían hacer; llegué sin siquiera sabe cómo y dónde pero aquí me encuentro.
Me siento en este hielo pensando que me congelare más sin embargo este frío es solo una ilusión, algo que no se percibe, raramente es cálido y suave, se siente como estar sentada en algodón suave; decido entonces encender esa radio de bolsillo y buscar alguna melodía que enmarque el momento y lo haga aún más especial, trato de sintonizar pero nada se escucha; solo ruido y nada más.
Pienso en dar una vuelta más tratando de poner esa melodía y extrañamente resuena un cántico angelical, voces perfectas en un coro sublime me dejaron extasiada y conmovida al punto de que brotaran lágrimas de mis azules ojos.
Mire en ese momento al cielo y encontré lo que buscaba, abierto de par en par como si una cúpula se abrirá para revelar las maravillas del exterior, así se abrió para mí, mientras los ángeles alados jugaban en ese azul cielo, reían y cantaban mientras extendían sus manos para que los alcanzara.
Los miraba y mi mano extendida cada vez más alto esperaba sentir su calidez, en ese momento los toque, sentí la paz y ya estaba en el cielo, en este magnífico cielo.

Posted using Partiko Android