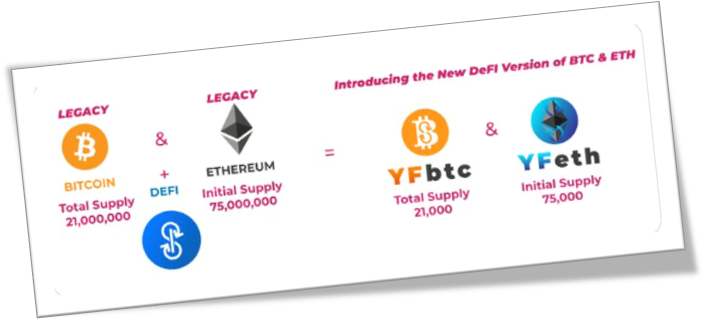 The journey of cryptocurrency has revolutionized with the new era of Defi. BSC (Binance Smart Chain) and Polkadot are the most popular and warmest new platforms which are using for the development of Defi.
YFswap is a ''AMM, Dex'' pool of solutions for many kinds of crypto obstacles such as staking, Dex exchange, and De-Fi farming.
With the new spirit of Defi, YFswap introduces the continuing trend of Uniswap by releasing two tokens called YFETH and YFBTC.
Total supply of YFETH and YFBTC.
YFETH introduces with a total supply of 75,000 while YFBTC introduces 21,000 total supply. The very limited total supply of tokens will be a value-added option for all users of it. Further, these two are non-inflationary and decentralized tokens which follow the same legacy principles by protecting their trustworthiness to investors to hold it for a long period of time without any confusion.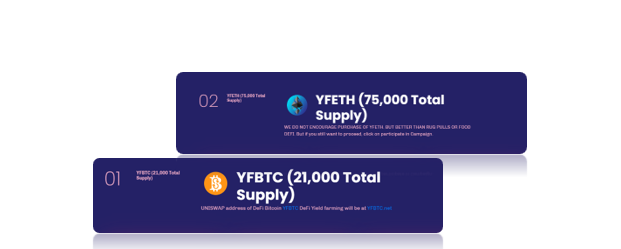 The users of the YFswap will be eligible for receiving the total amount of swap fees as a special benefit compared to other swaps such as Sushiswap and Uniswap.
Upcoming Hot Farming Options.
YFTRX and YFDOT are the most awaiting upcoming Defi Yield Farming to be released by YFswap.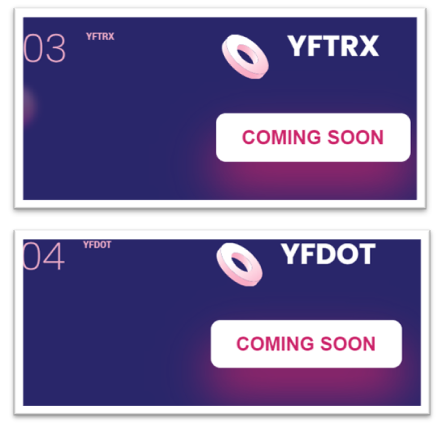 YFETH
YFETH is the uniswap v2 's evolving improvement. As per the general methods of pools reward distribution in other swaps like uniswap, no one will be rewarded after exiting from pool liquidity participation. But the YFETH is entitled their holders of YFETH, YFE to a partial earning of trading fee from protocol even the users are not actively participating in the provision of liquidity.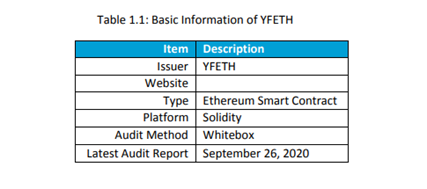 Table 1.1. shows the YFETH 's basic information as per their audit report. https://www.yfswap.finance/public/YFETH_smart_contract_audit_report.pdf
YFETH De-Fi - Estimate ROI

YFBTC De-Fi - Estimate ROI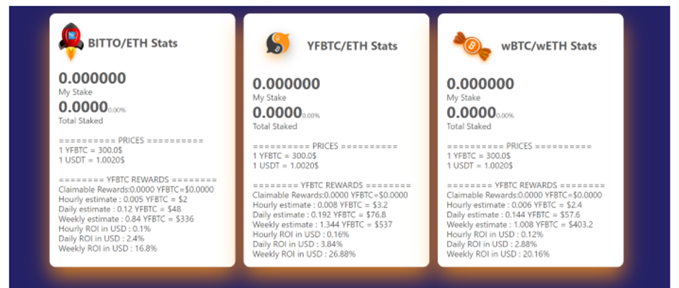 The way ROI calculates
Actually, the calculation of ROI is not rocket science anymore. To check the method of calculating return on investments follow the following links; For further information;
https://etherscan.io/token/0xE52294152805e304803c93b700266DDFE99eaB32#balances
https://yfswapfi.medium.com/estimate-roi-for-yfbtc-yfeth-defi-28910963a66a
The team of the YFswap invites to their all investors for joining with the harvesting of ''Defi yield Farming'' for a sustainable non-inflationary crypto future.
……………………….link to follow……………………….
Website: https://www.yfswap.finance/
Twitter: https://twitter.com/yfswap
Telegram: https://t.me/yfswap
Medium: https://yfswapfi.medium.com/
Github: https://github.com/abanshinoburu
AUTHOR
Bitcointalk Username: nishpcit@gmail.com
Telegram Username: @jayaranga
Bitcointalk URL: https://bitcointalk.org/index.php?action=profile;u=1205555
Wallet address (eth): 0xa2b4be559db08800b988932b88b27d026bb8aa30