INTRODUCTION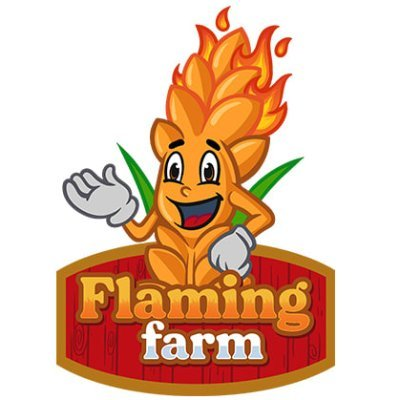 The DeFi market is on fire right now. Every week new platforms emerge with new functionalities and investment opportunities. The market's high interoperability level has created a scenario where users can leverage multiple platforms to achieve new ROIs. Additionally, it has spurred a new round of innovation in the market.
One such firm taking the pioneering reins is Flaming Farm. This next-gen DeFi protocol allows DeFi users to enjoy yield farming benefits without the risks currently associated with this investment strategy. To accomplish this task, Flaming Farm introduces some new technologies and processes to the market. Flaming Farm seeks to transform the DeFi community with the introduction of a deflationary yield farming mechanism.
What is Yield Farming?
To understand the effect of Flaming Farm's approach to the market, you first need to grasp the concept of yield farming fully. Think of yield farmers like mini-bankers. In the traditional banking system, your financial institution provides liquidity to users and businesses in the form of loans. Insanely, the bank lends out your funds and pays you next to nothing for your help.
Yield farming flips this business model on its head and introduces a decentralized alternative to the status quo. Yield farmers work like the bank and lend out their crypto to other users and projects in the market. However, unlike the centralized system where you would need to go in and work out your lending details with the bank, users borrow directly from a liquidity pool.
This liquidity pool is built from the investments of yield farmers. Farmers agree to lock up their crypto in these liquidity pools for a predetermined time. They do this in exchange for rewards based on the amount they staked and how long the lockup period lasts. When a farmer adds liquidity to a pool, they receive a corresponding token representing their investment.
Users who borrow from this liquidity pool repay their debts plus interest. These payments are applied to the total pool balance. This strategy expands the total liquidity available and provides pool investors with more profits. Best of all, the entire process is handled by smart contracts, so no human intervention is required.
Why Yield Farming is the Best Option for New Traders
Yield Farming is seen by many as a safer investment versus trading. When you trade crypto, you need to do a ton of research into the market. Additionally, the overall volatility of the sector can make even the best investors seem like newbies. To be a successful trader, you will need to invest a ton of time into understanding the technology behind your investments and the market's overall temperament.
Unfortunately, most new crypto users don't have the time or will to take on such a monumental task. This lack of time usually results in losses for new investors who are particularly susceptible to FOMO and other market hype. Yield farming offers a better option for these users for multiple reasons.
Yield farming doesn't require hours of research. Anyone can earn a passive income yield farming. Users who have crypto that is sitting idle can now leverage it into additional profits while avoiding volatility concerns for the most part. In this way, yield farming continues to draw more users from across the industry.
Risks of Yield Farming
As with any new technology, there are some inherent risks that you must consider before you join a yield farming platform. For one, you need to stick with reputable networks. The DeFi market has already seen its share of rug pulls. There is nothing more disheartening than losing your crypto because you didn't do enough research.
The second problem facing yield farmers is far more universal. Currently, the DeFi sector faces inflation risks due to the way these mechanisms work. Those yield farming tokens you receive to represent your investment can create a severe risk of inflation. Large pools will have a ton of tokens in circulation. However, these networks don't consider the overall value of the project or other outside factors.
There have been many instances of platforms shedding the majority of their value due to inflation. Sadly, most DeFi platforms were built to get these tokens out into the market, with little regard for the network's economics following the pool's launch. Luckily, not everyone was preoccupied when it came time to consider this concern.
How Flaming Farm Improves on the Yield Farming Model
Flaming Farm introduces a combination of systems to eliminate inflationary risks from the yield farming sector. This proprietary deflationary protocol is designed to keep the FFARM token's value continually increasing. The protocol automatically burns a certain percentage of FFARM tokens based on the available liquidity in the pools. This burn starts at 2.5% and increases based on total supply.
Fees go to Users
On top of this deflationary mechanism, Flaming Farm also introduces a unique fee structure. Every time a new user joins a pool or makes a transaction on Flaming Farm's network, they must pay a minuscule fee. This fee is then redistributed to the remaining pool members.
This fee strategy, combined with the deflationary tactics Flaming Farm utilizes, makes it possible for investors to achieve higher ROIs with less risk than other yield farming platforms. Best of all, the network supports multiple liquidity pools, including ETH, USDT, and DAI. Savvy investors can stake in various pools and monitor their profits from one easy-to-navigate interface.
How to Invest in Flaming Farm
The Flaming Farm private sale is live now. Interested investors have until December 9th, at 7 PM UTC, to become a part of this revolutionary protocol. Flaming Farm investors can participate in the event for 0.12ETH per FFARM token. There is a minimum investment of 0.5 ETH and a Maximum of 30 ETH. Click here for more information.
Useful Links
Website | Telegram | Twitter | Private Sale
authors details
Bitcointalk username; Gafman
bitcointalk profile link; https://bitcointalk.org/index.php?action=profile;u=1903236
eth address; 0x187E33326e2Af1E9Fc6EB67e1cc15c282a961e08