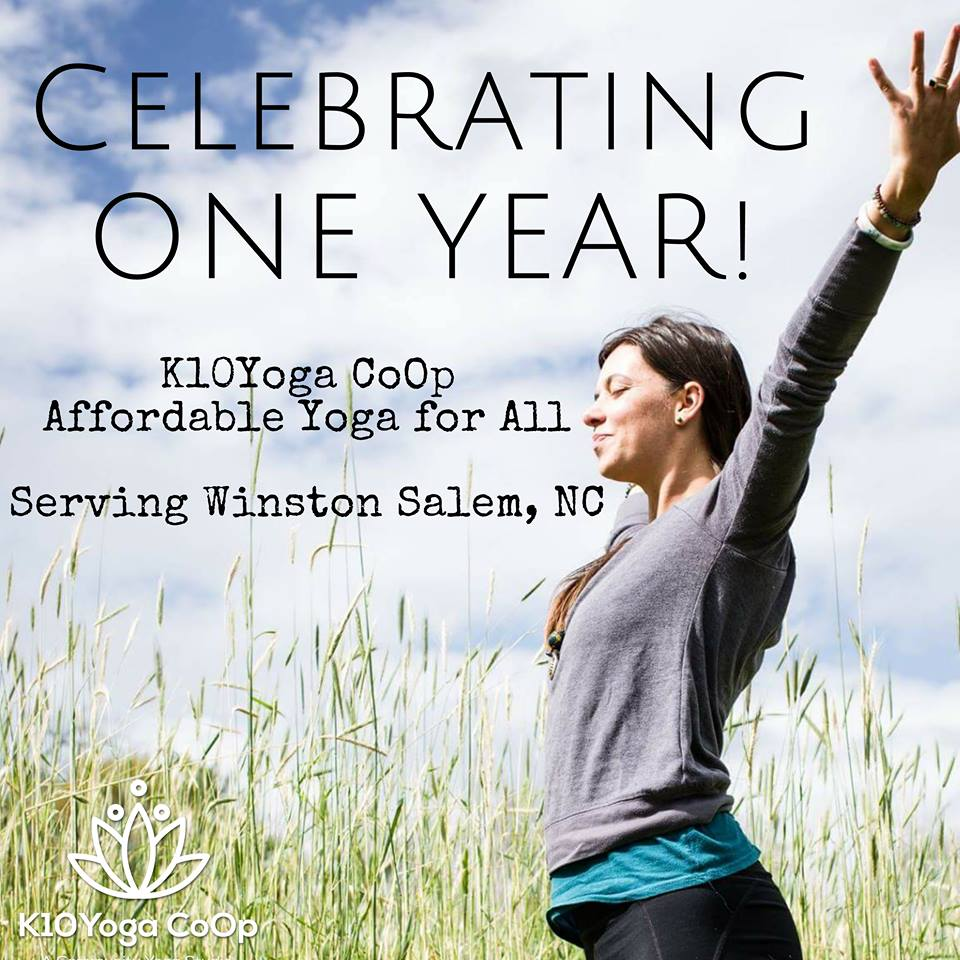 Where Does The Time Go!?
I cannot believe it has been one year since we launched K10Yoga CoOp! We wanted to create a space that would cultivate conversation, build solidarity and embody love. I'm grateful to everyone who has supported this offering in Winston Salem. Together we have been able to offer yoga classes at more affordable rates than the surrounding areas. Together we have been able to offer yoga classes to spanish speaking populations, to kids and families, to veterans and first responders, and to those looking for more connection in their every day classes.
In addition to yoga classes we have been able to hold space for Yoga Teacher Training Programs, in which we have graduated over 25 new and advanced teachers out into the area from this space alone. From Embody Love Movement Workshops to Social Justice Conversations we have truly raised the bar for yoga in this community. It takes a village and I by no means take the credit. YOU all have showed up… as teachers, as practitioners, as curious humans wanting to bring unity to the community, YOU have made all of this possible and to YOU I am incredibly grateful!
I am excited to announce that we are continuing these efforts and adding to them. It is the responsibility of those who pass the knowledge of yoga on, to continue to create spaces and teach others how to appreciate yoga and not exploit it. We have a number of amazing workshops on the schedule for this coming year and into 2019. Some of them will challenge you to step out of your comfort zone and have conversations that are not always easy. Some classes will challenge you to new prospectives and ask more of you then to just reach for the ground. As we all evolve and move towards a place that is perceived as more enlightened, let us do it together. In solidarity we breathe, move and grow.
So, what can you expect in the coming months?
YOU CAN NOW REGISTER FOR ALL CLASSES, WORKSHOPS AND TRAININGS ONLINE.
For some you don't have to pay upfront, just secure your spot in class.
Should something change with the class, we can let you know via text or email!
Yoga Classes, of course!
Kristen and Shanna (Flow Yoga) teaching on Mondays 9:30am and 6pm
Elisabeth (Veterans), Suzanne (Kids Yoga) and Ryan (VinYin) on Tuesdays 9:30am, 4pm and 6pm
And a NEW Instructor starting in July!
Yoga Teacher Training: A Program for Everybody
200hr Yoga Training begins in August, Information Session June 4th at 530pm
300hr Advanced Yoga Training beings in September
Both programs include elements around teaching transformational yoga classes with a service and inclusive concentration
Therapeutic Acro Yoga Workshop: August 9th 6-9pm
We are excited to host Kate for this workshop focusing on how you can make other people feel good!! Learn the basics of self care – by assisting each other to move into yoga-like positions to help them relax, stretch, and restore their bodies. We will also incorporate the "lunar" form of AcroYoga, which includes "flying" another person on your feet and moving them into gentle, calming stretches to promote relaxation. A background in yoga is helpful, however this is an all levels workshop. NO partner required, just bring your willingness to try something new! 2 CEU's for Yoga Teachers!
$45 Investment
$35 for Registered K10Yoga Teacher Trainees
Conscious Conversations: June 2nd, 6pm
Brave spaces where people of all demographics come together in relationship on topics that matter as we bridge intersectional gaps of systematic oppression and create solidarity through understanding and empathy. We use inspiration from CTZNWELL to spark conversation and let it unveil itself however it may. No yoga experience is required.
Sliding Scale:
Community Rate: $5
Sustainer Rate: $10
Supporter Rate: $15
And a Surprise BONUS!
SINCE YOU HAVE READ THIS FAR, YOU FOUND SOMETHING SPECIAL
A DISCOUNT CODE FOR ASHEVILLE YOGA FESTIVAL!
Use Code: k10yoga2018 to receive 15% off tickets!
Festival Dates: July 26-29, 2018
Coming this Fall:
Introduction to Ashtanga Yoga Workshop
Teaching Body Positive Yoga Classes
Introduction to Iyengar Yoga and Backbending
Flowing with Grace Workshop
I can't say it enough, THANK YOU, for supporting this work and for expanding your practice with us!