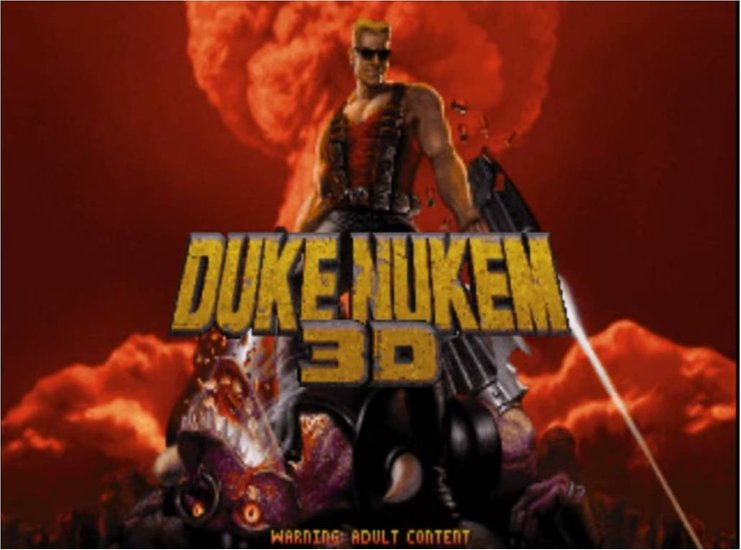 Duke Nukem 3D was launched in 1996 by the video game developer company Realms and is a game in first person, it is one of those video games that despite the decades still has a legion of loyal followers and it is no wonder since it combines the action of eliminating extraterrestrials, search of cards or keys of access and virtual sex, it was a revolutionary combination for that time and it was well received by the boys of generation X, this one in saying that violence is the order of the day from the beginning of the game and that tells you with this message:warning adult content .
Duke Nukem a combination of Rambo with Terminator and add a bit of deadpool thanks to his somewhat ironic and sarcastic phrases, was hired by the CIA to confront the aliens and exterminate them by force of shots, the environments where this fight takes place is very varied and with enough places to look for weapons and lives.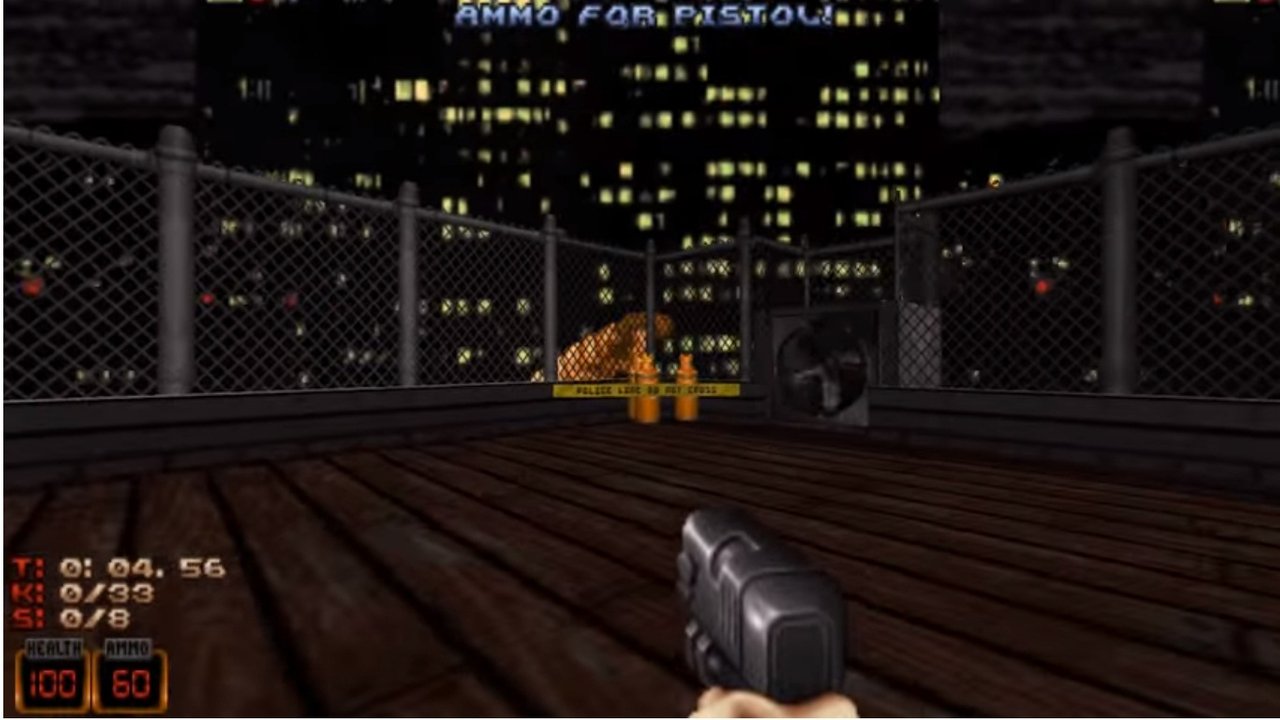 From fighting in the streets of the angels to going to the moon to kick the faces of the aliens and I say it in a textual way and not literally since you can really kick doors, kick the faces of your enemies and even step on them to leave a stain of blood on the floor. It has a wide range of weapons that you can obtain by killing your enemies or getting them in the secret areas that it is advisable to look for since you could get a pleasant surprise. This game combines the action in first person and something unusual for those days of the decade of the 90s and it is the appearance of feminine figures very sexy and with little clothes showing their bodies for your delight, you can even offer money for a dance or give it a shot something that does not seem great in this game.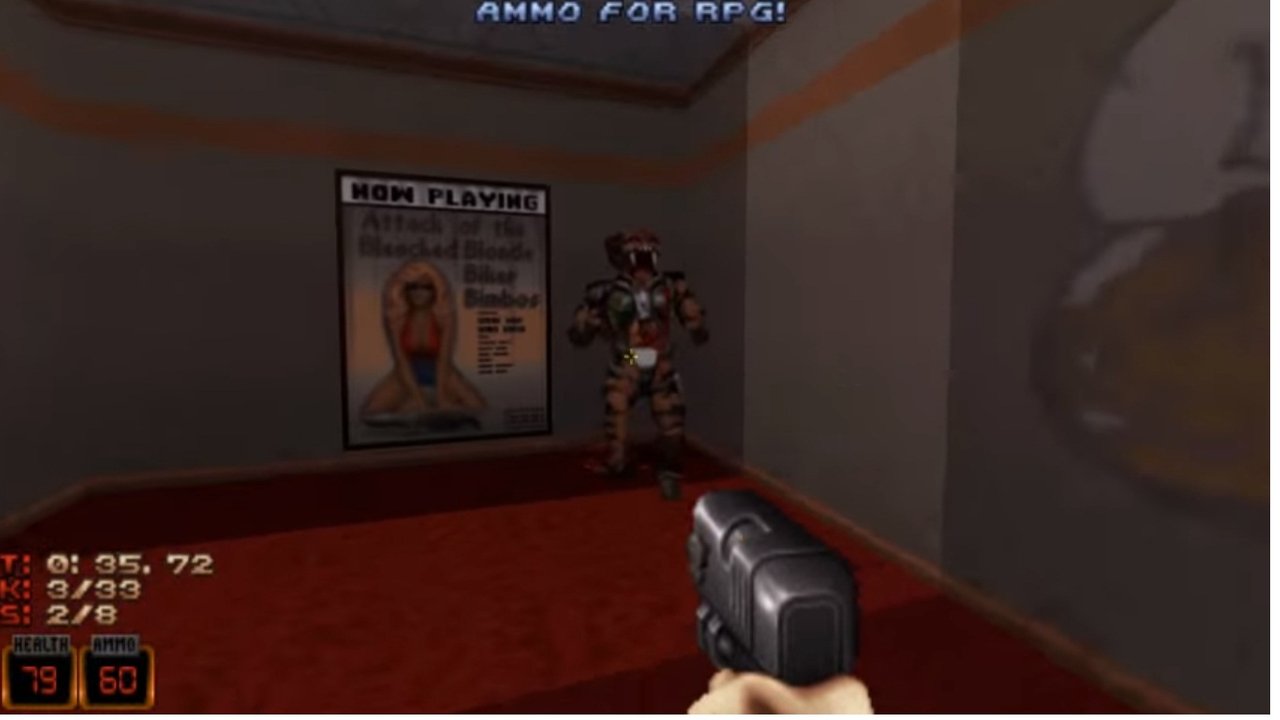 The other is to say that Duke Nukem was branded a violent and sexist sexist game because it is not for less because in a part of the game after eliminating an enemy Boss is heard hear lustful moans that are clearly understood to be having sexual relations but to some people's bad luck you do not see what they do, although it is a relief for the parents, it is very sure that many boys of that decade remember that kind of erotic scenes with much pleasure although you can not leave the action aside of play that is very immersive and dynamic.
---
Sexy girls and their erotic dances.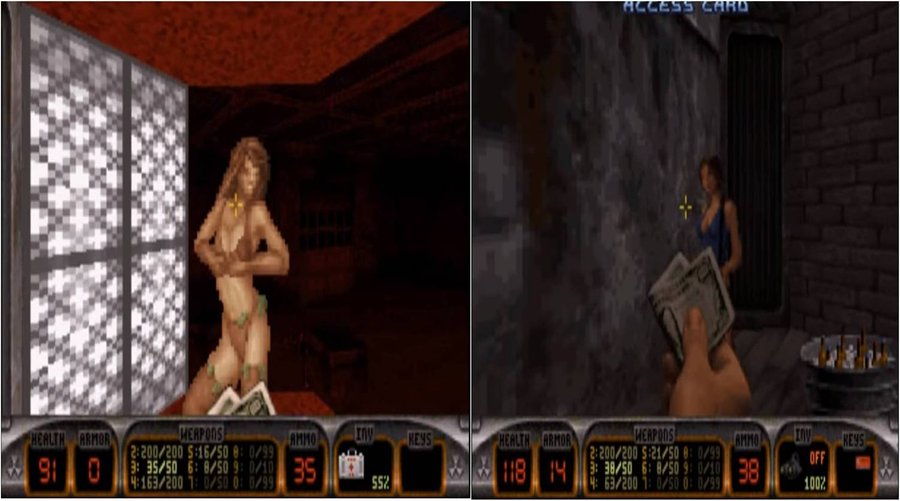 It was something new to see this kind of scene in a video game, of course it was other times now I play as The Witcher or Heavy Rain that present sexual scenes made by its protagonist and if you want to go further the game Mass effect presents sex scene with people from same sex In Duke Nukem you can see girls dancing in a very sensual way almost naked waiting for you and show you why your fight against the aliens is worth draining a bit the stress caused by the war you are living, although not only can you see the dancing girls because if you look closely in several places like corridors, windows and even on a cinema screen you can see some image of some of these sexy girls. It is not surprising to know that Duke Nukem classified it as a violent and macho game, criticized by many and loved by others, some players shot the girls something that was frowned upon and criticized by many players, but everyone was free to commit that Violent act but it is not advisable, let's be gentlemen with the ladies.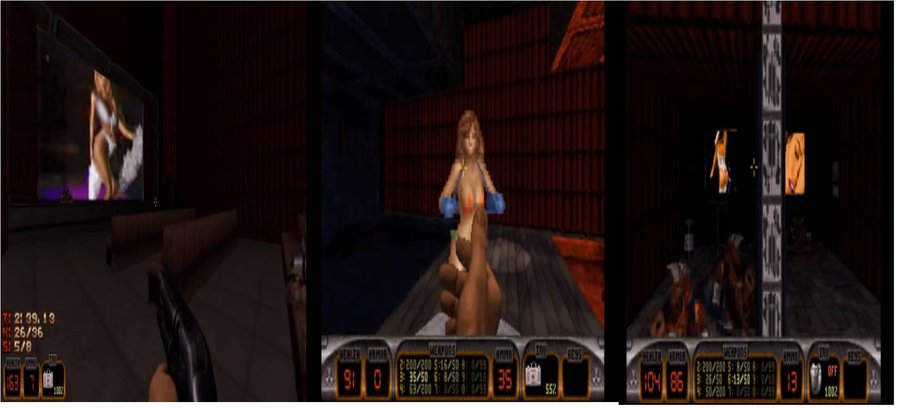 ---
Enemies to face.
With regard to the enemy to confront, they are of such an amazing variety that they cross the limits of the fantasy even though they are aliens move very well on earth and are ready to eliminate everything that moves, except the girls who for some strange reason they do not hurt them although if you can see some girls trapped in a cocoon spice, each enemy is more deadly than the previous one, there is a type of reptile that can jump and is equipped with a machine gun in its arm and is very fierce as there is also a three-eye flying brain called Octabrian that can attack you psychically and of course you can also bite and kill even an armored Drone that when it detects you goes for you without mercy.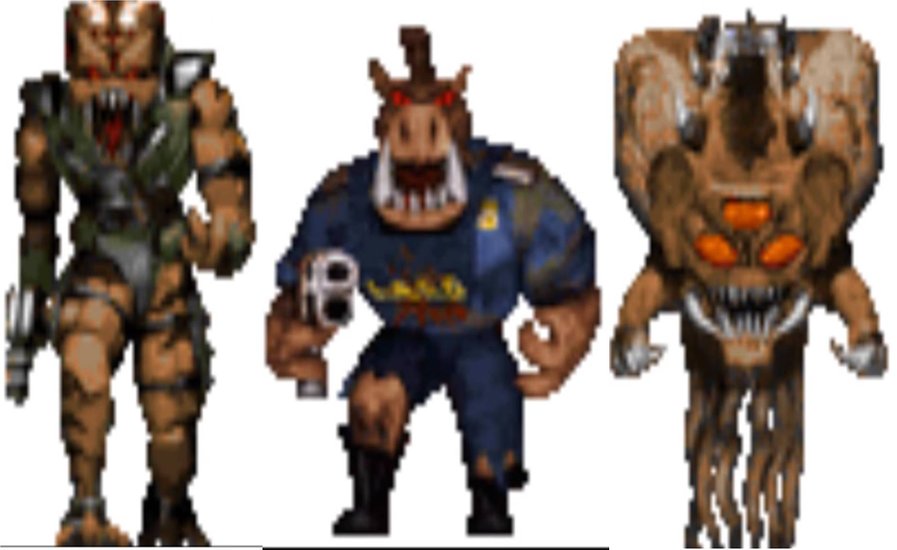 Trooper, Pigcop y Octabrian
The most common enemies that you will have to face are three and they are: Trooper is equipped with a laser gun and they will be the first enemies which you must face, some can attack from the air thanks to a Jetpacks or they can be teleported thanks to a device that They carry on the wrist. Pigcop dressed in police suits and with a thirst for blood this type of enemies you will find throughout your journey, they are very violent and their origin is the mutation of the police bodies in these uniformed pigs and the Octabrian that as discussed previously They are very dangerous flying brains.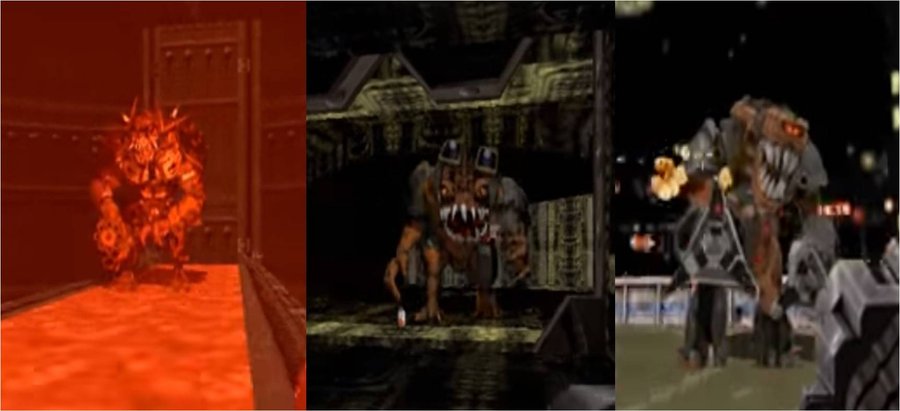 Battelord, Overlord and Emperor Cycloid
Battelord, Overlord and Emperor Cycloid These are the names of the Boss to face and finish the game, although being intimidating they are relatively easy to kill but the real fun is what Duke Nuke does with them after killing them.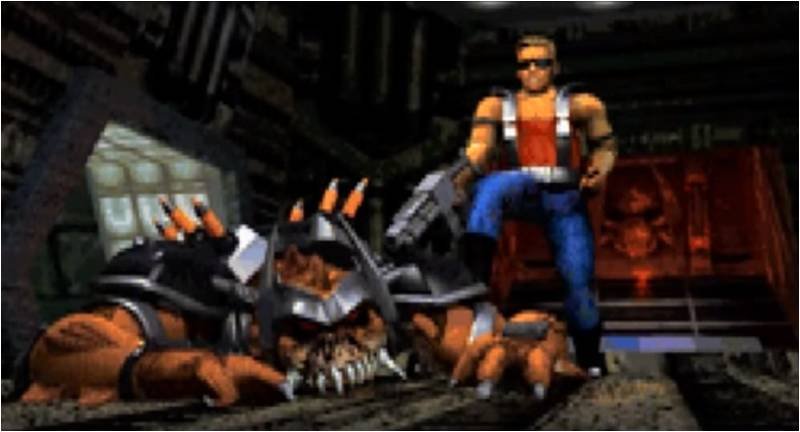 This game gives you the opportunity to humiliate and desecrate the bodies of the dead Boss and hence my comparison with Deadpool in the sarcastic and ironic. Battelord is that he suffers less from the humiliations at the hands of the protagonist of this game since he only blows his head leaving him on the floor in a pool of his own blood.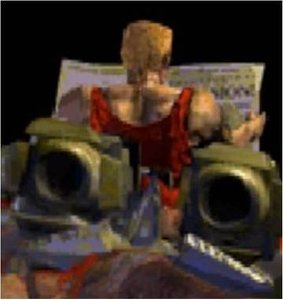 Overlord is the one who seems to me that if I touch the worst death since Duke nuke after filling the body with bullets and explosions removes his head and proceeds to lower his pants defecating on the corpse of Overlord while reading a newspaper, something very funny but something expressive and extreme for my taste. Emperor Cycloid did not fare either, because as it is the final battle of the game the match is played in a football stadium and when it is finally eliminated and falls on the lawn Duke nuke hits a kick in his face that his eye fly out and score a Tosh down and end the game.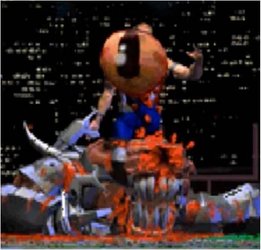 Anyway today still in some forums of videogames is spoken and Duke Nukem, and this game is a legend and thanks to the expansion packs and the sequels penetrated the conscience of the players staying a long time in their minds, despite their extreme violence and the images of girls in little clothes is a great game that is worth it, definitely the 90s left us a wonderful and unforgettable amount of games.
I hope you enjoyed it and greetings from Venezuela.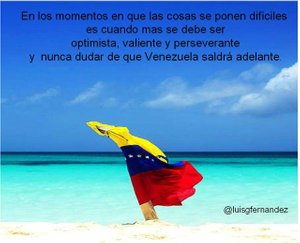 I wait for your comments.