SHAH ALAM: 22nd of January 2018. Monday.
Zubli Zainordin
Reputation (53.1)
Day 88.
Post # 387
There many ways a Steemian can help and support other Steemians at Steemit. There are many Good Steemians here willing to do so. Even if these Steemians do not ask for it. When it is clear that for most Steemians with hope high up, and surely hands are extending solid so grab hold tight and We all rise together to the top of the Steemit height.
I propose The Steemit Linker Project.
It is a way, an alternative, for Steemian who are not yet ready to Resteem.
I understand the various reasons for a Steemian not Resteeming at this moment, however, meanwhile it is possible to do Linking.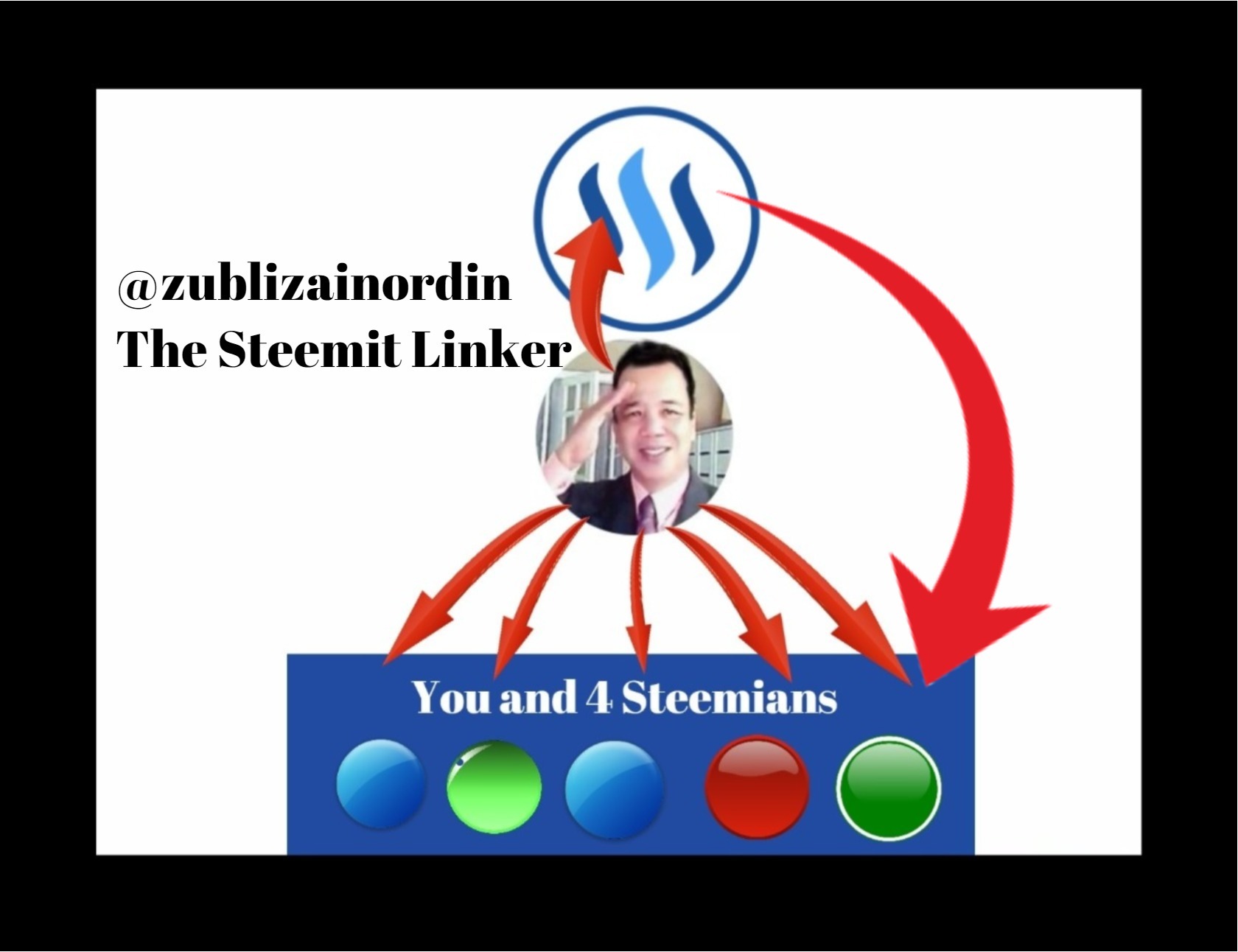 The above picture is just an example. You can place Your own picture instead.
The Steemit Linker writes a post after visiting various Steemit Blogs and find Top Quality Post. By this, it means when reading the post, the expression is, "Yes..! This post should be read by all Steemians." Or, "Hulaley this is a super good post, reading this many Steemians will benefit." Or similar.
After writing Her or His post, The Linker reserves the bottom part of this space to link 1 post to 5 posts written by other Authors. The Link. Not the whole article, please not invite the Cheetah in the Reply to comment spot below the post.
The opportunity benefit will be, Your regular reader, as usual reading Your post from top to bottom, and then... jeng..! jeng.!! jeng!!! sees the link. Possible and probable the reader clicking to know more the Links You have promoted.
You can see further impact of doing the linking...
All the Best to us.
Steemians, these posts are super good read, You may benefit from further reading these:
https://steemit.com/@elizacheng
@elizacheng (Lady LunaJay)
Reputation (57)
Steemit Tutorial - My Experience Sharing - What do I know about Upvoting? (Part 1) / 经验分享 - 我是怎么点赞的?(上集)
https://steemit.com/tutorial/@elizacheng/steemit-tutorial-my-experience-sharing-what-do-i-know-about-upvoting-part-1
https://steemit.com/@aricheta
@aricheta
Reputation (46)
Steemit Open Mic Week 69 | Loving You - Guitar Cover
https://steemit.com/openmic/@aricheta/steemit-open-mic-week-69-or-loving-you-guitar-cover-829764fd5b511
https://steemit.com/@chelsea88
@chelsea
Reputation (58)
Politics on Steemit: Part 1 CLUBS, EXCLUSIVE MEMBERSHIPS, ALLIANCES
https://steemit.com/steemit/@chelsea88/politics-on-steemit-part-1-clubs-exclusive-memberships-alliances
https://steemit.com/@zanoni
@zanoni (Tom)
Reputation (50)
Steempress - My brandnew website to promote Steemit - PromoSteem
https://steemit.com/steemit/@zanoni/steempress-my-brandnew-website-to-promote-steemit-promosteem
@creativeidea (Kawsar Hamid)
Reputation (40)
CreativeIdea Kawsar Hamid Expensive Than Diamonds.(A Series of Short Rhyme)
https://steemit.com/poetry/@creativeidea/6vni7f-creativeidea-kawsar-hamid-expensive-than-diamonds-a-series-of-short-rhyme