SHAH ALAM: 23rd of January 2018. Tuesday.
Zubli Zainordin
Reputation (53.2)
Day 90
Post # 393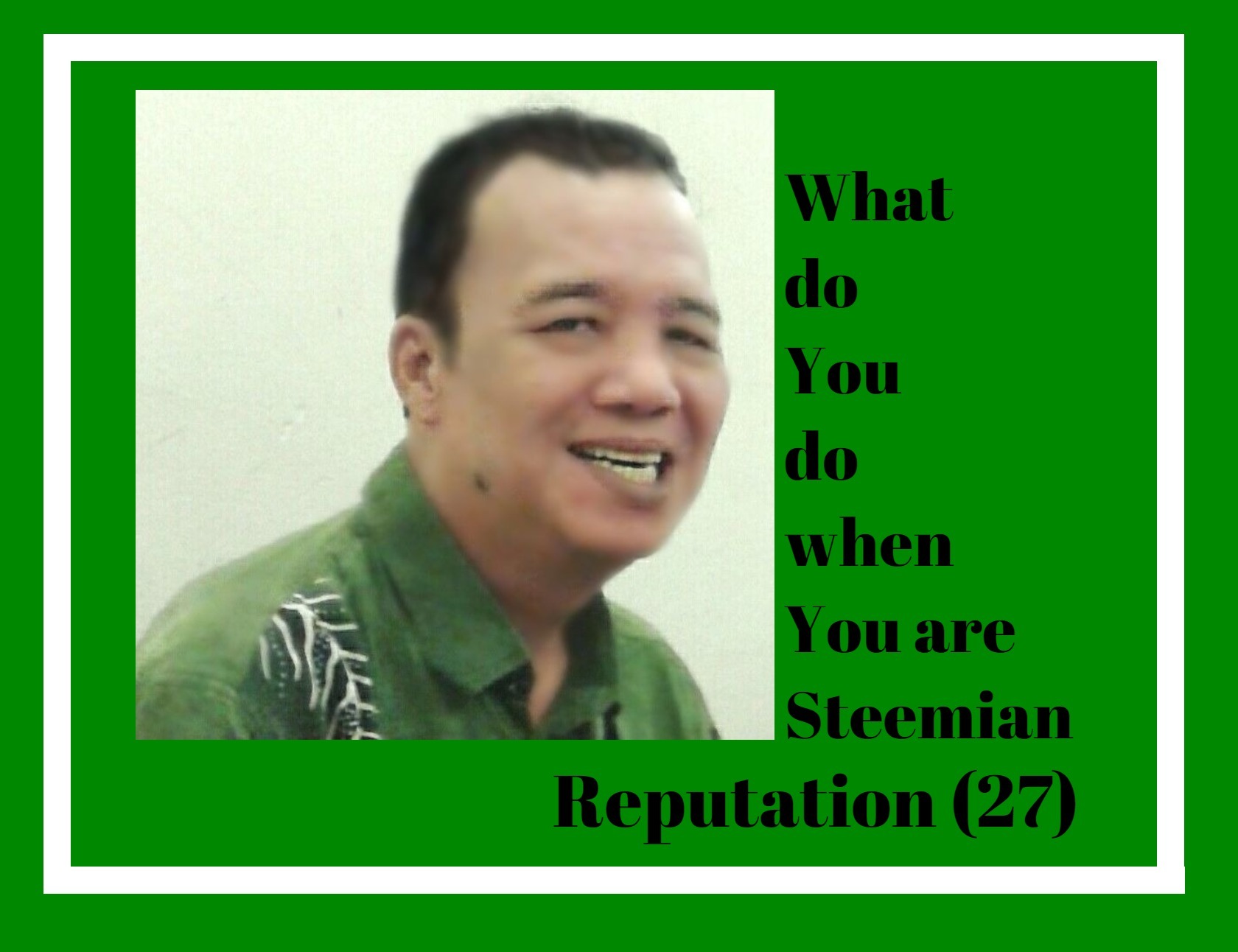 So You are now Steemian Reputation (27) at Steemit.
That is You have a Minimum Raw Score of 1,668,100,537 and next You are going for and growing to a Maximum Raw Score of 2,154,434,689.
Like going an UpHill Your Reputation will be (28) once Your Minimum Raw Score is 2,154,434,690 and You shall grow to a Maximum Raw Score of 2,782,559,401.
Feeling good what do You do when You are Steemian Reputation (27) at Steemit.
Begin improving Your posting from good to better, and from quality to Top Quality.
Later I shall show You how to write a post that is everlasting.
What do I see as an Everlasting post..? I see, You write a post now, and in 6 months to a year later, there are still Steemians reading it.
Good post, top quality is a post getting the attention of Resteemer.
Resteemer..? Yes, Resteemers..!
A Steemian who go and search for good top quality post and Resteem post links.
Under most posts there is a Resteem Bar. Click that and a post link is transferred to the Resteemer timeline of posts.
There are a number of Resteemers.
Some are Man, Woman, others are Bots.
Go for Free Resteeming.
The best Resteemers at Steemit, are as follows:
@nkkb #nkkb
https://steemit.com/@nkkb
A retired aviator keeping busy
Reputation (54)
520 followers
Nik Khamsani is an Intelligent Man, at Steemit additionally He is Smart.
So much He is doing good to part of the Steemit Community.
@dumitriu #dumitriu
Syndicate of Steem - デュミミトリウ
https://steemit.com/@dumitriu
Reputation (54)
I have not said this to Dumitriu yet Dumitriu for all the good deeds done, "Love Dumitriu"
1275 followers of Dumitriu will get to see Your Post Link.
SteemSyndicate @steemsyndicate #steemsyndicate
https://steemit.com/@steemsyndicate
Follow me!! Be with me and I will be with you !!
Reputation (47)
779 followers
You "Love Dumitriu" You will "Love SteemSyndicate"
Gaman @gaman #gaman
Full Stack & Blockchain Developer. Founder of New Steemians Project.
https://steemit.com/@gaman
Reputation (53)
2527 followers
Gaman is a Steemian worthy of being a Witness, very helpful.
So whenever You are posting at Steemit, please never and please do not say, or scream, or shout, or indicate... "Resteem My Post!" Resteemers are good Steemians, and They know why Your post They love to Resteem.
Recently I found NanoCheeze @nanocheeze #nanocheeze
https://www.facebook.com/Nanocheeze/
https://steemit.com/@nanocheeze
Quantum Computing, AI, VR, Emulation, Block-Chain, and Reverse Simulation Theory. Creating an AI Defense System
https://steemit.com/@xtdevelopment
https://steemit.com/@cybershrapnel
I truly Respect Resteemers.
I have a way to help and support Them.
There must be a better way. I know the way, and I shall post on this later.
At Steemit a Resteemer do not get paid for Resteeming.
There are reasons for this, and I respect that.
If You are at Reputation (25) - (Reputation (28) please do not do Resteeming yet. If You want to build a Resteeming Career at Steemit and only that, then please ask Me, I will show You how to do it better.
At this moment, I am Reputation (53.2) I should do Resteem, but later. Maybe I will do Resteem and nothing else. Meanwhile I am the Steemit Linker. This, You too can be at any Reputation level.
So at Reputation (27) as a Steemian, go and get Your Posts Link Resteemed.
A good Example of a Resteemer.