SHAH ALAM: 24th of January 2018. Wednesday.
Zubli Zainordin
Reputation (53.3)
Day 91
Post # 395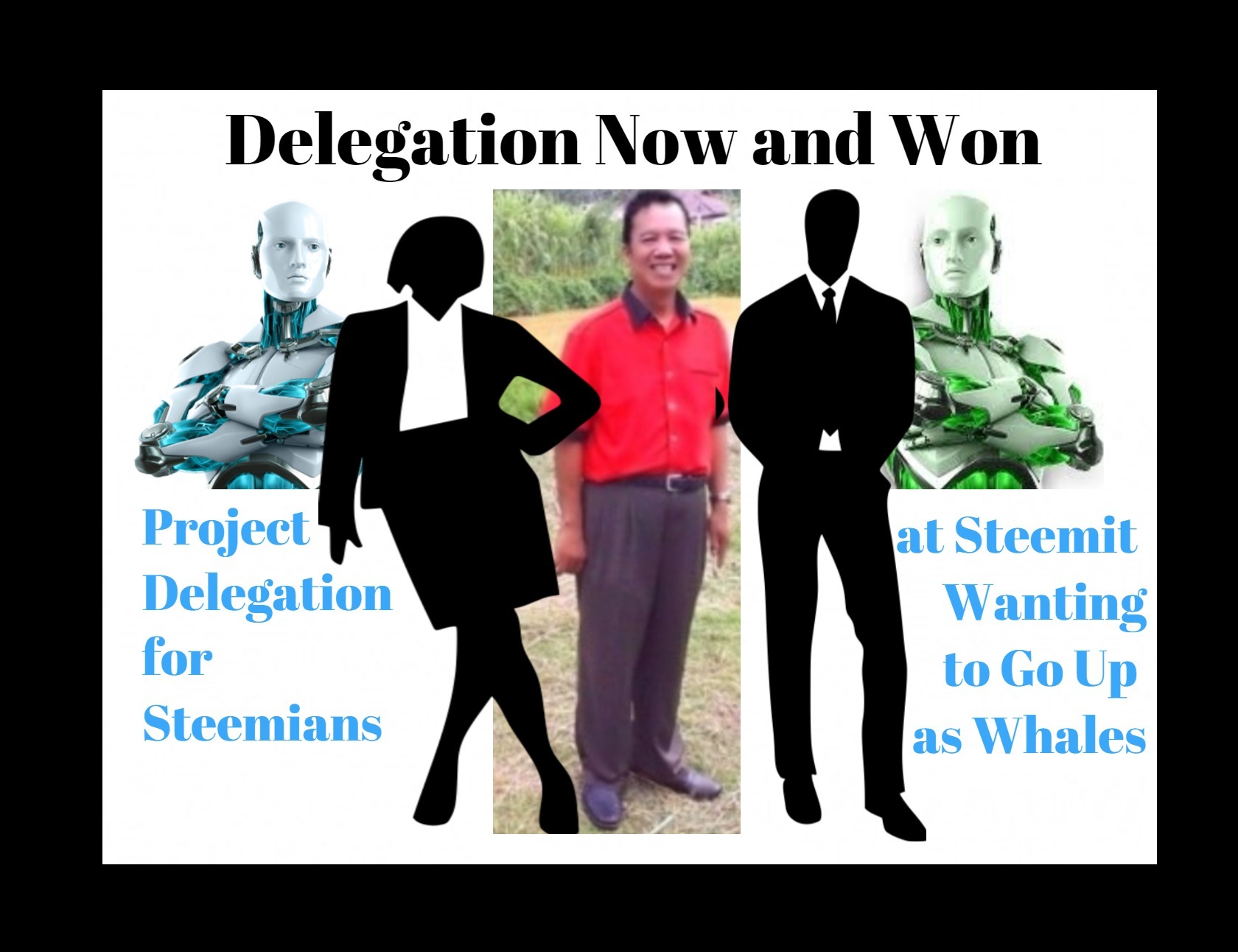 I read and read and read about Delegation, and I could not find any flaw in this activity. If someone knows any flaw, or several situation and time whereby Steemians should not do Delegation, then please tell Me. In fact, Delegation is an underutilized feature at Steemit.com @steemit #steemit. Should I have known this Delegation bit 60 days ago like now, Delegation is a norm then, for Me.
Delegation is well-defined.
There are Rules, of course.
What is delegated, can be taken back anytime.
Many uses of Delegation, and the benefits.
There shall be no abuse.
Can there be a clear picture, why Steemians are hesitance to do Delegations long ago like immediately after getting the password and writing the 4 X 30 posts..?
Why Steemians say, "I will study Delegation, once I understand it, I will start Delegating to Steemians." Months later, nothing happens.
The Wisdom in Delegation activities is Do it Now. Why..? If not all, many Steemians and many more can Win. Yes, winning early at Steemit.
In Delegation there is nothing to loose. Only gain, and Win-Win too.
There are several ways to do this Delegation and achieve super benefits for all concerned.
One:
Steemians who post 4 daily and each post earning $100.00 shall prefer to do Delegation $1.00 to 25 Steemians potential earnings of $12.00 a year. Benefit..? They continue to be at Steemit.com @steemit #stemit and UpVoting Your posts and commenting daily.
That is just an Example, You can do less or more than that. However, please do Delegation.
Consider doing Delegation is better than the amount stays static in Your Steemit Wallet.
Two:
Steemians who are Steers of Teams, Groups, Communities, and what is similar... doing the same activities since 2017, and now nearing February 2018, why not do Delegation..?
Example:
Instead of posting, "People place Your links here..." let's change that, "These 10 Steemians in Our Team/Group/Community shall do Delegation. 10 Steemians with the lowest number and thinnest Steemit wallet will benefit from this Delegation exercise now."
What is the benefit..? At the very least, in the Team/Group/Community the level of the lowest is lifted higher. If these Steemians are UpVoting Your post for example and You get $0.001 thus now and soon You may get $0.04. More, when Delegation is a heated up activity at where You are.
Further more, those Steemians being oxygenated with Delegation now, will in a short month accustomed to do what Senior Steemians does. Yes, Delegation.
There are so many Steemians here and so many ideas, please suggest more and better ways for doing Delegation.
Three:
My planning is a Win-Win Delegation Partnership. Initially Dyad. Once due diligence done, the two can go for 5 and then 10 Super Interactive Delegation, not by day, but by minutes. I am beginning to discuss this with a Steemian, and next go for more like-minded and kind heart Steemit. Once agreed, There will be a lot of delegations for all Steemians, where the lowest line at Steemit Sphere where Steemians are, being lifted higher and higher by the minute.
If and when this cannot be understood by a Steemian, then this project is open to Bots.
Should Steemians see the light of this pursuit, and can accept Man Woman and Bot working together... Delegation will be as beneficial at Posting, UpVoting, and Commenting.
The day will come when no Steemian seen asking and begging for these, because They become a new Steemian. We have seen earlier Steemian writing, "Those days when I started at Steemit, my 10 posts earns the highest $0.10." For the New Steemian benefiting Delegation, months or years later will write the same, but the earning is different. "Those days when I started at Steemit my 10 posts earns the lowest $10.00 each."
Let's do it and see Results. We can always improve it.