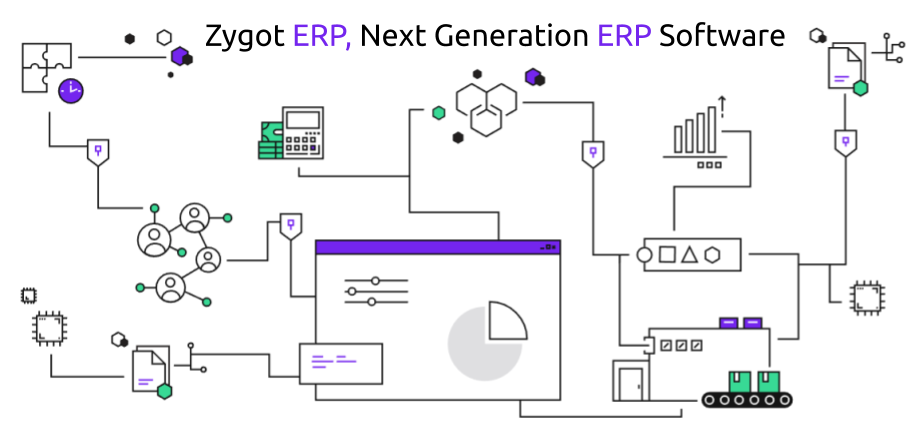 ---
When it comes to Enterprise Resource Planning (ERP) systems, there are a handful of big name companies that have dominated the market for years. Although this seems like a good thing, more often than not it leads to complacency and a lack of innovation or passion for a product.
An ERP could be compared to the nervous system of a company, integrating the key elements of a business (finance, HR, inventory, service, etc.), into a single cohesive software system. Traditional ERP systems suffer from several drawbacks, specifically: cost (implementation and maintenance), adaptability, data security, integrations, and lack of efficiency.
Zygot is changing that trend with the introduction of ZERP, Zygot ERP is built on the EOS blockchain giving it a significant benefit over existing products.
---
Zygot's Vision - "Zygot is bringing the benefits of tailored software solutions to all companies, regardless of their size, with regards to their needs."
---
Blockchain technology inherently allows for simple and secure tracking of transactions, greater transparency of records, and much greater control over the data that is stored on it.
Additionally, Zygot recognized and built upon four key attributes that can make blockchain the go-to technology to revolutionize ERP systems: interoperable, scalable, compliant, and flexible.
Instances of the software from different companies will be able to communicate with each other. This will improve operations and allow third party apps to be integrated more seamlessly. Access control permissions can be adjusted to specific pieces of data as needed. Immutability on the blockchain ensures the integrity of the data and keeps it safe from breaches while also ensuring transparency for auditing purposes.
---
Zygot's Goals - "To make a blockchain-powered, global, inclusive for all company sizes, domains, industries, ecosystems, affordable, community-improved, collaborative and sustainable ERP modular solution - ZERP."
---
Zygot could have literally picked from dozens of blockchains to build ZERP, but their choice of EOS makes complete sense when you consider the benefits.
EOS's smart contracts allow outside users to interact in a trust-less environment
EOS is the perfect platform for robust Dapps (Decentralized Applications)
EOS can process millions of transactions per second. This allows it to scale to the size of any business both large and small.
EOS has no transaction fees for sending and receiving funds
The EOSIO operating system is free to use for derivative projects.
The decentralized nature of EOS will allow developers to create customer-specific modules for a fraction of the development cost(s) of traditional ERP systems.

Q1-Q2 2019 - Rather than reinvent the wheel, Zygot is using the VERP engine built on the Vertex blockchain and migrating the core logic to ZERP on EOS.

Q3-Q4 2019 - Zygot will define the governance and engagement rules for the Zygot community. They will also have a dashboard created with a marketplace for modules and voting as well as a handful of their own external modules.

Q1 2020 - ZERP SDK and UI for building external modules available, documentation and portal for developers released, and Zygot will begin offering managed ZERP infrastructure.

Q2 2020 - ZGOT Warehouse Management(WM) engine upgraded from VERP to ZERP, a small number of clients will be transitioned to ZERP, and third party partners will be assisted in adapting their warehouse apps for compatibility testing and introduction to the Zygot marketplace.

Q3 2020 - Production module migrated from VERP to ZERP

Q4 2020 - Accounting module "transformed" from VERP to ZERP, add-on accounting modules will be published to the marketplace.

Q1-Q2 2021 - HR and CRM modules moved from VERP to ZERP, Migrate ~50 existing clients to ZERP, assist third party partners with adapting their CRM/HR apps for Zygot marketplace and ZERP.

Q3-Q4 2021 - Supply Chain module transitioned to ZERP, one hundred percent of clients migrated from Vertex to Zygot.

Q1 2022 - Fixed assets and loyalty module transitioned, "improve affiliation and referral distribution strategy".
Zygot/ZERP, A World of Potential
Zygot is bucking the trend of a traditional high cost, highly proprietary ERP, by establishing the first decentralized ERP marketplace on EOS. This will allow them to leverage the power of open source and drive down the cost of application specific modules.
ZERP is an ERP 3.0 system, integrating the benefits of ERP 1 and 2, as well as customer and sales information into enterprise operations. This is another one of the reasons the EOS network makes so much sense given its exceptional transaction speeds at zero cost and smart contract technologies.
---
Zygot's Mission - "Conceptualize, design, facilitate and sustain an ecosystem and mechanisms for decentralized enterprise software - with international scope in diverse domains of software development, application and advancement."
---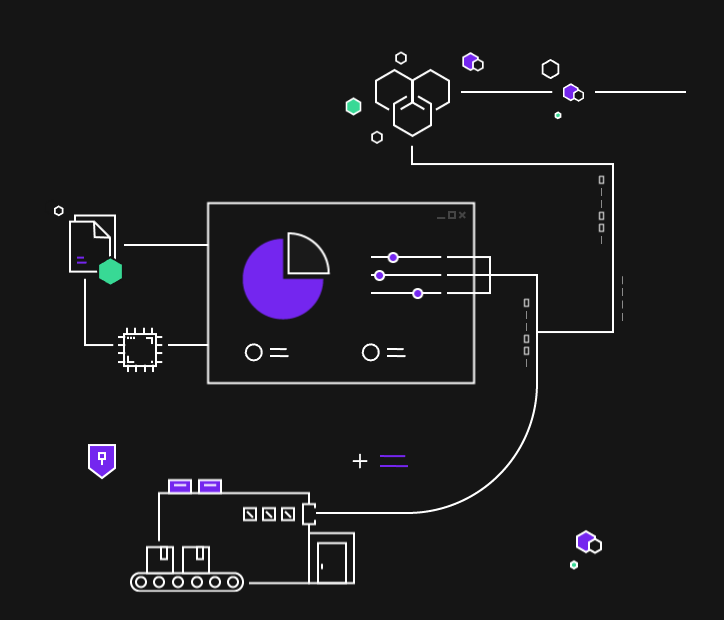 ---
Zygot will use a "freemium" model for ZERP, offering the basic software for free but gaining revenue through other strategic sources:
A cloud based solution offered as a subscription service
Annual optional maintenance fees as a subscription service
Selling their own modules on the marketplace
Offering consulting services including integration, optimization, module implementation, and consulting with third parties for unique module development
Taking a margin from third party modules on the marketplace
The Zygot marketplace built on EOS is one of the most exciting features of ZERP. Having access to a decentralized repository of modules will allow the software to scale to any business size from a small business office/manufacturer, to a corporate entity with offices across the globe. Additionally, the decentralized aspect will ensure that interoperability can happen without the rigid guidelines and proprietary nuances that plague traditional systems.
The core resource that will power the ZERP engine is the Zygot token. The token will have many uses throughout the system including the ability to stake the token to unlock modules the business requires. Additionally, the tokens can be used to power the smart contracts that allow for interoperability between different companies/instances. Feel free to read through their whitepaper for more information on this and other aspects of the ZERP engine.
Zygot is a great addition to the long list of projects that have decided to make the move to the EOS blockchain. As more and more large businesses make the dive into blockchain and specifically EOS, it wouldn't be surprising if the EOS acronym took on a new meaning: "Enterprise on Steroids".
Resources
ZygotERP: https://zygot.io/technology
Medium: https://medium.com/@zygoterp
Twitter: https://twitter.com/Zygot_erp
Telegram: https://t.me/ZygotERP
LinkedIN: https://www.linkedin.com/company/zygot
Disclaimer
This is not financial advice, nor a guarantee or promise in regards to any result that may be obtained from using the above content. The information provided here is for informational and entertainment purposes only. It should not be considered as financial and/or investment advice. No person should make any kind of financial decision without first consulting their own financial adviser and/or conducting their own research and due diligence.
---